It's been a year since a new era in STATSCORE's history started, triggered by the company's acquisition by LSports – a year marked by incredible growth, fresh talent inflow, and rapid product development!
Boost in product offering and soaring revenues
The last twelve months have seen remarkable growth in STATSCORE's products and in the scope of sports data we provide. These included:
and so much more!
The start of our shared journey with LSports was very challenging, especially with the year's conclusion on the horizon. We had to act fast, with consistency and precision. It was time-consuming and exhausting but from the perspective of time, it was so much worth it! – says Dariusz Łęczyński, STATSCORE's CEO. 
We're proud to see that these new developments have helped us win the trust of multiple distinguished partners and customers, which resulted in an impressive 48,2% YoY increase in revenues. 
But that's not all, later this year we are preparing to unveil another groundbreaking product, primed to make waves in the industry! Stay tuned!
Fresh talent fueling our development
The rapid growth of STATSCORE would never be possible without the people who have been building the company for so many years. It's through their day-to-day efforts that STATSCORE has been able to develop its position as one of the world's most renowned sports data providers. 
The development of our products and the growing scope of data demands that we keep growing in terms of employees. During the last year, STATSCORE has increased employment by 26% (with a remarkable 52% in R&D teams). We've been happy to welcome a number of people (and we're still looking for more!) whose enthusiasm and dedication have become one of the driving forces behind the company's progress.
STATSCORE is a strong partner for your business
Through all these factors, as well as thanks to our synergic cooperation with our friends from LSports, in the last 12 months, STATSCORE has positioned itself as a true leader in the world of sports data.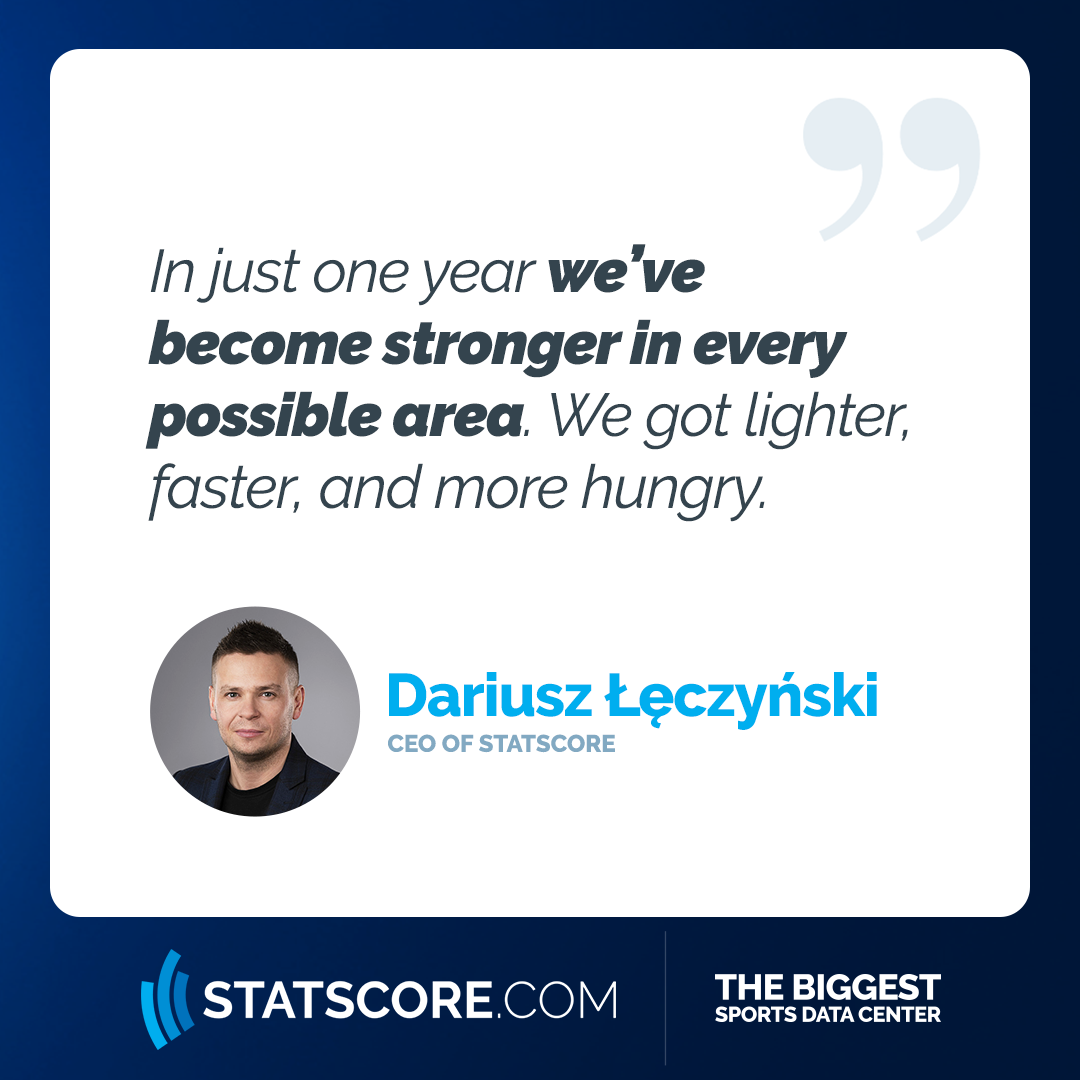 Cutting all the irrelevant costs and closing non-performing projects helped us focus on what really matters product-, customer- and people-wise. In just one year we've become stronger in every possible area. We got lighter, faster, and more hungry. And all of this in an environment that any company in the world could envy us. Seeing people who once left us, wanting to join back is one of the strongest indicators of the growth and satisfaction path we re-entered. Hard to imagine it's been a year already, but all of this could have happened only because of the extraordinary collaborative approach of our friends at LSports. And there is still so much ahead of us! – adds Dariusz Łęczyński.
We're more than sure that the upcoming year will bring us even more positive changes, which will further prove that STATSCORE is a trustworthy and dependable partner for all kinds of sports enterprises.
Interested in partnering with us?