The 13th edition of the Cricket World Cup is set to enthrall sports fans around the world. Make sure your sports business gets a piece of this delicious pie by providing your audience with the most irresistible cricket data coverage!
Get your business ready for the Cricket World Cup!
This quadrennial One Day International cricket tournament, organized by the International Cricket Council, brings together the planet's best teams in an action-packed competition. 
This time, the show will be held in India from 5th October to 19th November 2023, and it will be contested by ten national teams: Afghanistan, Australia, Bangladesh, England, India, Netherlands, New Zealand, Pakistan, South Africa, and Sri Lanka. The event promises intense cricketing action at ten different stadiums across India.
As always, the Cricket World Cup is poised to attract the attention of sports followers, fans, and bettors from all around the world. The last edition of the competition, the 2019 ICC Cricket World Cup, saw a total attendance of 752,000, while videos of the group stages amassed over 2.6 billion views overall! Now, it seems that the time has come to see these records broken again!
Provide your fans and bettors with top cricket data
In the midst of this cricketing extravaganza, STATSCORE comes up with top-notch real-time sports data and statistics available through our flagship products, such as ScoutsFeed, LivematchPro and PrematchPro, as well as a unique LeagueCenter dedicated to this very special event!
CHECK OUT STATSCORE'S CRICKET DATA!
Cricket data delivered by STATSCORE Scouts will keep your fans and bettors engaged and active, by allowing them to keep their finger on the pulse of the matches, key incidents, ball-by-ball updates, score updates, strike rates, run rates, boundaries, wickets updates, and much more.

And the incredible match visualizations of LivematchPro, will ensure that cricket fans are never bored and always eager for more of your content!
LeagueCenter – special Cricket World Cup edition is here!
Special events require special sports data treatment, which is why STATSCORE is making sure to launch a unique edition of Cricket World Cup LeagueCenter!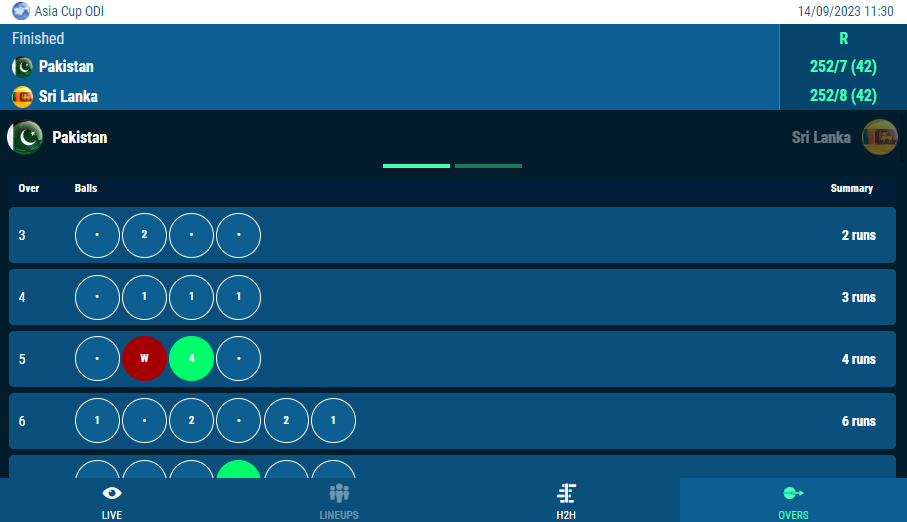 This unique product, dedicated to bookmakers and sports media, gathers all key stats and data related to the event in one place! It is your way to empower your visitors by offering them 360-degree access to live statistics, standings, squad details, pre-match comparisons tailored for the exciting world of cricket.
If you're running a website dedicated to cricket, it will allow you to enrich your reporting on the World Cup, and expand the coverage to include detailed and unique stats, LIVE data, and insights. Entertain your audience, amaze cricket fans, and make sure they choose your reporting over your competitors.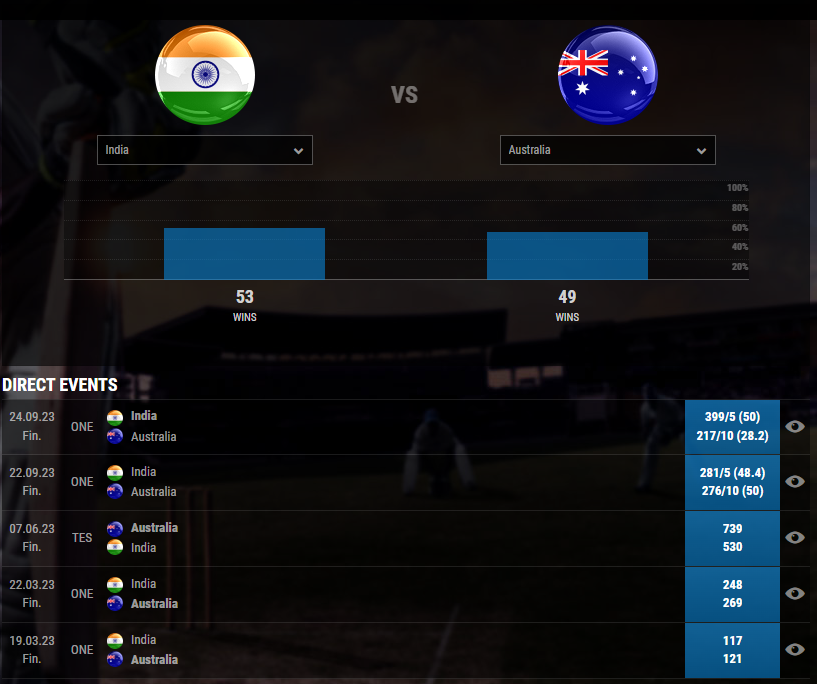 For betting companies, this solution is a perfect tool for increasing turnover from the world's top cricket tournament by keeping bettors excited, preventing traffic loss to other data-packed websites, and giving you a chance to convert fans into bettors!
Get access to STATSCORE cricket data now!
STATSCORE's cricket data offering keeps growing with top data and stats from the world's more important competitions – including Indian Premier League, Cricket World Cup Qualifiers, Caribbean Premier League, and many others. 
The data is available in:
General view of STATSCORE LivematchPro cricket data
General view of STATSCORE PrematchPro cricket data
Find out more about how STATSCORE's cricket data can take your business to the next level!
CHECK OUT STATSCORE'S CRICKET DATA!
STATSCORE, with our extensive cricket data coverage, is ready to assist and support the expected development of this exciting sport in the new territory!
Get amazing cricket data now!