Ready for more exciting cricket data? It's time for the high-stakes Cricket World Cup Qualifier, where 10 teams gather in Zimbabwe, vying for the final two spots at the prestigious Cricket World Cup 2023. STATSCORE provides extensive sports data and statistics from this event!
The Cricket World Cup Qualifier is starting on June 18. Joining the hosts are Ireland, Nepal, Netherlands, Oman, Scotland, Sri Lanka, UAE, USA, and West Indies, making it an intense battle for qualification to the upcoming ODI event.
Live cricket data provided by STATSCORE
STATSCORE's ScoutsFeed cricket coverage allows bookmakers and media to gain access to the most comprehensive and reliable data from key cricket competitions, including the World Cup Qualifier.
The newly-added cricket competition will be covered from low-latency TV by a network of STATSCORE's top scouts.

ScoutsFeed
Ultra-fast live scouting data
STATSCORE's ScoutsFeed provides accurate cricket data delivered by teams of experienced scouts, which allows our partners to create flexible offerings while ensuring the security of their operations with bet-stop and bet-start alerts. 
The coverage will include key incidents, ball-by-ball fast data, score updates, strike rate, run rate, faster boundary, wickets update, and many more.
The cricket data has already been provided for such competitions as the Indian Premier League, and the Tamil Nadu Premier League.
Take advantage of STATSCORE's cricket data to boost your business
Get ready for Cricket World Cup Qualifier with STATSCORE's coverage
The Cricket World Cup Qualifier begins on June 18 with two groups of five teams. They will compete in a round-robin series within their group.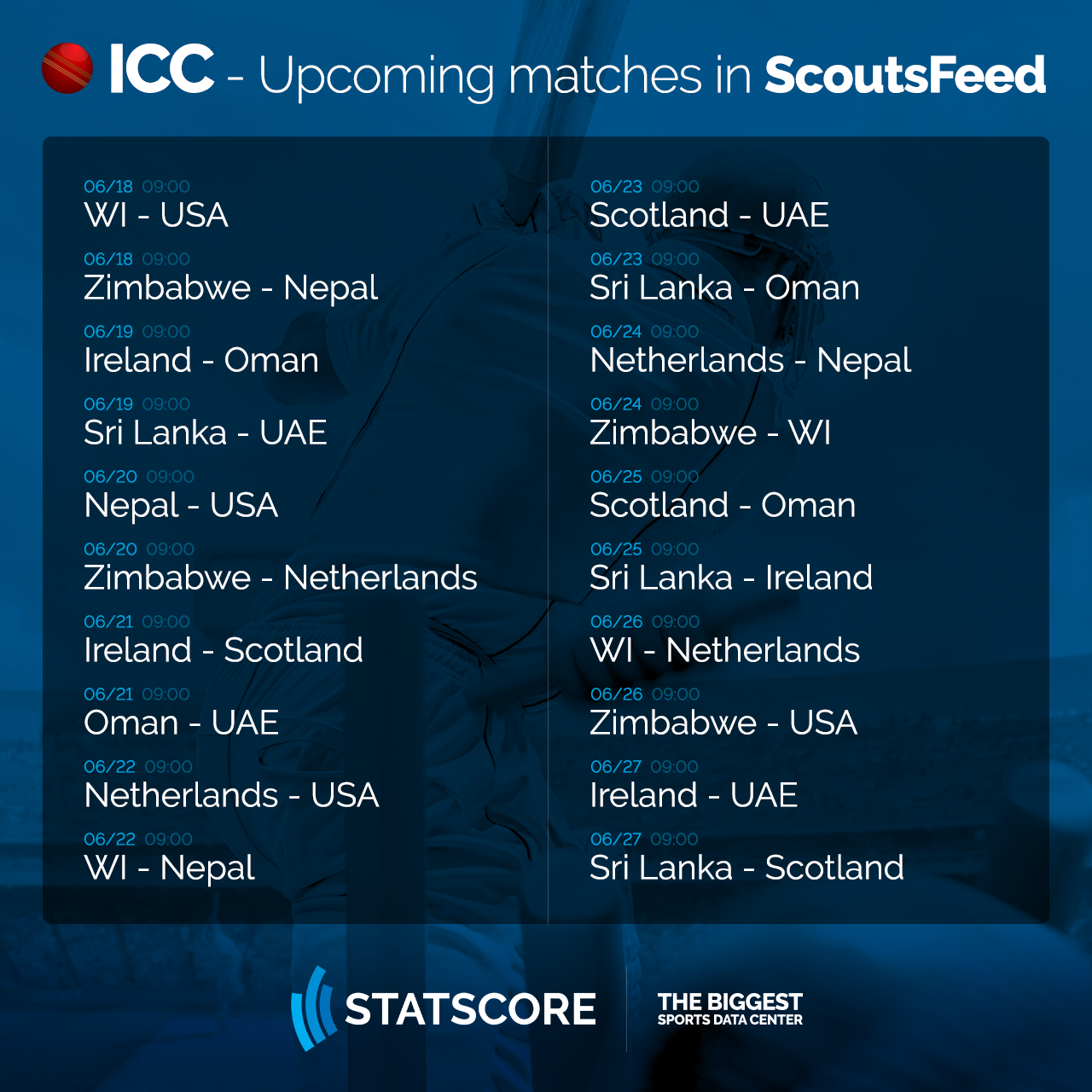 The top three teams from each group progress to the Super Six stage, where they carry over their results. The top two teams from the Super Six stage qualify for the ICC Men's Cricket World Cup 2023 and compete in the CWC Qualifier Final on July 9.
Find out more about STATSCORE cricket data
Apart from cricket competitions, ScoutsFeed currently covers a wide range of sports, including football (soccer), American football, baseball, basketball, tennis, and volleyball. Find out more about what this unique solution can do to boost your sports business!
Stay tuned for more exciting cricket data news coming soon!
Sounds good? Get in touch to learn more!