STATSCORE's cricket coverage keeps growing all the time. This time, we're proud to announce that we're providing data from the prestigious 2023 Asia Cup, which is currently taking place in Pakistan and Sri Lanka. 
STATSCORE's cricket coverage allows bookmakers and media to gain access to the most comprehensive and reliable data from key cricket competitions. Soon, more key cricket events, such as the 2023 World Cup will be covered with our outstanding data!
Our newest addition, the 2023 Asia Cup is the continental championship and the winning team becomes the champion of Asia. 
CHECK OUT STATSCORE'S CRICKET DATA!
Stats database for Cricket 2023 Asia Cup 
The 16th edition of the 2023 Asia Cup brings together Pakistan, Sri Lanka, Afghanistan, Bangladesh, India, and Nepal (first-ever appearance in the tournament!) as participants.
India is the most dominant team in the competition's history, having won an impressive seven titles. Following closely, Sri Lanka holds the second position with a tally of six titles, while Pakistan has secured victory in the Asia Cup twice.
This action-packed competition is closely followed by millions of fans and sports bettors – not only in Asia! With STATSCORE's data your sports-focused business can take advantage of their passionate interest in the sport!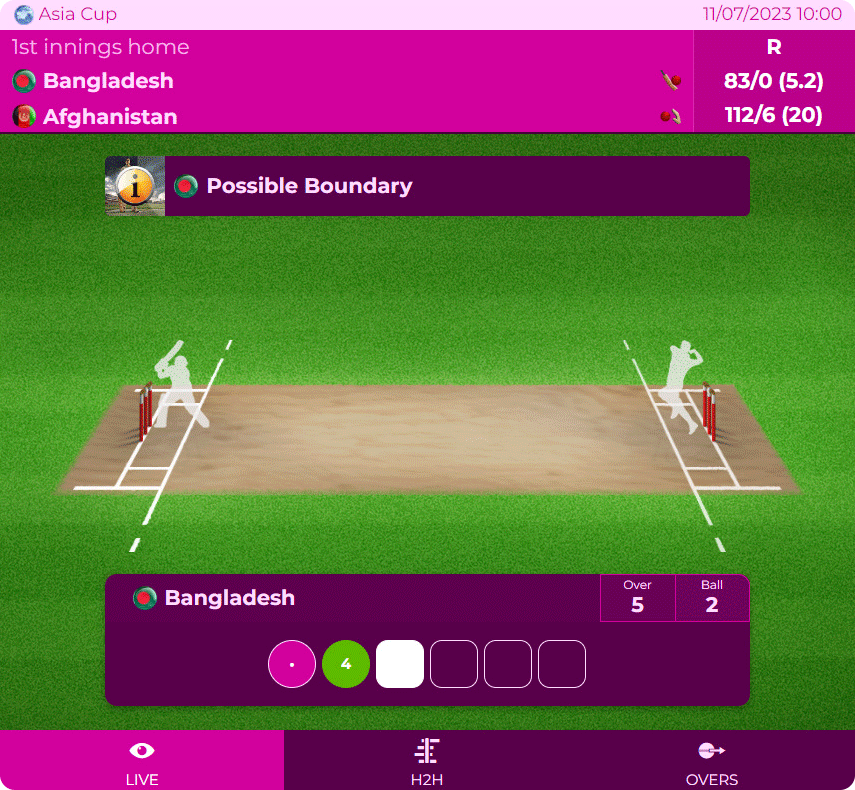 2023 Cricket Asia Cup stats coverage
The group stage of the 2023 Asia Cup is played from 30 August to 5 September. The Super Four of this year's tournament stage will run from 6 to 15 September, with five games being held in Sri Lanka, and one in Pakistan. The final will be played at the R. Premadasa Stadium in Colombo, Sri Lanka on 17 September. 
Coverage of the 2023 Asia Cup is delivered by teams of STATSCORE's experienced scouts, which allows our partners to create flexible offerings while ensuring the security of their operations with bet-stop and bet-start alerts. The provided Asia Cup 2023 data includes 
key incidents, 
ball-by-ball 
fast data, 
score updates, 
strike rate, 
run rate, 
boundaries, 
wickets update, 
and many more!
Take advantage of STATSCORE's cricket data!
STATSCORE's cricket data offering keeps growing with top-notch data from the world's top competitions – including Indian Premier League, Cricket World Cup Qualifiers, Caribbean Premier League, and many others. 
The data is available in:
General view of STATSCORE LivematchPro cricket data
General view of STATSCORE PrematchPro cricket data
Find out more about how STATSCORE's cricket data can take your business to the next level!
CHECK OUT STATSCORE'S CRICKET DATA!
STATSCORE, with our extensive cricket data coverage, is ready to assist and support the expected development of this exciting sport in the new territory!
Sounds good? Get it NOW!