Live betting is all about making quick decisions based on the fastest sports data and some inspiration. You can not expect people to bet aggressively as the game progress, if you do not provide them with stats that have the lowest possible latency and if you do not indicate clearly and concisely how the match is evolving. STATSCORE's LivematchPro achieves both of these goals for you.
USE THE FASTEST SPORTS DATA
You understand that your users expect only the fastest livescores and stats. If can't provide up to date scores and results, you are losing creditability. Therefore you have to deliver the data fast and with no mistakes. In the world of modern sports, where everything is about pace, fans have become more and more demanding.
This is why it makes sense to have the backing of professionals, who have built their reputation on delivering reliable sports stats. STATSCORE has its own network of scouts, spread all over the world. This group of scouts have become elite sporting experts, trained to deliver data in the quickest way. We have a very demanding recruitment process, which makes it difficult to become a STATSCORE scout. Then we add several procedures for data quality control. All to make sure that you get fast and reliable data.
Experience more: visit online LivematchPro demo!
INSPIRE PEOPLE WITH AMAZING ANIMATIONS
Let's be serious – we are coming to the end of the second decade of the twenty-first century! Is it possible to inspire people to get involved emotionally with a sporting event by serving them a simple text explanation of what's taking place backed up with a few numbers? We don't think so, we believe you need to keep people enthusiastic by showing them the game in a way that impresses and inspires them.
This is why we have made sure to display every single incident from the 16 sports that we cover in LivematchPro with dedicated animations, regardless if this is a goal, corner kick or a set won. We show all the action on a realistic sports surface, which makes following a game an even greater experience. Furthermore, it encourages people to place more bets as they feel as close to a sporting event as possible.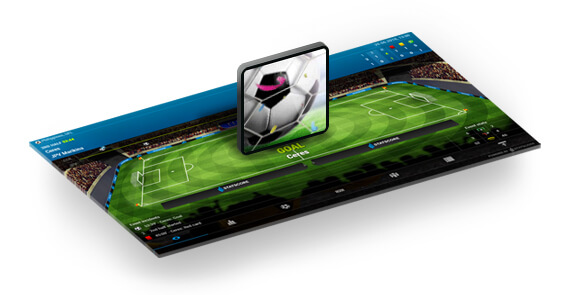 You don't need to take our word for this. LivematchPro is available for you to try for free. Just select the plan that meets your expectations about the number of events per month you will need and click "START FREE TRIAL" to get 14 days of free access to this great service. You will see the change immediately!
If you want to get in touch to find out more, just contact our Customer Success Team at cst@statscore.com or use the LiveChat service on our website. We will be more than happy to schedule a call and discuss how we can help your organization!