If you follow our News Center, you shall know that in the last few months there have been a few publications about the technical aspects of LivematchPro. But in a two-part article, we would like to highlight the great visuals we have created and the number of sports we now cover. If you have checked out our new website lately, you will know that we are now up to 19 sports! 
SOCCER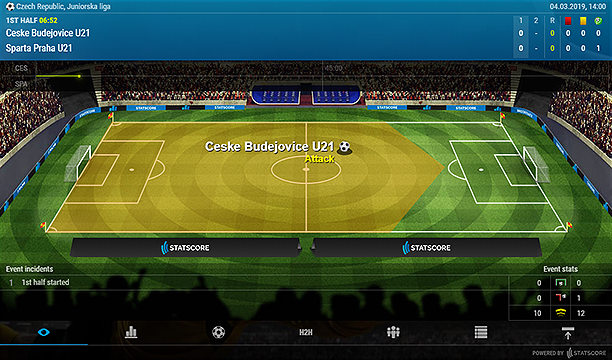 No getting away from it, we have to start with the most popular sport on the planet, soccer (football for some). Our tracker can now be seen all over the world, customised for some of the biggest names in the industry. With LivematchPro, we now cover over 820 soccer competitions worldwide, that's right, over 820! This was one of our first trackers and has been consistently updated over the years to keep it the best on the market. Here are examples of a few of the incidents we cover and the great graphics that accompany them: goal, red card, missed penalty and much more.







BASKETBALL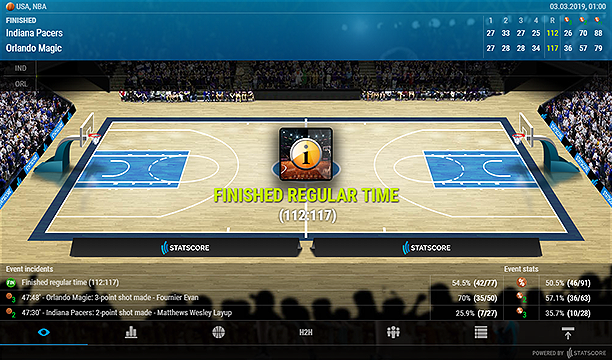 Basketball, another great and very popular game around the world. The NBA may be the biggest and the most well know, but there are great league wherever you travel! You can now follow 248 of the best competitions globally with our LivematchPro Basketball tracker! Some of the examples of visualised incidents: 3 point shot, defensive rebound, timeout.







TENNIS
It's always up-to-date and with tennis, the action flows fast. We now cover a staggering > 4,300 competitions that include the ATP, WTA, ATP challengers tour and the Davis Cup just to name a few.







SNOOKER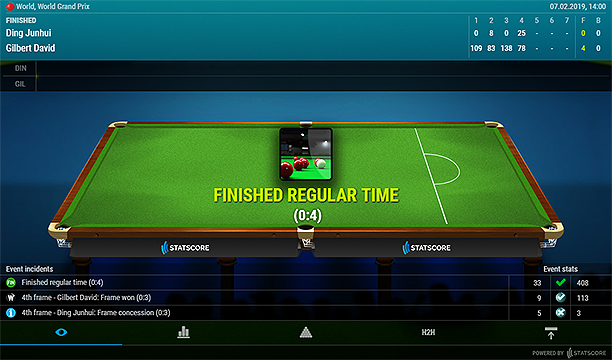 Who's your favourite Snooker player? The top 5 in the world rankings at the moment are 5th Judd Trump, 4th John Higgins, 3rd Ronnie O'Sullivan, 2nd Mark Williams and at the top of the world is Mark Selby, a 3 time World Champion. To STATSCORE, it really doesn't make a change who is your favourite player, but it does matter that you can follow all the action live with our great LivematchPro Snooker tracker. It will now bring you all the live action from 80 events around the globe and that number is growing year on year! Some of the incidents we celebrate with visualizations are century break, touching ball, foul.






ICE HOCKEY
Ice Hockey is a contact sport played on ice, as the name suggests, but I'm sure all you Hockey fans out there didn't need me to tell you that! Our Hockey tracker is one of our most watched and covers 121 competitions and leagues worldwide. But is it a great tracker? Just ask The Polish Hockey League who have decided to use STATSCORE as their official statistics provider! Yes, it's a great tracker and a great way to follow all The action live!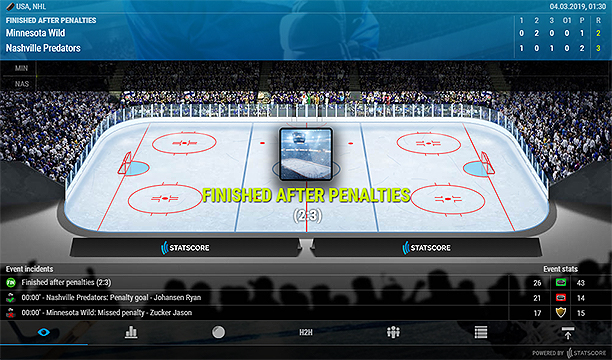 Check video presenting some of our LivematchPro trackers:
BASEBALL
We all know that Baseball is a major sport in the USA, but did you know that it's played in around 122 countries and there is an estimated 35 million player registered worldwide? STATSCORE's LivematchPro brings you 46 competitions and league from Asia to Europe. If you're a fan, check it out! Some of the key visualized incidents: strike, home run, batter in the box.







VOLLEYBALL
What a great game. Some of you out there will know that STATSCORE's head office is based in Poland and last year, Poland won the Men's Volleyball World Championships to retain the title they won four years earlier on home soil! But Poland is not alone in its passion for Volleyball. The FIVB has 5 continental confederations that are made up of over 200 counties and STATSCORE covers over 200 competitions and leagues from across these confederations. You're welcome!






BADMINTON
Another sport and another great LivematchPro tracker. For those of you that don't know, badminton is a racquet sport that's played using racquets to hit a shuttlecock across a net. Badminton is also an olympic sport and played regularly by some 220 million people worldwide. A large number of these are based in Asia, but did you know that the UK has 4 million registered players and that's 8% of the population? All these players can follow their chosen sport with our Badminton tracker that covers over 400 leagues and competitions. We visualize eg. serve, let, net attack.






HANDBALL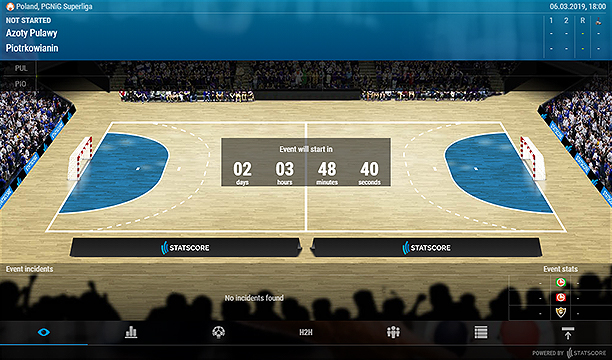 Handball is a very fast moving game where 50 plus goals are often scored in a single game. It's very popular across Europe but the international Handball Federation estimates that there are around 27 million players worldwide playing for nearly 2 million teams. STATSCORE brings you all the live action from 126 competitions and are the official data supplies for the top Polish Handball league. Some of the visualized events are: travelling, missed throw, goal.







BOWLS
I know what you're thinking, not the fastest sport in the world, but it is played in 51 counties across 6 continents! And just because it's not the first sport that comes to mind when you are thinking about a live sports tracker, at STATSCORE, we believe that all sports fans should be able to follow their favourite sports, teams and players.





Read more: how to navigate easily the new LivematchPro coverage at our website.
If you want to get in touch to find out more, just contact our Customer Success Team at cst@statscore.com or use the LiveChat service on our website. We will be more than happy to schedule a call and discuss how we can help your organization!