We're delighted to announce that the top tier of Slovenian football, PrvaLiga, has become the latest sports competition to appoint STATSCORE as their Official Sports Data Provider.
Starting from the upcoming rounds of the competition, STATSCORE's teams of sports data experts will be providing the league with top-quality live data and statistics.
The deal with the Slovenian federation is another highlight when it comes to STATSCORE's collaboration with prestigious sports competitions worldwide.
Becoming a Partner of PrvaLiga is a sign for us that the quality of our solutions meets the requirements set by the best football competitions in Europe. I'm sure that the live data and statistics that will be made available through STATSCORE's LeagueCenter and live feeds will allow the league to win new fans, as well as engage and entertain the existing ones – said Radosław Firlej, STATSCORE's Business Development Manager.
STATSCORE's advanced solutions will ensure that the league's fans and followers get access to a wide selection of key sports data and statistics. All the essential data will be made available through a tailored LeagueCenter platform that will be featured on the league's official website.
LeagueCenter is a renowned solution designed to cover all of a competition's key data and statistics. It provides full access to live stats, standings, pre-game data, comparisons and events animations to help leagues attract and engage more fans and viewers, and keep their revenues growing.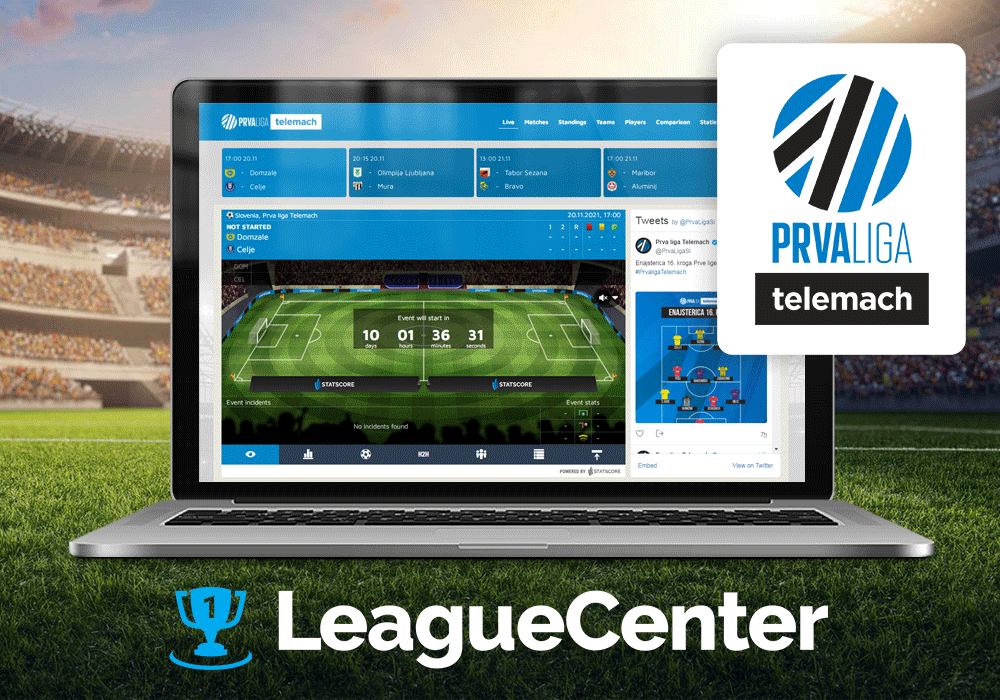 The platform is currently employed by a number of leagues and competitions for which STATSCORE delivers sports data, including Belgian Betcenter Futsal League, Czech 1. Futsal League, PGNIG Superliga (Polish handball league), Polish 2. Liga of football, and many more!

About STATSCORE
STATSCORE's is a Polish company whose mission is to build the Biggest Sports Data Center in the world. The company provides the highest-quality sports data and statistics in the form of widgets, minisites, and feeds. STATSCORE supports sports fans and organisations, media outlets, and bookmakers, by offering reliable live data, in-depth statistics, and attractive visualisations. The company employs a global team of highly-trained scouts, who deliver the most accurate and trustworthy data in real-time.

About PrvaLiga
Slovenian PrvaLiga, currently named PrvaLiga Telemach for sponsorship reasons, is the top football league in Slovenia. The competition, which was launched in 1991 after the country gained its independence, is currently governed by the Football Association of Slovenia. It is contested by 10 teams, which play against each other four times during a season, for a total of 36 rounds. NŠ Mura, founded in 2012, are the current title holders.