Are you sure that your sports-focused business is ready for the ultimate football show of the year? It's the LAST CALL! You can either let it go as it is or give yourself the chance to upgrade to the level of uniqueness not met so far. Find out how STATSCORE's data-packed tournament platforms and match trackers can help you take advantage of the upcoming Qatar cup!
From the revolutionary CupCenter platform, through the amazing StatsWidgets, to live scouting coverage of ScoutsFeed and SportsAPI – STATSCORE offers you a wide selection of products that you can use to boost the engagement of your users and followers!
Not sure which of them would work best for you? Here's a quick review of how they can HELP your online business project.
CupCenter'22 – comprehensive platform with all tournament data
The flagship CupCenter'22 is the most common choice for betting operators, betting affiliates, and online media that want to make the most out of their coverage of this major sporting event. 
Want to upgrade your media coverage of the event with the most accurate statistics, news, LIVE animations, data on fixtures, standings, and everything football fans will be looking for? Look no further! STATSCORE's CupCenter is the go-to platform for comprehensive tournament coverage. 
If you're running a betting business this solution will help you keep your users engaged and quickly redirect them to your betting sections.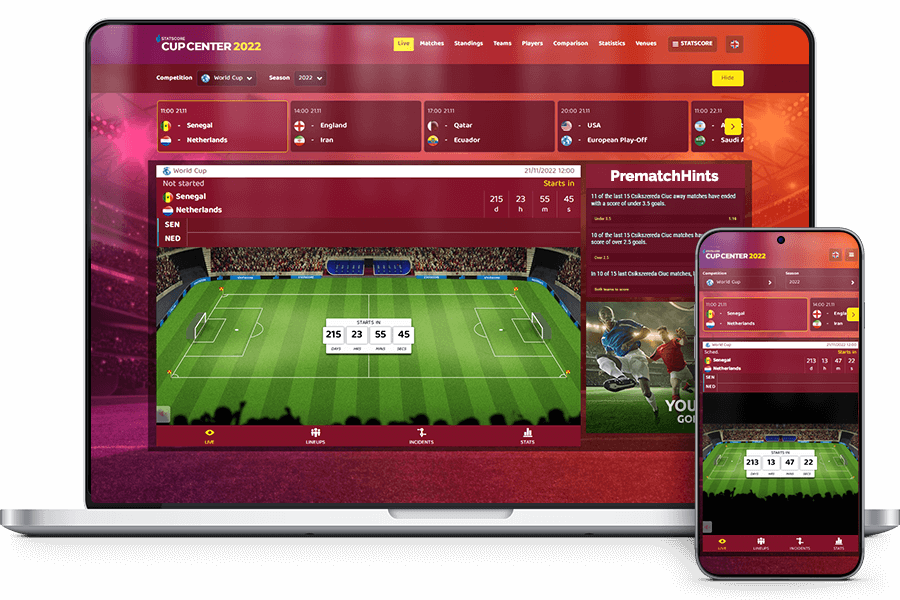 CupCenter
Revolutionary match center with animated visualizations of all games.
Set of flexible and user-friendly sports widgets
Employing STATSCORE's StatsWidgets is another superb idea to upgrade your betting content or media coverage of the event. 
Is written coverage of sporting events enough to make readers flock to your website? Well, of course, it doesn't work this way. In today's image-ruled world you need something more spectacular, even if your texts are first-class.
These user-friendly and easy-to-customize widgets are a perfect way to complement your written coverage by letting your users take a deeper look into the data behind specific games.
STATSCORE offers you a wide selection of widgets that best fit your needs. These include:
– LivematchPro, which provides visually attractive real-time sports data to keep your users engaged.
– H2H widgets, which deliver advanced info on teams' previous performances, their direct matches, general form, etc.
– Scoreboard, which displays crucial data that everyone is interested in, namely… what score is it?
– Vote widget, a well-liked solution that can successfully attract bettors and sports fans who can express their game predictions by voting.
And many more…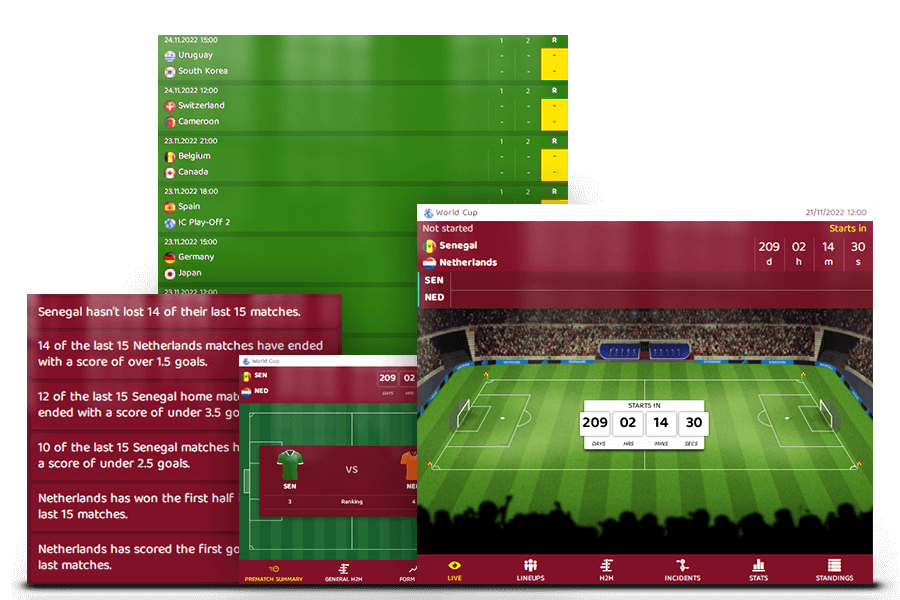 StatsWidgets
Hundreds of easy-to-customize widgets to enhance your coverage.
Breathtaking? Yes, it is!
And still, we've got more to offer!
Complete Qatar and historical data to power your website or app
STATSCORE's SportsAPI is a great product that will provide you with all current tournament and historical data in JSON format, allowing you to power up your website, mobile app or infographics with detailed players' data.
It's the perfect solution for you if you want to launch a product for the upcoming tournament (website, mobile app). It will provide you with a high level of sports data for this competition, the preliminary round and the previous tournament.
You get the opportunity to add livescores, if you wish to make sure that your users are always up to date with the latest results. All the squads, lineups, fixtures, and more are easily accessible. No need to dig into the schedules or check who won the highest number of games in the previous tournament as SportsAPI will put it all at its forefront.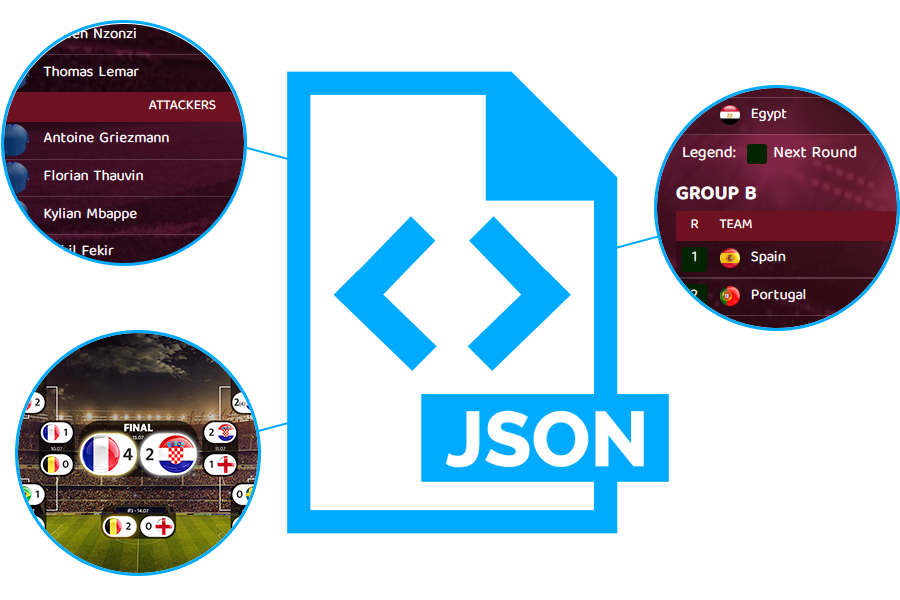 SportsAPI
All current tournament and historical data come in JSON format.
Top-notch scouting coverage for every game
ScoutsFeed is yet another sports data solution that you can use to take your Qatar coverage to another level. It offers you live scouting coverage based on a low-latency TV feed for every tournament match.
What do you get with this product?
Every game of the tournament, covered live by STATSCORE's top scouts (TV source) – two per game

Extended details of events and incidents

Ball-tracking

Low-latency and high-accuracy data
These features will allow you to show detailed information from every game LIVE, in an online project or mobile app.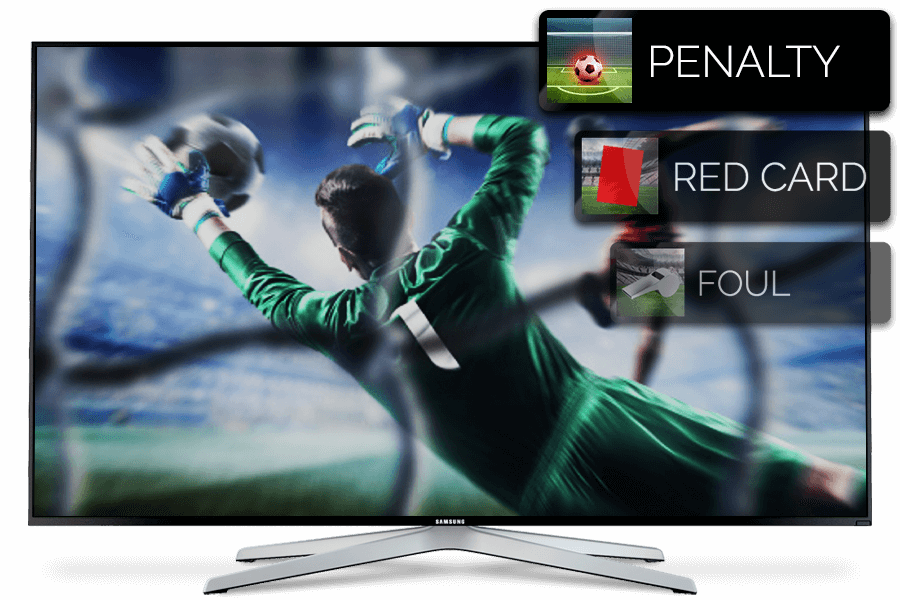 ScoutsFeed
Live scouting coverage based on low-latency TV feed for every game of the tournament.
Choose one or more to make your experience of the biggest soccer tournament of 2022 more successful!
Boost your media or betting business with STATSCORE's data!
Check out how STATSCORE's data can help you generate higher traffic to your website during the 2022 tournament, improve user engagement, or encourage more and higher bets!
 Learn about all the benefits here.
Or… buy STATSCORE's LeagueCenter and get CupCenter'22 FOR FREE!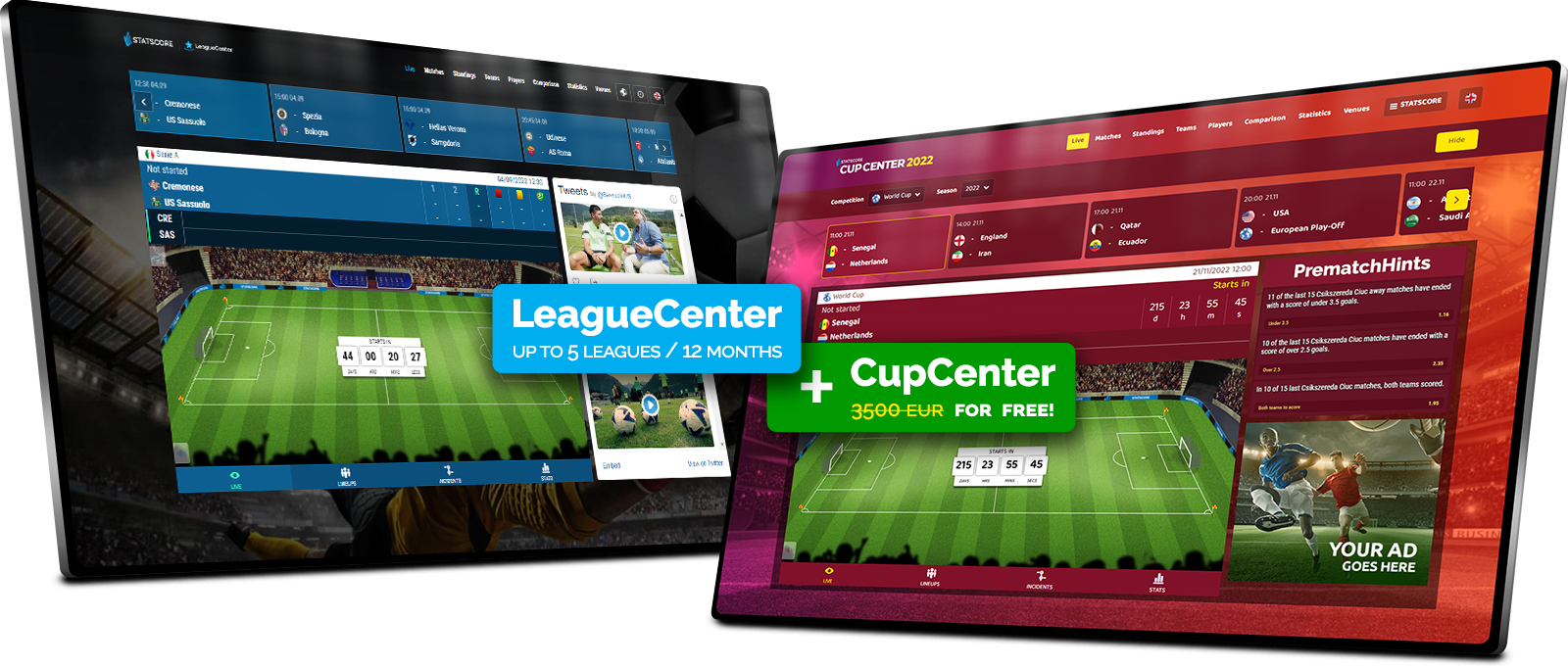 You can now buy STATSCORE's data-packed LeagueCenter platform for up to 5 leagues at a discounted price. And to make it even better, get a bonus – CupCenter for Qatar gratis!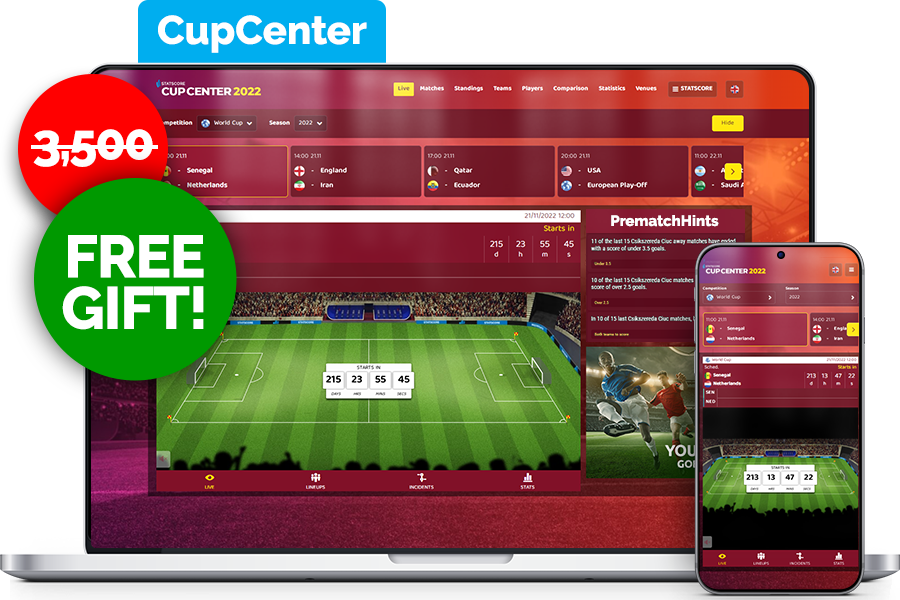 Get the LeagueCenter + CupCenter Bundle NOW!
Want to learn more? Drop us an email directly at cst@statscore.com or let's talk on LiveChat!