Are you sitting comfortably? Is there anything bothering you? How about your online betting business? Does it meet your expectations? Or is there anything that you think could run more smoothly or even better? A lot of questions, I know. Well, at STATSCORE, we like to ask them, because we have all the answers to help you increase your turnover.
GET MORE BETS BEFORE THE GAMES START
Your pre-game offer will get a boost with the right data delivered to the right place because it will inspire fans to place more bets. STATSCORE has the tool to do this with our PrematchPro widgets that cover an incredible number of 19 sports.
For every single sport we cover, we have all upcoming events and provide your visitors with recent results and the form of all participants. On top of this, there are head to head comparisons, standings, social media sites and so much more.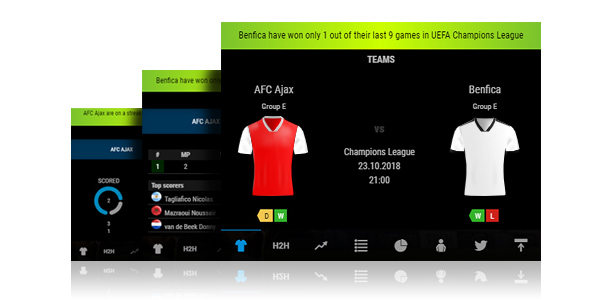 For all sports and competitions, we take the pressure of making the right decisions away from betting fans by offering and displaying hints. STATSCORE FACTS provide all the necessary inspiration needed. These hints are placed right next to the odds you provide to help stimulate immediate betting decisions from users.
Experience more: enjoy the online demo of PrematchPro!
MORE LIVE BETS COMING!
After the first has whistle sounded, we keep on providing the entertainment with our now famous LivematchPro trackers. STATSCORE's powerful live trackers offer 2D animations for every single incident across 16 sports.
Regardless if this is a shot at goal in soccer or a successful free throw in basketball, we relay this action as soon as it happens. What's more, we can show where the action took place on the pitch/court because we track the ball all times.
SAVE TIME AND MONEY BY USING STATSCORE MAPPING SERVICE
The bigger your offer is, the more time you will need to spend merging and pairing the ID's from different providers so that all the information for events end up in the correct place. Understanding how demanding and time-occupying this can be, STATSCORE built a special unit, which has only one responsibility and that's to map our widgets with the ID's of your provider, no matter who that may be!
We always try to be one step ahead of your expectations to make sure that whatever solutions the future demands, we will be in a position to create for you!
Be faster than your competitors: Start FREE TRIAL today!
If you want to learn more about how we can help your betting organization with our great set of sports widgets designed for mobile devices, just drop us a message at cst@statscore.com.