While the eyes of the sporting world are turned mainly to Qatar, STATSCORE doesn't forget to deliver the most advanced and reliable data for other sports as well! Just take a look at our ski jumping visualisations and statistics!
STATSCORE's sports widgets keep developing to provide top sports data and statistics for sportsbooks, media outlets, and sports organizations. This time, one of our flagship products has been updated with some amazing ski jumping hill visualizations in which all the jumps taken within the tournaments are displayed! 
This is how you can employ our LivematchPro to display ski jumping data through beautifully-crafted visualizations!
The widget has been designed to provide the most comprehensive data in an easy-to-grasp fashion. It displays information on the length of all the jumps and the awarded scoring points for the style of the jumps. The jumps are also visualized through a jump hill image to make the data even more attractive to the users. Moreover, it is possible to compare the performances of different jumpers by clicking on their names in the widget.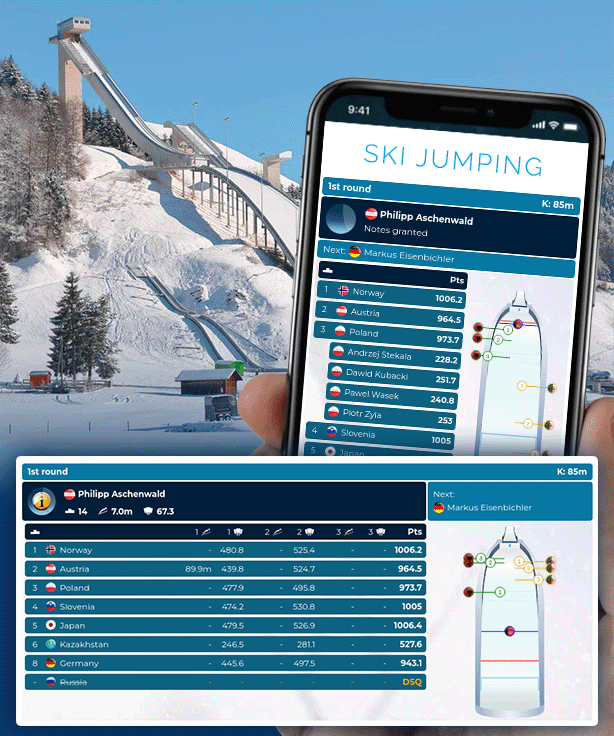 All the Ski Jumping World Cup contests, including individual and team competitions, are now available in the product. That's an unprecedented level of ski jumping stats and data designed to fit the needs of fans, media, and betting organizations!
CHECK OUT STATSCORE'S LIVEMATCHPRO NOW!
Sounds good? Contact our Business Development Team at bdm@statscore.com to let us explore your needs and arrange an online presentation for you. It has never been easier!