Are you happy with your betting website? Once you've reached your first milestone, which is usually to maintain the target number of visitors using the site via desktop, the next step is either make a move onto Self Service Betting Terminals (SSBT) and expand your local offering or move into mobile betting, which is absolutely the way to go right now. Find everything you need to know about the hype with STATSCORE.
LET US OPEN WITH SOME FACTS
Jazz music stops… Let the number talks:
More than 50% of online bets worldwide are now made with the use of mobile devices.
Over 76% of adults in advanced countries own at least one smartphone (according to the PEW Research Centre).
There are 8.98 billion mobile connections around the world (based on GSMA data), which means that some members of the world's population have more than one device.
58% of websites entries in 2018, were made from mobile devices.
The average mobile device user picks up their device more than 200 times per day (according to Tecmarc).
If this is not enough to convince you that mobile access to the Internet is a thing right now, just drop your PC (or your mobile device!) and take a walk around your city. At the bus station, in restaurants, on subway trains – everywhere you will find people looking at their devices. They do it even while walking, which can create serious threats to their well being. This is why more and more European cities put traffic lights for pedestrians on the sidewalk to help protect people from getting hit by a car as they browse the net while moving through the city.
PEOPLE'S CHOICES MAKE YOUR BUSINESS
You can not say, oh well, this is not something I fancy. For the younger generation who are becoming a more and more powerful target group for world markets and are making most of their purchase decisions online, mobile devices are not surprisingly their first-choice of hardware to access the Internet.
The betting markets in this trend have not been left out. If you want to have all of your users fully satisfied and accessing what you offer, you need to provide them with a mobile app or a dedicated mobile version of your website, which will display great on small screens without losing precious content.
STATSCORE IS ON YOUR SIDE HERE
We have understood this for a long time. This is why we recreated our sports widgets: LivematchPro and PrematchPro in unique versions, especially for mobile devices. Smaller and thinner they occupy less space than the desktop editions. Thanks to this, they leave more room for you to display your odds and get people seriously engaged in betting both pre-game and in-play.
"We have been increasing mobile services for betting for a long time as we see how many of the final users prefer to use their personal devices. For this, we need fast and reliable live trackers to display the sports events in a nice and easy to follow way. We decided to use STATSCORE widgets due to their format and responsive design" – claims Christophe Michel, the Head of Digital at Ladbrokes Belgium.
Be faster than your competitors: Start FREE TRIAL today!
This is not a surprise that the key players in the market decided to go for STATSCORE sports widgets that have been created for mobile devices. By creating new designs that take up less space, we have managed to keep all the fun they bring. When compared, they still provide the same precious content and data as the desktop versions, coupled with the amazing live trackers that show all the action from ongoing sporting events.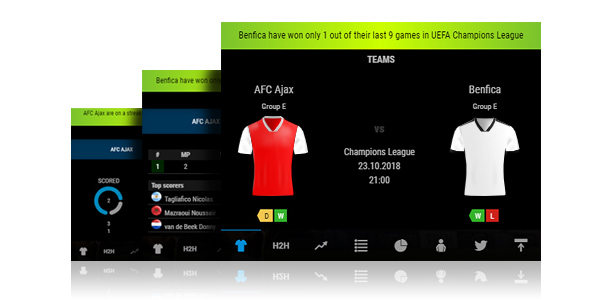 "Any kind of widgets on mobiles have to be smart, compact and practical. These features can be treated and understood differently by each client. The key issue here, is to let the client express his or her ideas regarding the customization of the default templates and then make sure their expectations are met" – explained Dariusz Łęczyński, STATSCORE's Chief Product Officer.
This is how we want to help keep your business going and evolving for you. We play in your team and we want to serve you with the kind of choices that will allow you to keep one step ahead of your competitors.
If you want to learn more about how we can help your betting organization with our great set of sports widgets designed for mobile devices, just drop us a message at cst@statscore.com or engage in a discussion with us through our LiveChat feature on the STATSCORE website.