The world's most important sporting event will soon kick off in Qatar. Is your media website ready to cover it at the highest possible level and win some viewers from your competitors? If you're still not sure, STATSCORE is here to offer you a range of quality football data widgets to keep your content more engaging and entertaining than ever before!
What is STATSCORE's LivematchPro?
LivematchPro is one of STATSCORE's flagship products renowned for its ability to keep sports fans informed, updated, and entertained with the most complex real-time data. 
What makes it even more special is the fact that it delivers these outstanding sets of data through the most innovative, beautifully-crafted visualizations. 
Why are these two aspects so important? Well, if you're in the media business, you surely know what the latest trends among your audience are. The fact is that majority of users are not willing to read long blocks of text. In fact, their attention spans are getting shorter all the time, so to win them over and keep them on your site, you need to provide them with something truly eye-catching. 
Check out LivematchPro right now!
How can you do that? Well, that's exactly when LivematchPro football data enters the stage! It gives you the fastest and most reliable football data to enhance your written content with unrivalled visualizations of key match events!
Combining the most relevant and reliable data with thrilling visualizations is what makes LivematchPro so irresistible!
What kind of football data does LivematchPro offer?
The key feature of LivematchPro is its ability to provide LIVE data and stats on ongoing events.
This means that when using this solution you are able to display on your website real-time visualizations of match incidents such as:
goals,

shots on target/off target,

yellow/red cards,

data on ball possession,

fouls,

free kicks,

offsides.
What better could you offer to your audience when it comes to football game coverage? Well, in fact, LivematchPro has something more for you! 
Apart from the great LIVE coverage, it also provides you with valuable content long before a game starts!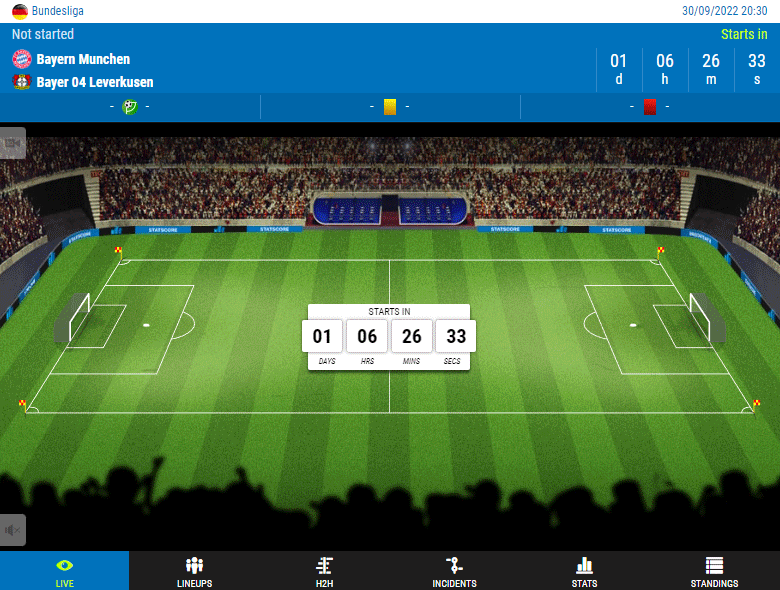 Need to make your pre-game football analysis stand out from the crowd? LivematchPro will boost your website articles or blog posts with all the crucial info fans need to know before the game. These include broad data on involved teams' previous performances, their direct matches, current form and H2H comparisons, as well as a countdown timer to the game and league's/competition's standings.
And after the game ends, this outstanding widget is still working for you making your post-game analysis and commentary more comprehensive with a number of key stats including on and off-target shots, ball possession data, free kicks, fouls, offsides, and much more!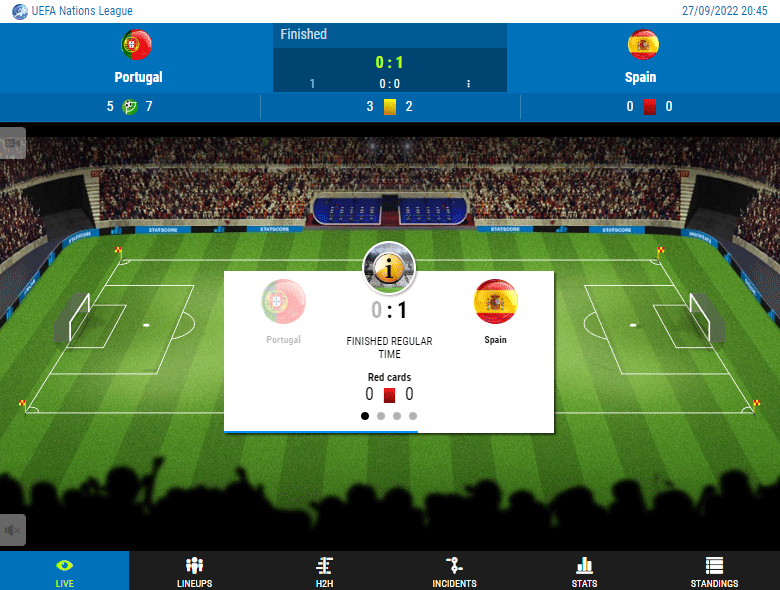 What are LivematchPro's key benefits for media?
This unique platform is ready to boost your news or sports-focused website with tons of the most relevant statistics and LIVE data. How will it translate into your benefits?
forget about the bare text coverage of the matches – we are no longer living in Samuel Morse's times. Instead, offer your fans an engaging visual experience rather than just tons of not entertaining reading updates;
the data tells the story like no one other – this is how you can attract users and keep your visitors entertained;
increase traffic on your website by providing football fans with a better experience than anybody else!
start earning more from advertisements by providing attractive space for ads within LivematchPro tabs;
build your recognition among sports fans and translate your coverage into growing revenues!
Sounds good?
STATSCORE's LivematchPro is ready to help you attract more users to football coverage.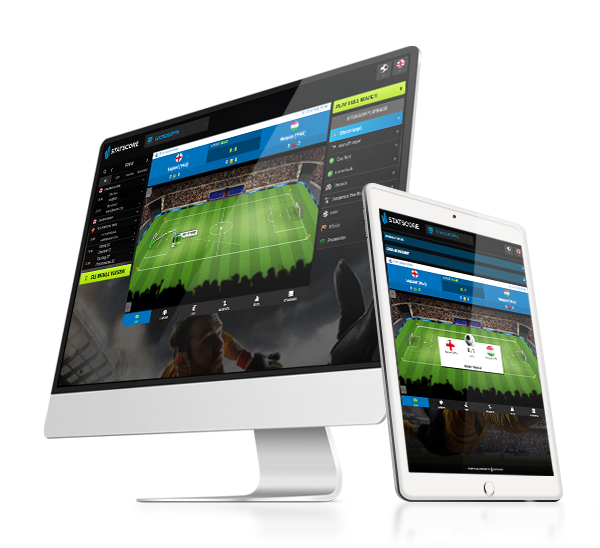 LivematchPro
In-play live sports data visualizations
Want to learn more? Drop us an email directly at cst@statscore.com or let's talk on LiveChat!
Sign up for our weekly BETTING INDUSTRY REVIEW to stay updated with the latest trends and key developments in the world of sports data and betting. You can do it by filling out the form below.
PROCESSING OF THE DATA
Pursuant to Article 13.1–13.2 of Regulation (EU) 2016/679 of the European Parliament and of the Council of 27 April 2016 on the protection of natural persons with regard to the processing of personal data and on the free movement of such data, and repealing Directive 95/46/EC ("GDPR"), we would like to inform you as follows:
1) STATSCORE Sp. z o.o. with its registered office in Katowice 40-012 at ul. Dworcowa 2 is the controller of your personal data.
2) Your personal data will be processed for the purposes of the product trial process – in accordance with Article 6.1(a)–(b) of the GDPR.
3) Furnishing the personal data requested by STATSCORE about yourself is voluntary.
4) Your personal data will be retained for the duration of the Product development term but for no less than the retention period required under the law.
5) Your personal data will not be subject to automated decision-making or profiling.
6) You have the right to access the personal data held about you and to have your data rectified or erased or to restrict or to object to the processing as well as the right to data portability. If your personal data is processed under Article 6.1(a) of the GDPR (i.e. processed on the basis of the consent you have given to the processing), you may withdraw your consent at any time without any impact on the lawfulness of the processing carried out before your consent was withdrawn.
7) You may lodge a complaint in respect of the processing of the above data to the President of the Office for Personal Data Protection (PUODO).