Copa America is on its way and STATSCORE is ready to power up your betting website with our CupCenter, that will allow you to earn more during the tournament. With this competition-centred platform, you will be able to attract more users and engage them into betting more often and with higher stakes. Learn more today and you could start seeing an increase in your turnover as quickly as tomorrow!
ABOUT COPA AMERICA
Wow! Seriously: WOW! This is the 46th edition of this great football tournament and this will be the last one played in an uneven year. CONMEBOL have decided that from now on the tournament will be played in even years, like the European Championships.
This year, as well as the South American teams, the event will welcome as participants Qatar and Japan, as special guests. All the games will be played in Brazil's famous stadiums, including the legendary Maracana in Rio de Janeiro. The list of great moments that have taken place in this stadium is long. Let us take you back to 1954 when more than 180,000 fans watched Brazil vs Paraguay game.
While we are waiting for the tournament to start (that's going to happen on the 14th June), we already have some great news to share. Argentina's head coach, Lione Scalloni, announced the national team's squad and it includes all the players that everyone have been waiting to see together again: Leo Messi, Sergio Aguero and Angel Di Maria. Many fans will be keeping an eye on Chile to see if they will defend the title from 2016?
HOW TO BE WELL-PREPARED FOR COPA AMERICA WITH STATSCORE?
Are you sitting down? Better to be sitting when you hear this because it's a bit of a shocker. We will have every game covered by our highly skilled scouts, who will deliver fast and reliable football stats including:
Shots on target
Dangerous attacks
Ball movement
Yellow and red cards
Free kicks
Substitutions
And many more
Our live ScoutsFeed guarantees unrivalled access to the matches as they are in progress. We will use this live feed to power up our now famous CupCenter, and bring the event to life for your visitors with our fantastic live sports trackers.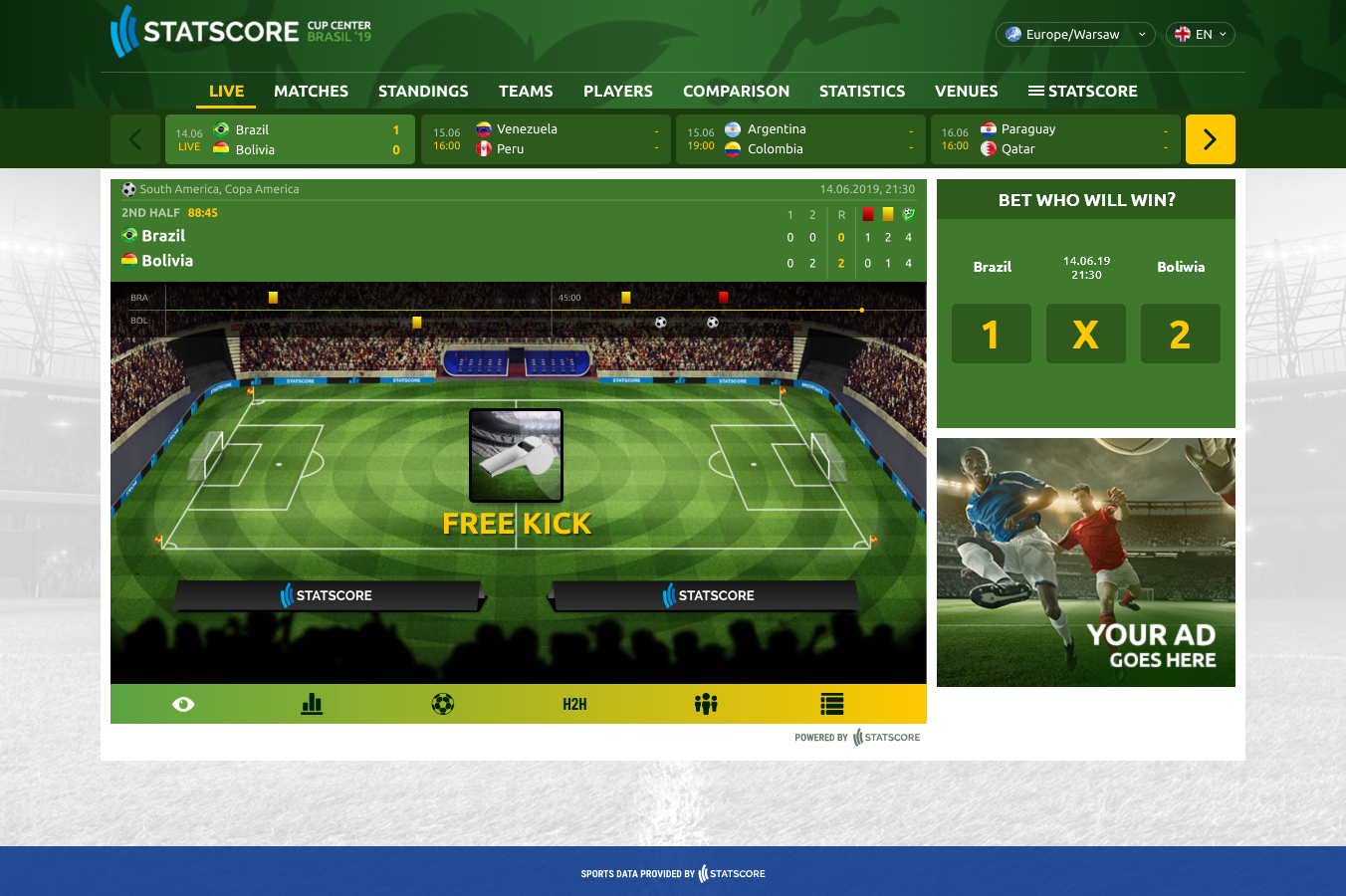 WHY SHOULD I HAVE CUPCENTER ON MY SITE?
Good question, pal! Let's briefly explain what CupCenter is. In short: this is a tournament-themed edition of our LeagueCenter platform. This makes it a perfect competition matrix, it contains all the relevant information that any betting fan could ever want and this includes:
Live games visualizations with every single key incident animated,
Schedules
Standings
Team and player stats,
Comparisons,
Extended stats,
Venues information,
Organizers' official social media profiles
If you would like to take a peak, please check out what we have prepared for the ongoing FIFA U-20 World Cup Championship that's being played in Poland. We will deliver a similar CupCenter platform for the Copa America championship, to help you win more attention and visitors during the tournament.
The special price for this product is only 2000 EUR for the whole tournament!
Do not wait for others to be faster? Increase your online offer for Copa America with STATSCORE by contacting our Customer Success Team.