First, they picked Cristiano Ronaldo, now they've selected STATSCORE… Sporting Clube de Portugal, one of Europe's most successful football clubs ever, will be using our TeamCenter to provide its fans and followers with superb statistical experience!
Sporting CP belongs to the most successful and renowned football clubs in Europe. Founded in 1906, it went on to become one of Três Grandes – the three greatest Portuguese teams. It is currently ranked by UEFA within the top 30 clubs on the continent. Sporting has also been famous for its astonishingly productive youth academy, which helped develop some of the best players, including Cristiano Ronaldo, to have ever played the game of football!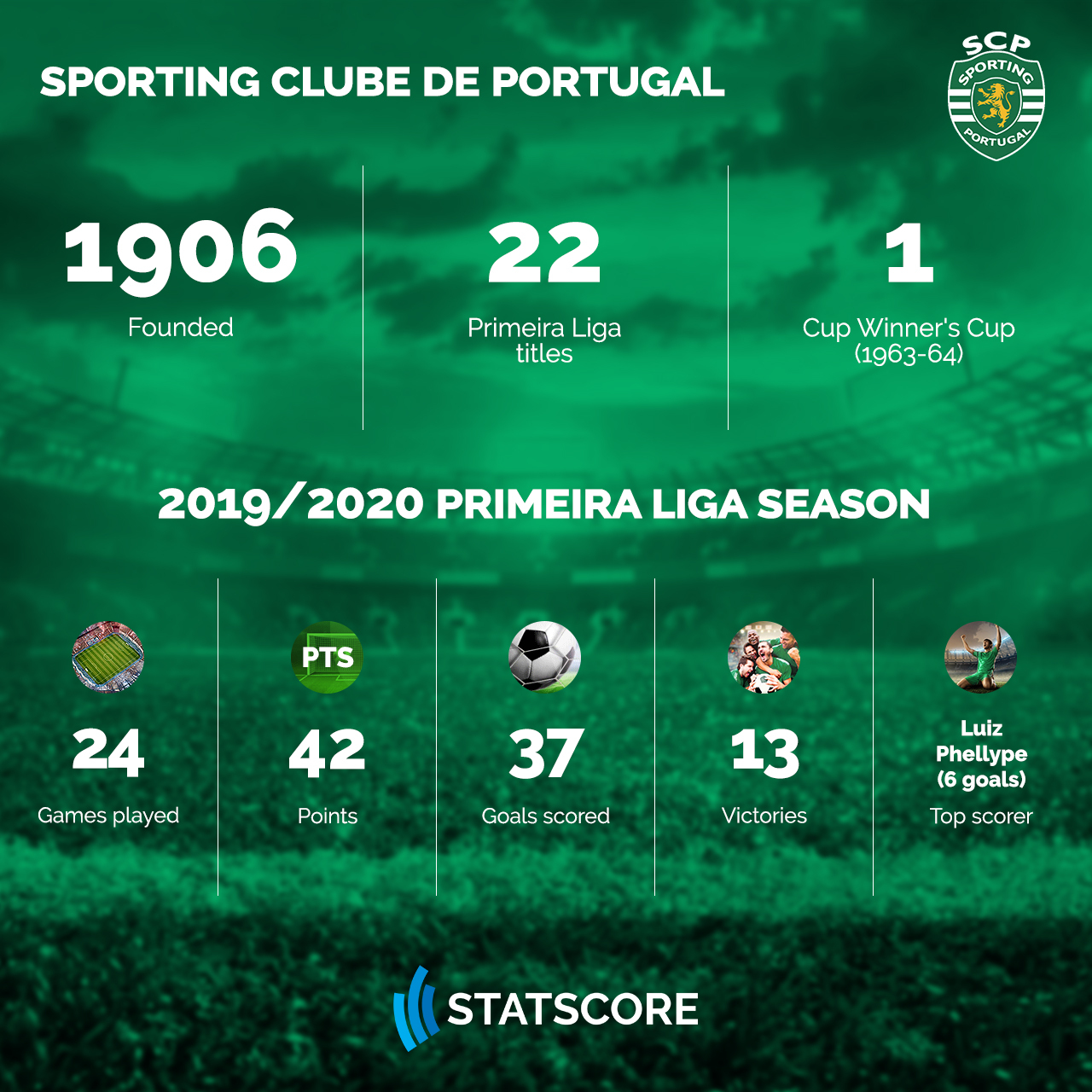 The Leões (Lions) have been known for its dedicated fanbase spread throughout the country. In fact, it is worth remembering that the club's name indicates that it proudly represents the whole of Portugal, and not just the city of Lisbon, where it is based.
Now, the club has made another fantastic step in providing their devoted fans with the best possible experience by choosing STATSCORE's TeamCenter as its official sports data platform.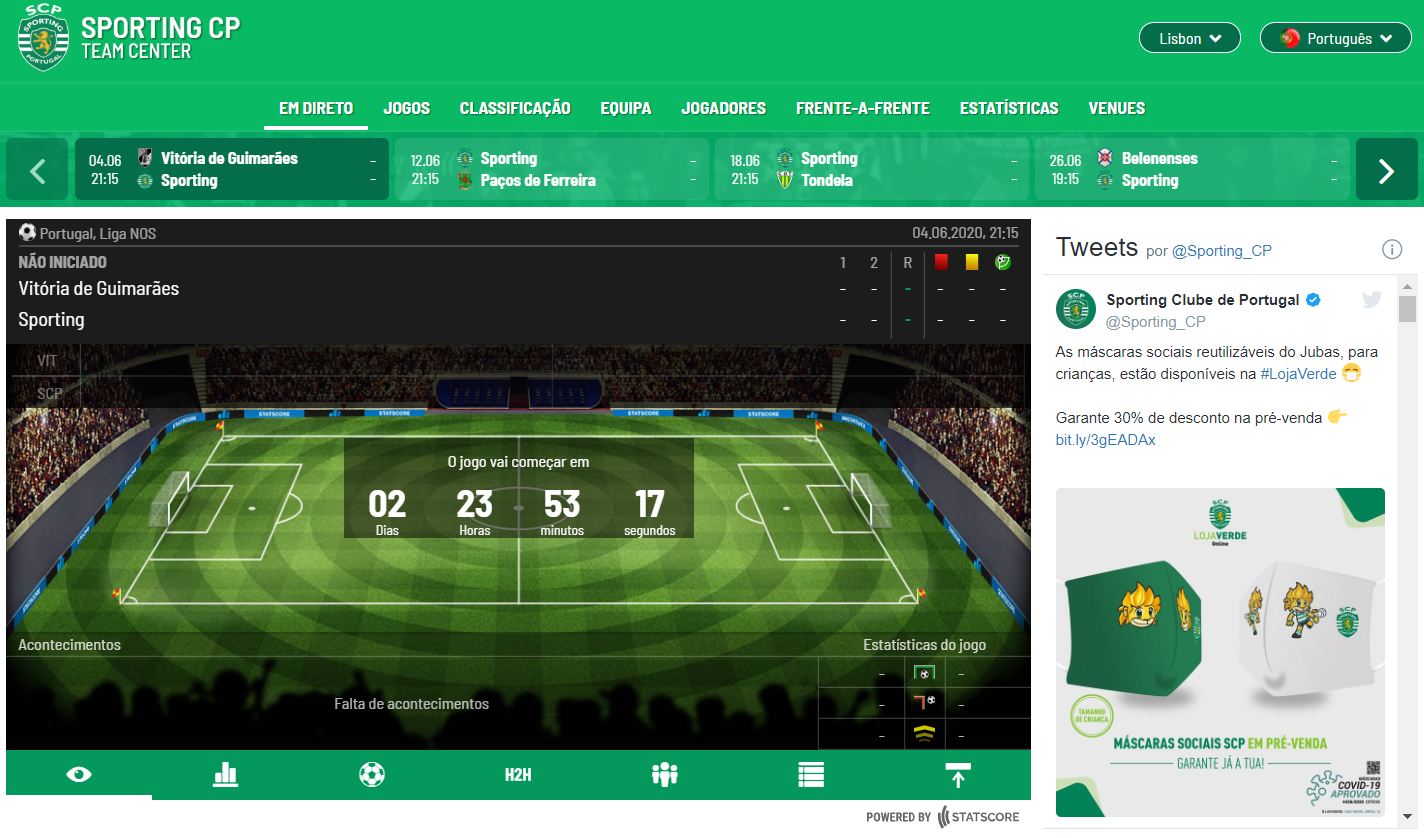 This solution will enable Sporting to engage, inform, and entertain their supporters with the most accurate statistics and live data presented in a visually compelling way. The responsive design of this outstanding platform guarantees that it looks great on any device, system, or browser!
With TeamCenter, Sporting will always keep them up-to-date with the most reliable pre-match info, in-game trackers, comparisons against rival teams, players' details, standings, and the most comprehensive and accurate statistics!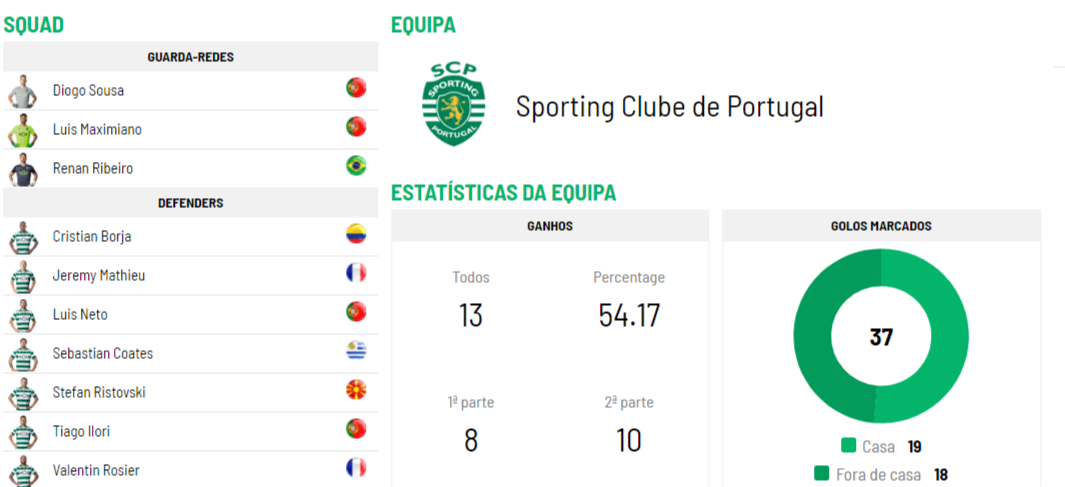 STATSCORE's data is delivered by experienced teams of professional scouts from the venues, which guarantees its accuracy and speed. This will truly mark a new level of fans' relationship with the club!
Sporting CP – proudly representing Portugal
What make's Sporting Club de Portugal special? Here are just some highlights!
• Throughout their amazing history, Leões have won a total of 54 trophies, including 22 Primeira Liga titles, 17 Portuguese Cups, 4 Championship of Portugal, 2 Taça da Liga and 8 Portuguese Super Cups. They've also had their share of international glory having won the 1963–64 European Cup Winners' Cup.
• The club's legendary youth academy, Alcochete, has shaped some of the world's greatest players, such as Luis Figo and Cristiano Ronaldo. In the Euro 2016 final, when Portugal beat France, 10 out of 14 players of the Seleção to have stepped on the field, were "made in Sporting"!
• It's not Sporting Lisbon. It's Sporting Clube de Portugal! What also makes the club so special is its insistence on representing the whole country of Portugal, and not just one part of it.
STATSCORE – delivering the amazing TeamCenter for football clubs
STATSCORE's TeamCenter is a solution that brings fans close to their teams by providing the highest quality stats and data. What makes it so outstanding?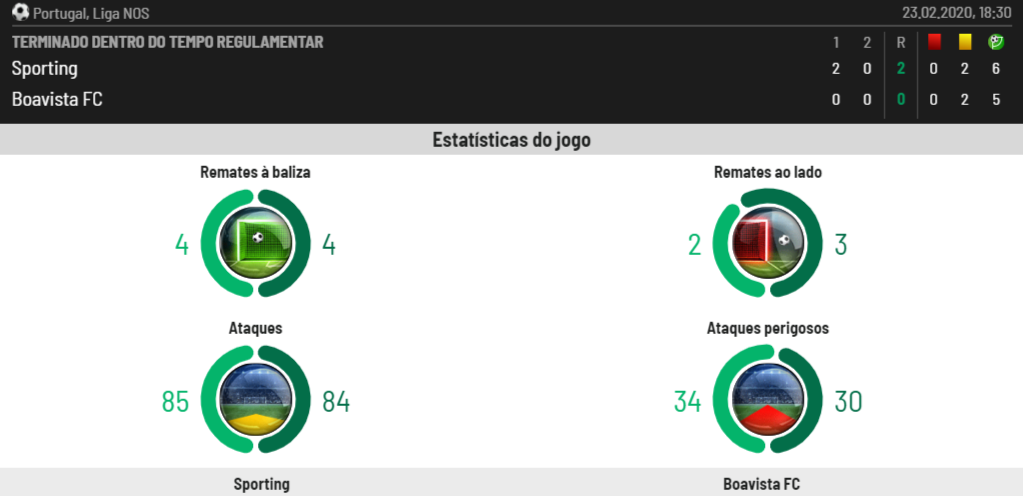 Learn more about STATSCORE's TeamCenter!
• Focus on a single team – with all the relevant data, verified stats, live trackers, STATSCORE's TeamCenter is the perfect solution for any team that wants to make sure its fans and followers get the best information they can! Sporting's supporters will from now on feel they can be with their team, even if they can't watch their game!
• Most advanced and comprehensive data – will Luiz Phellype play tonight? What is Vitória de Guimarães's current form? Want to check the winning streaks and positions in the table…. With TeamCenter, you have it all in one place – from team's current squad, to H2H comparisons against rival teams, to live match data and up-to-date Primeira Liga and European Cups standings …
• Visually attractive and responsive – STATSCORE's data is not just trustworthy and up-to-date. It's also presented in a visually attractive and entertaining way. That's a truly new level of statistical experience for fans!
Read more: 5 benefits for football clubs from using TeamCenter
Find out more
Learn more about how STATSCORE supports sports organisations. Drop us a message at cst@statscore.com or let's talk on LiveChat!
Sign up for our weekly BETTING INDUSTRY REVIEW to stay updated with the latest trends and key developments in the world of sports data and betting. You can do it by filling the form below.

PROCESSING OF THE DATA
Pursuant to Article 13.1–13.2 of Regulation (EU) 2016/679 of the European Parliament and of the Council of 27 April 2016 on the protection of natural persons with regard to the processing of personal data and on the free movement of such data, and repealing Directive 95/46/EC ("GDPR"), we would like to inform you as follows:
1) STATSCORE Sp. z o.o. with its registered office in Katowice 40-012 at ul. Dworcowa 2 is the controller of your personal data.
2) Your personal data will be processed for the purposes of the product trial process – in accordance with Article 6.1(a)–(b) of the GDPR.
3) Furnishing the personal data requested by STATSCORE about yourself is voluntary.
4) Your personal data will be retained for the duration of the Product development term but for no less than the retention period required under the law.
5) Your personal data will not be subject to automated decision-making or profiling.
6) You have the right to access the personal data held about you and to have your data rectified or erased or to restrict or to object to the processing as well as the right to data portability. If your personal data is processed under Article 6.1(a) of the GDPR (i.e. processed on the basis of the consent you have given to the processing), you may withdraw your consent at any time without any impact on the lawfulness of the processing carried out before your consent was withdrawn.
7) You may lodge a complaint in respect of the processing of the above data to the President of the Office for Personal Data Protection (PUODO).