In the previous article of the series we were talking about configuration options of our famous ScoreFrame.  Today you will learn more about choices you can made to adjust this minisite to your needs because what we care most about is giving the client a choice in as many aspects as possible. We simply understand that these days a product must be adjusted to the real needs of clients who are coming from very different areas of expertise or just different countries and cultures. We do know that for example in Norway, there is a lot more interest in winter sports such as ski jumping while a client from Spain would rather go for football (soccer) as this is the number one sport there.
We have prepared a template with a default setting. We took a lot care to adapt it in a very universal way to suit as many clients as possible from all over the world. However the main purpose of this article is to present every single part of ScoreFrame that can be changed by the clients in cases where the default setting is not what they are looking for.
Read more: how to describe your sports related business and what you need better
Favicon and title
The product looks better in a browser when the page has a favicon and a title and that is why we suggest our clients send us the file and the information. This setting is visible on every page you visit. Preferable file for the favicon is a .PNG sized 16×16 pixels.
Languages
We offer a full package of languages, however if your website is dedicated for only one country you can always let us know (you may wish to have only one language).
ScoreFrame automatically adjusts the language of the website. The system tries to find the language of the browser and then sets the proper one on the website.
If the user picks the language by himself then this configuration will be saved in his browser and remembered afterwards for all other changes.
One of the languages needs to be chosen as the default one when you enter the site form a country thats language is not on offer in the ScoreFrame. Then the default language will be set. English is as default, however it can be changed on request.
The order for adjusting the website language is as follows:
Language set by the user
Language set by automatic adjustment (based on the browser's language settings)
Default language set by the system administrator
Time zones
There is a select tab with time zones in the header and the user's browser will detect the proper time zone and set it automatically.
If the user picks the time zone by himself then this configuration will be saved in his browser and remembered afterwards for all other changes.
It is possible to define one time zone only. In cases where the product is dedicated for users from only one country, just hide the select tab, as it will now have no purpose.
Sports selection
Functionality and the look of the sports is very important for the website and we leave the final decision for this to the client.
Default sport on front page
The selection of a sport:
Option 1: Sports icon slider

You can choose one of the icon sets listed below:
Option 2: Slider with the names of the sports
Option 3: Choose the name of the sport from the select menu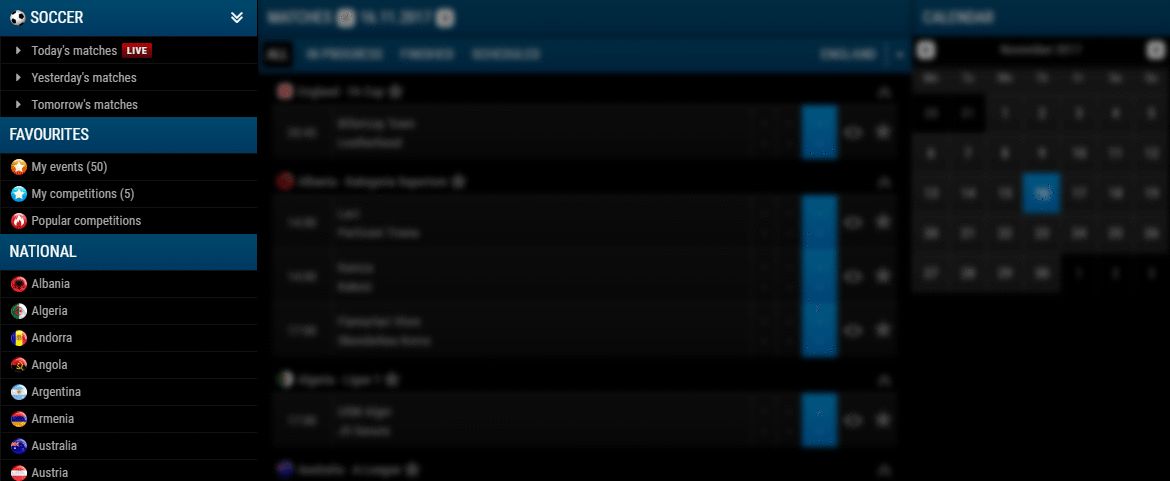 Order of sports on the list:

on slider (Option 1 and 2)
on a popup (Option 1)
under select (Option 3)
To sum up. Once you have made the choice of what sport to show on the front page you will have to decide whether you wish to have a slider with sport's icons or take a more modest approach and add just a select tab with a list of sports.
Having made those two decisions it is up to you whether you go with our default setting for the list of sports or make a decision of your own. Under the slider and popup once you've picked Option 1, you can choose two different settings. If you decide to go with Option 2 then just let us know which sport's first and complete the rest of the list till the very bottom.
To help you make good choices have a look at the list of default settings. Perhaps these are already fine with you.
Default settings:
Soccer
Sport icons: Standard (Option 1)
Order of sports

Slider (Option 1 and 2)

Soccer
Basketball
Ice hockey
Volleyball
Handball
Cricket
Rugby
Badminton
Table tennis
Darts
Bowls
Beach volleyball
Snooker
American football
Baseball
Tennis

Popup (Option 1) / Select (Option 3)

Soccer
Tennis
Basketball
Ice hockey
Volleyball
Handball
American football
Baseball
Rugby
Cricket
Snooker
Badminton
Table tennis
Beach volleyball
Darts
Bowls
Events list
There are two options to show participants in an event and it's you to you to pick up an option per each sport individually.
Option 1 – Left/Right (partial results visible on tracker or popup)
Option 2 – Top/Bottom (partial results available on first look)
Read more: we explain what's the difference between ScoreFrame and ScoreFrame exclusive
Popular competitions
This section is specially prepared for clients who have their own priorities in terms of competition importance. For each sport there is an option to pick up to 10 competitions that will be treated with special conditions.
In left hand column they will be set in the Favourites box with the number one competition top of the list and number ten on the bottom.
In the middle column there will be a list of events and those belonging to the Popular competitions will be given priority and will be shown first, these will be sorted in the same way as they are in the Popular competitions section.
Have a look below at the example for Soccer and the default settings we offer:
It took us a while, but we have prepared a default setting for the Popular competitions section for all the sports we offer. The default setting list is available below. It can be used as a base for your choices. You may simply decide to delete one or two competitions or even just switch one or two around.
Default settings:
Soccer

Premier League (England)
La Liga (Spain)
Bundesliga (Germany)
Serie A (Italy)
Ligue 1 (France)
Primeira Liga (Portugal)
Eredivisie (Netherlands)
Ekstraklasa (Poland)
Champions League (Europe)
Europa League (Europe)

Tennis

Australian Open
Roland Garros
Wimbledon
US Open
Australian Open (Women)
Roland Garros (Women)
Wimbledon (Women)
US Open (Women)
Olympic Games
Olympic Games (Women)

Basketball

NBA (USA)
ACB (Spain)
Basket League (Greece)
Lega A (Italy)
LNB Pro A (France)
Super Ligi (Turkey)
VTB United League (Europe)
EuroLeague (Europe)
Eurocup (Europe)
Champions League (Europe)

Ice hockey

NHL (USA)
KHL (Russia)
SHL (Sweden)
Liiga (Finland)
Extraliga (Czech Republic)
Tipsport Liga (Slovakia)
DEL (Germany)
Nationalliga A (Switzerland)
EBEL (Austria)
Champions League (Europe)

Volleyball

Super League (Russia)
PlusLiga (Poland)
Seria A1 (Italy)
Superliga Masculina (Brazil)
Ligue A (France)
Bundesliga (Germany)
Erkekler 1. Ligi (Turkey)
A1 (Greece)
Champions League (Europe)
World League (World)

Handball

Bundesliga (Germany)
Liga Asobal (Spain)
LNH (France)
Superliga (Poland)
NB I (Hungary)
888Ligaen (Denmark)
Handbollsligan (Sweden)
1. NLB (Slovenia)
Champions League (Europe)
EHF Cup (Europe)

American football

NFL (USA)
CFL (Canada)
Topliga (Poland)

Baseball

MLB (USA)
NPB (Japan)
KBO (South Korea)
LMP (Mexico)
ABL (Australia)

Rugby

Aviva Premiership (England)
Top14 (France)
NRL (Australia)
Guinness Pro14 (World)
Super 15 (World)

Cricket

India Premier League (India)
KFC Big Bash League (Australia)
NatWest t20 Blast (England)
ICC World Twenty20 (World)
Test Series (World)

Snooker

World Championship (World)
The Masters (World)
UK Championship (Great Britain)
Shanghai Masters (China)
Champion of Champions (World)
China Open (China)
Players Championship Finals (World)
World Grand Prix (World)
World Open (World)
German Masters (Germany)

Badminton

Finals Dubai
Finals Dubai (Women)
All England Open
All England Open (Women)
China Open
Denmark Open
Indonesia Open
Malaysia Open
World Championship
World Championship (Women)

Table tennis

ITTF WT Grand Finals
ITTF WTG Finals (Women)
World Cup
World Cup (Women)
European Championship
European Championship (Women)
World Championship
World Championship (Women)
Olympic Games
Olympic Games (Women)

Beach volleyball

World Tour Finals
World Tour (Women)
Fort Lauderdale
Fort Lauderdale (Women)
World Championship
World Championship (Women)
Olympic Games
Olympic Games (Women)

Darts

PDC World Championship
UK Open
World Matchplay
World Grand Prix
European Championship
Grand Slam
Players Championship
Premier League
World Cup
BDO World Championship

Bowls
Wow! Probably it was one of the longest posts on our blog so far, hope you managed to finish it without taking a nap 😉  Next time we will have some special tips about visual side of ScoreFrame minisite. Stay tuned!
If you want to get in touch to find out more, just contact our Customer Success Team at cst@statscore.com or use the LiveChat in the lower right corner. We will be more than happy to schedule a call and discuss how ScoreFrame can help your organization!