There's a lot of tough competition among online media outlets and news websites when it comes to providing live coverage of sporting events. That's why the highest-quality real-time data and engaging visualisations make such a great difference! Find out more with STATSCORE.
Today's fans have hundreds of easily accessible sources of information about their favourite competitions, clubs, and players. In addition to live broadcasts on TV and online, they can find hundreds of interesting websites dedicated to their preferred teams or leagues, as well as fanpages on social media platforms, and forums where they can exchange comments and views with other supporters.
With so much sports-related data within the fans' reach, how can online media distinguish themselves and successfully attract them? As many of them found out, it's no longer enough to provide written, or even video content of high-quality. In order to really attract and maintain visitors, they need to invest in attractive live visualisations of key events of a game and deliver in-depth stats and data. Moreover, they need all of it to be easy to understand, and properly displayed on fans' devices.
Pre-match data – let the fans feel what's coming!
The fight for fans' attention starts long before the first whistle of a game. True fans want to follow what players and managers have to say days before an important match. They want to acquaint themselves with predicted lineups, team formations, and tactics. They want to feel well-informed and prepared for what may happen during the game.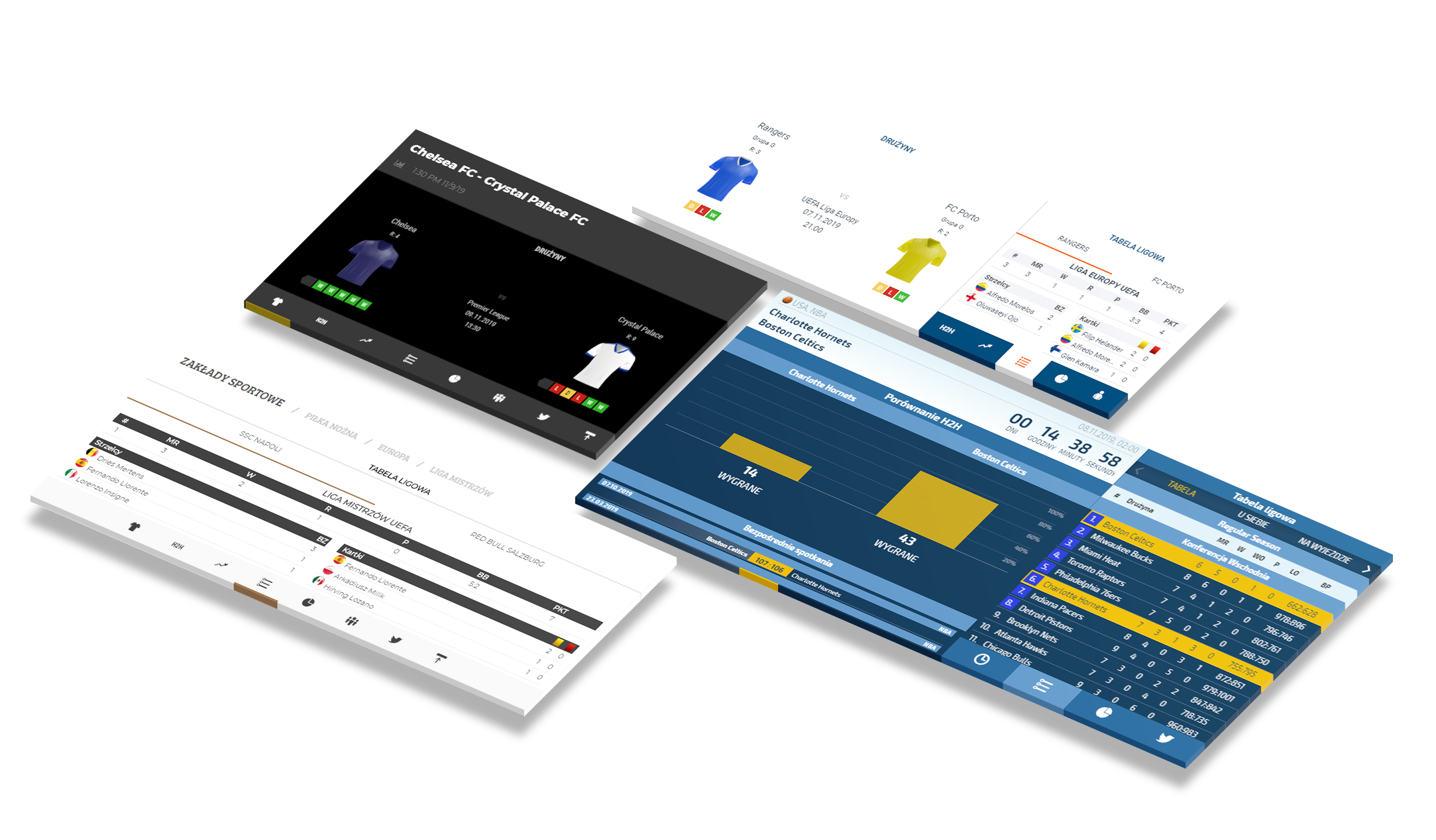 For many fans, the ability to access, compare, analyse, and comment on stats and predictions before the game even starts, is an important part of building pre-match atmosphere. That's why it's expected that sport and news websites will go beyond simply delivering top-quality written coverage, they need to provide their viewers with much more.
What they are expected to do is to give fans some visually entertaining experience powered with high-quality and up-to-date information.
Which team had betters scores in their previous encounters, where are they in the league table, how do their achievements compare, how many goals or points have their best players scored? Those are just a few of the questions that fans want to have answered. Statistics from previous performances, head-to-head comparisons of teams, standings, winning or losing streaks, forecasts and hints – in fact, every accurate piece of information of that kind may be seen as valuable.
Real-time coverage to enrich their experience
Then the most exciting moment comes as the game itself starts. That's when websites really need to outdo themselves to attract and engage their visitors! But will fans really be visiting websites instead on watching the game at the stadium, on TV, or from online sources? It turns out that many of them will be doing both things – that is watch the game, and at the same time view live data and statistics, read comments, and exchange opinions on their second screens, smartphones, tablets, or laptops. This gives news and sport websites a chance to attract fans, but in order to do that they must provide content that would really enrich and enhance visitors' experience.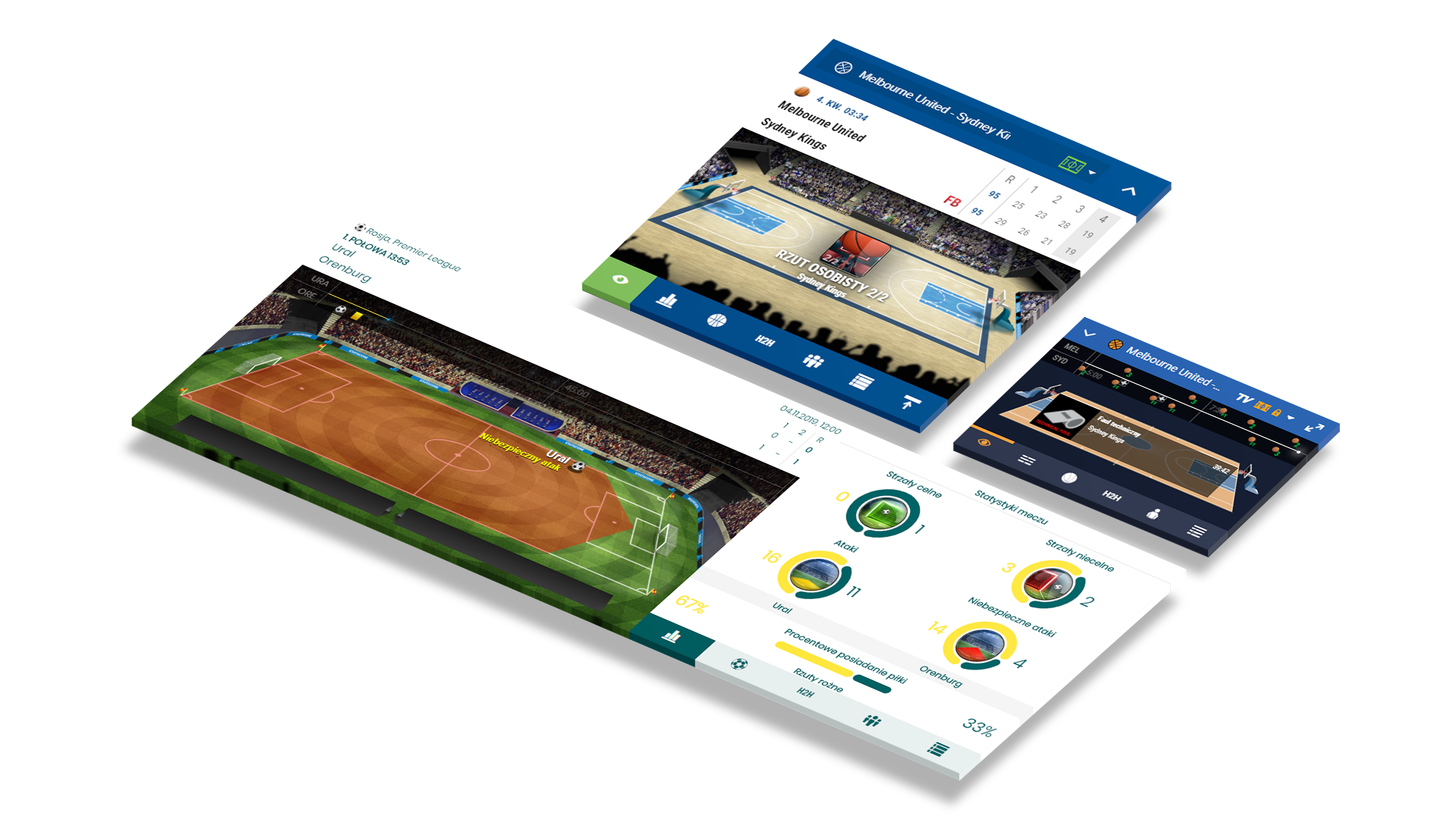 The awareness of these trends among sport spectators encourages many media organisations to employ advanced live trackers that present all the events taking place during a game through compelling animations. They offer a valuable source of data that takes following a sporting event to another level, as it allows viewers to understand what's going on more profoundly and to intensively experience the game even when they are not watching it.
Post-game stats to keep them engaged even after the game
For many people who are not die-hard sport fans, the game stops to be interesting as soon as the last whistle is blown. However, there are also thousands of supporters and followers who want to analyze the outcome, listen to what players and coaches have to say, discuss referee's decisions, and of course, re-live the game by comparing the number of shots, passes, fouls, corner kicks, red and yellow cards.
Statistics and data can be fascinating in and by themselves, but they have to be presented in the most compelling way.
That's why the end of the game is yet another moment when it is worthwhile for sport and news websites to complement their written reporting and video content with high-quality visualisations of the most relevant statistics.