From prestigious news websites like Le Figaro to the most popular TV broadcasters such as Polsat – STATSCORE's advanced data solutions give media organisations around the world matchless opportunities to attract, entertain, and engage sports fans as never before! Whenever they look for new ways to impress their readers STATSCORE is on hand to provide an astonishing solution. 
Why do media companies need top sports data and stats?
Today's sports fans have all but unlimited access to information about their favourite leagues, teams, and athletes. Specific leagues and competitions are widely covered by thousands of media outlets including TV broadcasters, traditional and digital newspapers, magazines, and dedicated sports websites. 
The number of available sources of information is even further boosted by online fan clubs, unofficial websites, independent bloggers, and popular social media channels. How can your media organisation stand out from this crowd and attract higher traffic to your coverage of sports events?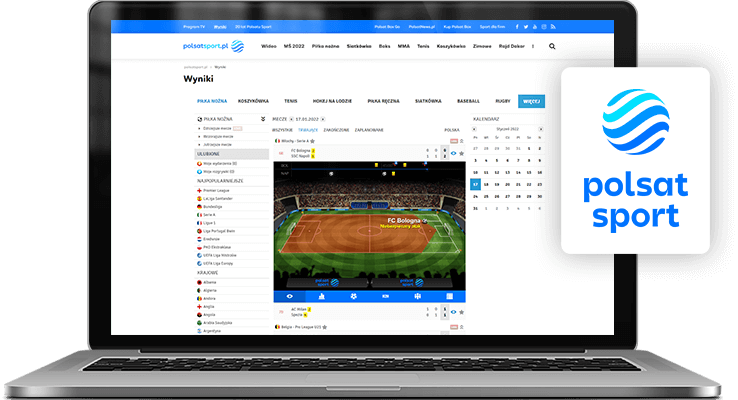 One of the key aspects of attracting sports fans is to provide them not just with the written (or spoken) coverage of an event, but also with the most reliable and well-presented statistics and live data from their favourite games. What is more, the way you do it is also crucial as people 'buy' your content with their eyes first, and only then with their rational analysis.
And this is exactly what STATSCORE can offer – the most accurate and comprehensive sports data delivered in a visually-stunning way to help media drive and maintain more traffic to their coverage! 
There are, in fact, many different ways in which media companies have been able to leverage STATSCORE's outstanding sports data to their advantage. Let's take a look at some spectacular examples!
How does STATSCORE's sports data work for online media?
STATSCORE delivers sports data solutions tailored and customised to the needs of specific media outlets. Here are some examples of how they've been put to use in practice.
Le Figaro – taking online coverage of sports events to another level!
One of the world's most distinguished press titles, the French Le Figaro has never settled for a mediocre level of news coverage. This applies to sports reporting, as well. In order to enrich their coverage, the digital edition of the newspaper turned to the highest quality of stats and data.
The example below shows how Le Figaro's reporting on The World Women's Handball Championship in Japan was boosted by API data presented through top-quality features developed by STATSCORE.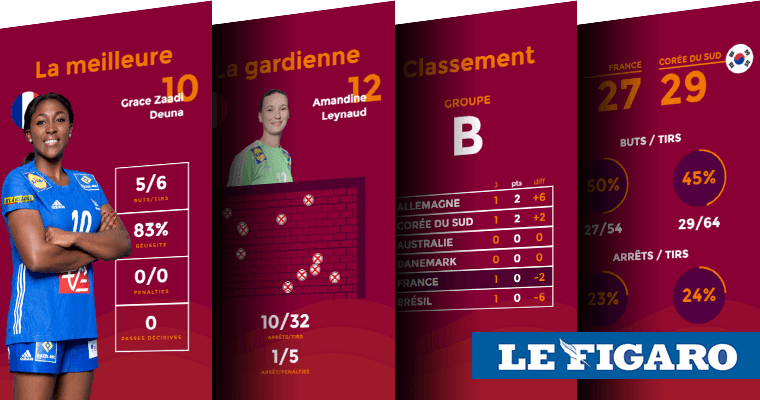 This customised solution allowed Le Figaro's online visitors to keep track of the teams' performances, and access detailed information regarding match scores, squads, players' performance, standings, and team statistics. In a nutshell – everything that a sports fan could dream about! 
The data, which enriched the written coverage of the competition, has boosted the fan experience on the website by delivering engaging and attractive content, which included the highest-quality reporting, accurate analysis and up-to-date stats in one place! This, in turn, helped drive more traffic to the website and boost fans' engagement. 
Sign up for our weekly newsletter and stay updated!
Polsat boost PPV broadcasts with STATSCORE's data
One of the most-watched Polish TV broadcasters and media companies in Poland has been employing STATSCORE's sports data in a variety of ways: from a dedicated match platform (providing detailed live and post-match stats for teams, players and whole competition) for specific tournaments, to SportsAPI solution which delivers the fastest and most extensive real-time sports data from nearly 12,000 competitions and 1,000,000 athletes!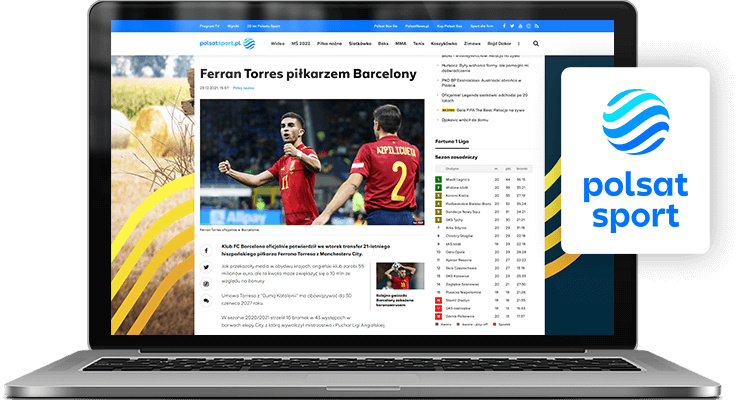 Lately Polsat, in collaboration with Polish 1 Liga and STATSCORE, has developed yet another way of providing sports fans with the best experience they can get. All the league's games are now available in the PPV model and can be watched on customised LeagueCenter and TeamCenter platforms. Moreover, STATSCORE's LivematchPro widget allows fans to follow a live data coverage of each tie.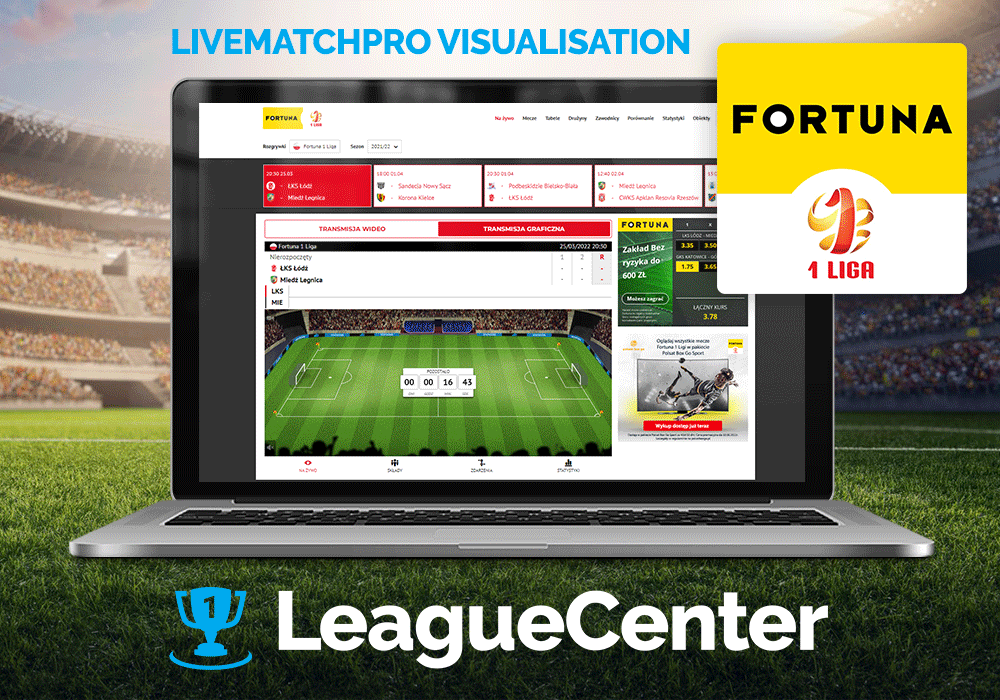 This means that a fan of 1 Liga can access all the key data on their favourite teams and players in one place, as well as watch live broadcast of each of the matches and follow everything that's happening on the field through STATSCORE's live data coverage!
Check out what STATSCORE can do for your media organization!
What are the key benefits of employing STATSCORE's data for media?
There can be no doubt that in today's world even the highest-quality written coverage and video content is not enough to attract and engage sports fans. What they expect is to get access to the most reliable and well-presented sports data and statistics. That's why the world's leading media outlets tend to invest in compelling sports data visualisations, along with pre-match widgets, and post-match stats. STATSCORE provides them with top opportunities in this area!
The key benefits for media companies, online news websites, and broadcasters include:
Increased website traffic thanks to outstanding sports data coverage.
Higher engagement of sports fans on the website.
More visually-appealing data-packed coverage and broadcasting.
Growing turnover thanks to a higher number of engaged online users.
More advertising options for partners and sponsors.
Prevented loss of fans looking for in-depth information about sports.

STATSCORE's media solutions were successfully implemented by such companies as Le Figaro, Polsat, Onet, Eurozet, and Wirtualna Polska. Apart from these online media outlets and broadcasters, the solutions developed by STATSCORE have also proved themselves beneficial for projects such as unofficial club websites, livescore solutions, mobile apps, and fantasy game providers!
What kind of solution for my media project should I choose?
STATSCORE offers a wide range of solutions that can be customised to meet the needs of specific media companies and broadcasters. 
These include:
Sports widgets – LivematchPro, PrematchPro, and StatsWidgets – are a perfect way to boost your sports-related news content with amazingly detailed sports statistics. From key pre-game to real-time match coverage, from simple standings and scoreboards, to highly-customizable game trackers – STATSCORE's widgets have got it all!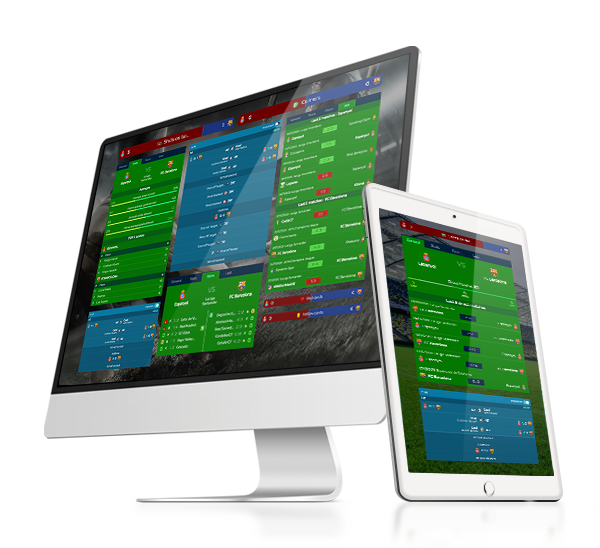 Sports widgets
Unique set of highly-customizable sports widgets!
Try STATSCORE's sports widgets right now!
Sports minisites – LeagueCenter, TeamCenter, ScoreFrame and CupCenter – are special platforms that allow you to display team or competition-focused content tailored for specific teams/leagues/competitions. STATSCORE can provide you with such a customised solution to help you provide top-notch coverage of the world's most widely-watched sporting events or your local competition. It's up to you!
Sports minisites
Unrivalled platforms dedicated to specific teams, leagues, and competitions.
Find out how it works in practice!
Sports data feeds, SportsAPI and ScoutsFeed are a fantastic way to power your media website with the fastest, most reliable and well-organised sports data. These cutting-edge sports data solutions cover more than 9,000 competitions and 1,000,000 athletes!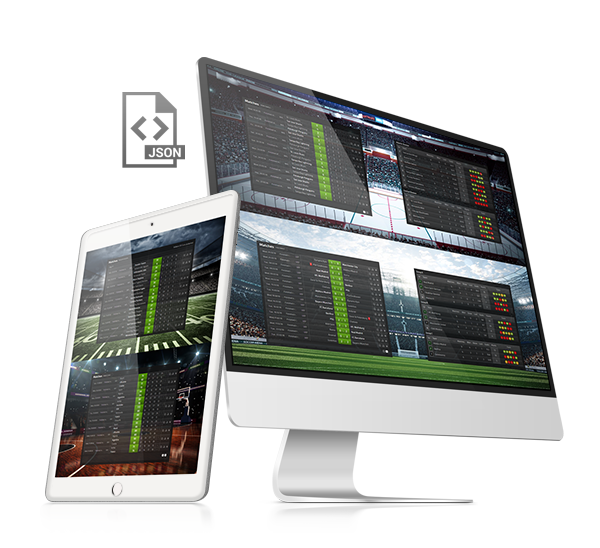 Sports data feeds
Wide and most reliable sports data!
Check out STATSCORE's sports feeds for free!
Learn more
Want to know more? Learn what STATSCORE's sports data can do for your media company! Drop us an email directly at cst@statscore.com or let's talk on LiveChat!
You can also sign up for our weekly BETTING INDUSTRY REVIEW to stay updated with the latest trends and key developments in the world of sports data and betting. Do it by filling out the form below.
PROCESSING OF THE DATA
Pursuant to Article 13.1–13.2 of Regulation (EU) 2016/679 of the European Parliament and of the Council of 27 April 2016 on the protection of natural persons with regard to the processing of personal data and on the free movement of such data, and repealing Directive 95/46/EC ("GDPR"), we would like to inform you as follows:
1) STATSCORE Sp. z o.o. with its registered office in Warsaw 02-972 at ul. A. Branickiego 11/32 is the controller of your personal data.
2) Your personal data will be processed for the purposes of the product trial process – in accordance with Article 6.1(a)–(b) of the GDPR.
3) Furnishing the personal data requested by STATSCORE about yourself is voluntary.
4) Your personal data will be retained for the duration of the Product development term but for no less than the retention period required under the law.
5) Your personal data will not be subject to automated decision-making or profiling.
6) You have the right to access the personal data held about you and to have your data rectified or erased or to restrict or to object to the processing as well as the right to data portability. If your personal data is processed under Article 6.1(a) of the GDPR (i.e. processed on the basis of the consent you have given to the processing), you may withdraw your consent at any time without any impact on the lawfulness of the processing carried out before your consent was withdrawn.
7) You may lodge a complaint in respect of the processing of the above data to the President of the Office for Personal Data Protection (PUODO).