As the world's most followed sporting event moves into its deciding stage, it's more than obvious that STATSCORE's CupCenter has helped online businesses keep football fans and bettors engaged and entertained!
The Qatar tournament is a fantastic experience for football fans all over the globe. Moreover, it's also a unique business opportunity for sports media, betting companies, and affiliates.
This special edition of STATSCORE's competition platform allows them to keep fans and users engaged and entertained with comprehensive data on all the live action and stats! 
Higher traffic, more bets, and growing fan engagement translate directly into higher revenues for all kinds of sports-focused businesses. No wonder that this amazing solution has been employed by companies all over the world as is available in a number of different languages!
Here are a few examples of how CupCenter'22 has been deployed by different businesses.
As you can see, CupCenter is completely packed with data – from LIVE scores, standings, and schedules to the detailed player and team statistics! And for the current stage of the tournament, of course, the bracket! No need for your fans and followers to look for data elsewhere. 
Provide your partners and sponsors with great ways of showcasing their services within this eye-catching platform to help them attract the attention of your visitors.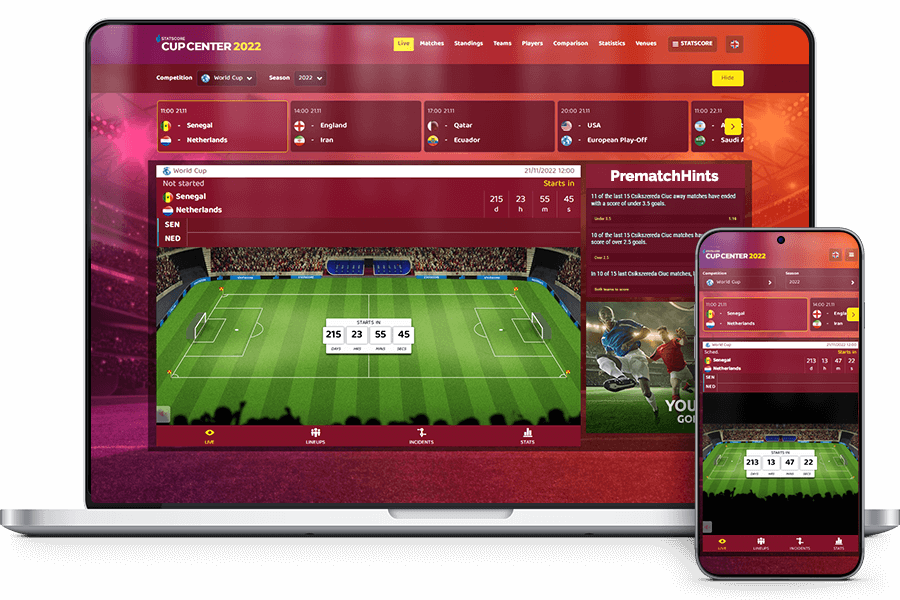 CupCenter
Revolutionary match center with animated visualizations of all games.
Sounds good? Well, if CupCenter'22 looks good for you, then you should also consider using our LeagueCenter platform, which provides access to sports leagues' data and statistics. Let's not forget that right after the exciting Qatar adventure ends, top football leagues will be coming back! 
LeagueCenter
Full access to LIVE stats, standings, squads, and pre-match comparisons!
Contact our Business Development Team at bdm@statscore.com to let us explore your needs and arrange an online presentation for you!