They say that pre-game betting is an ancient trend? They claim that only LIVE bets make up the business now? Well, let people live their lives and make their own mistakes as they could not have been more wrong. At the same time, you cannot allow your online betting business to drop such a precious piece of cake off your plate. Let STATSCORE show you how to earn more with our PrematchPro widget.
REASON 1 – PUMP IT UP
If your betting offer has a wide range, you need data to cover this vast offering otherwise your users will feel helpless with the amount of betting possibilities they face and the shortage of any meaningful sports stats. Well! PrematchPro has them all! We cover over 30,000 events per month across 20 sports. Just name a competition or game that you need and you will find that we already have it! Nice? We totally agree.
REASON 2 – BETTER INFO MAKES BETTER CHOICES
What your fans need is in-depth information about the games they want to bet on. If they do not find it on your site, they will leave to seek these facts elsewhere and there is always a risk that they may not come back. With PrematchPro you give them no reasons to leave your domain. What's more, our widgets come fully mapped with your ID's so the process from finding the info they need to make a bet at the odds you have on offer is as short as possible.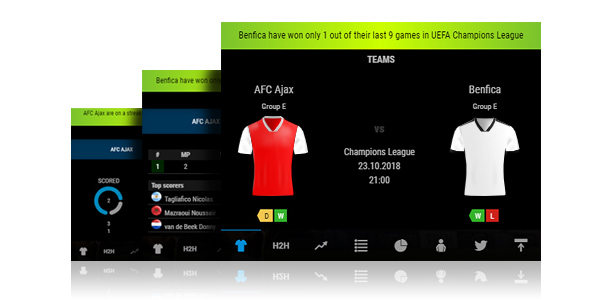 Experience more: visit STATSCORE PrematchPro demo online.
REASON 3 – HAVE SOMETHING BETTER THAN YOUR COMPETITORS
With the highly competitive market of sports betting you need to distinguish your offer from the rest of the jungle to win the attention of fans. You can do this by offering more attractive odds or by using better and more inspirational tips like our STATSCORE Facts. The latter comes as an integral part of PrematchPro. Our widgets display the hints for key competitions on a slider to make sure that fans can get the key information immediately and bet more aggressively.
REASON 4 – YOUR OFFER WILL BE UNIFIED ONLINE AND IN BETTING SHOPS
Imagine a beautiful world, where whatever access your users have to your betting offer, gives them the same level of service. This used to be a problem for many bookmakers who lacked stationary services that could match their website offering. With PrematchPro for Self Service Betting Terminals (SSBT) you get a dedicated template that looks great on the big screens and will engage users who prefer to walk to one of your local outlets rather than use web services.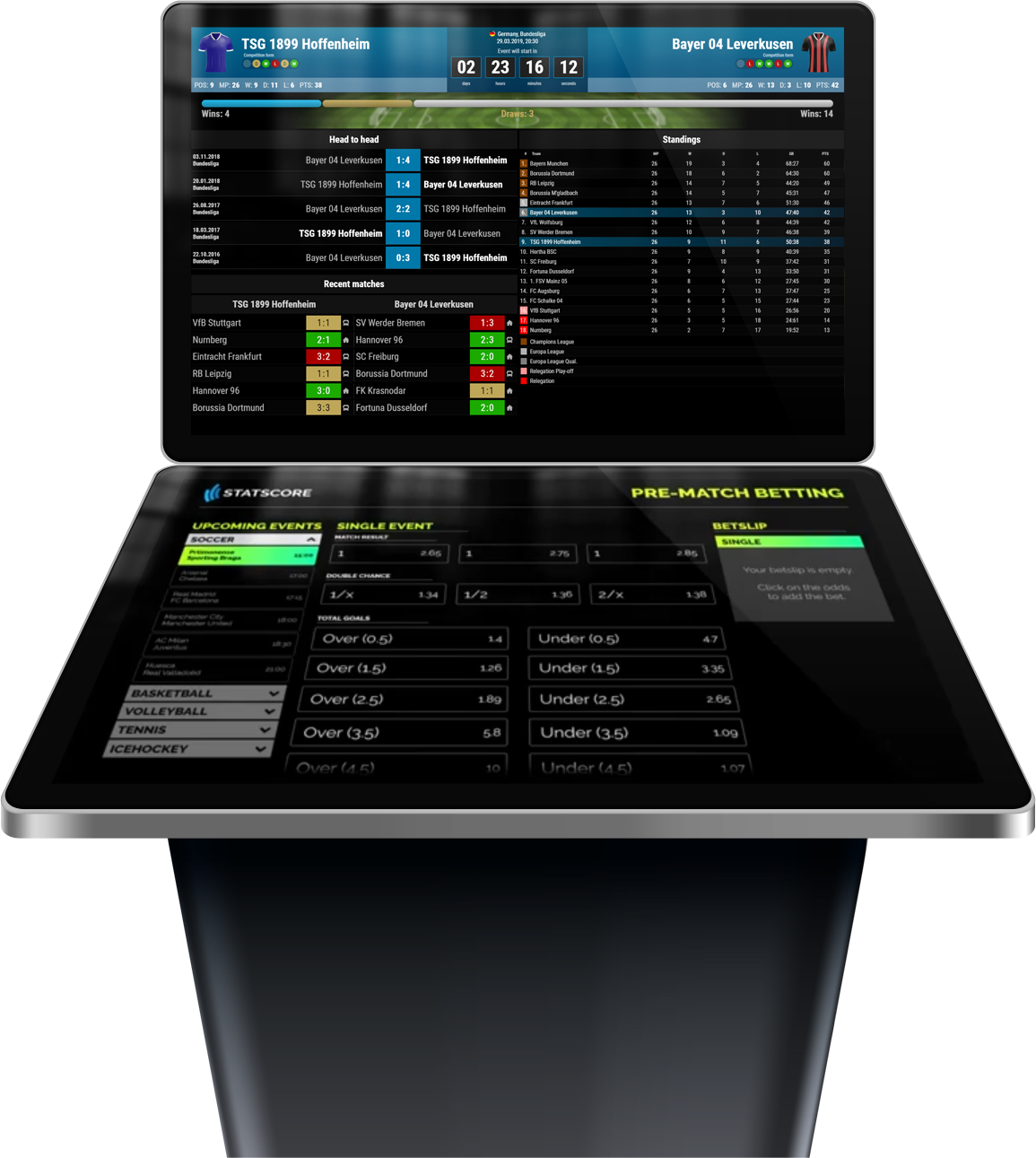 REASON 5 – LESS TIME? GO MOBILE!
Some of your users will still never visit your betting shop and will open their desktop only once per week. They are always short of time and in a hurry. How do you get them to connect with your offer? Two words – mobile devices. At STATSCORE, we understood long ago that this is especially true for the younger generation, their main device to go online is the personal mobile rather than a laptop or stationary PC. Already more than 50% of bets are placed with the use of smartphones! This is why we created dedicated templates for PrematchPro to fit your mobile apps and any dedicated mobile versions of your websites that you might have.
If you want to get in touch to find out more, just contact our Customer Success Team at cst@statscore.com. We will be more than happy to schedule a call and discuss how STATSCORE's services can help your organization!