With over 13 million girls and women playing organised football around the globe, and a surge in TV viewership of professional women's competitions, there can be no doubt that the sport is thriving. Let's learn more with STATSCORE!
In recent years, the participation and interest in women's football have seen significant growth across different continents, notably in Europe and North America. This in turn has been translating into the generation of rising commercial benefits for the entire football movement.
How women's football is growing around the globe
Participation, fan engagement and viewership of women's games have been steadily going up during recent years.
According to FIFA's numbers, in 2019, over 13 million girls and women were playing organised football all over the world. 
The game has witnessed a surge in viewership, as the average live match audience of the Women's World Cup increased by 106%, from 8.4 million in 2015 up to 17.27 million in 2019 (source: FIFA).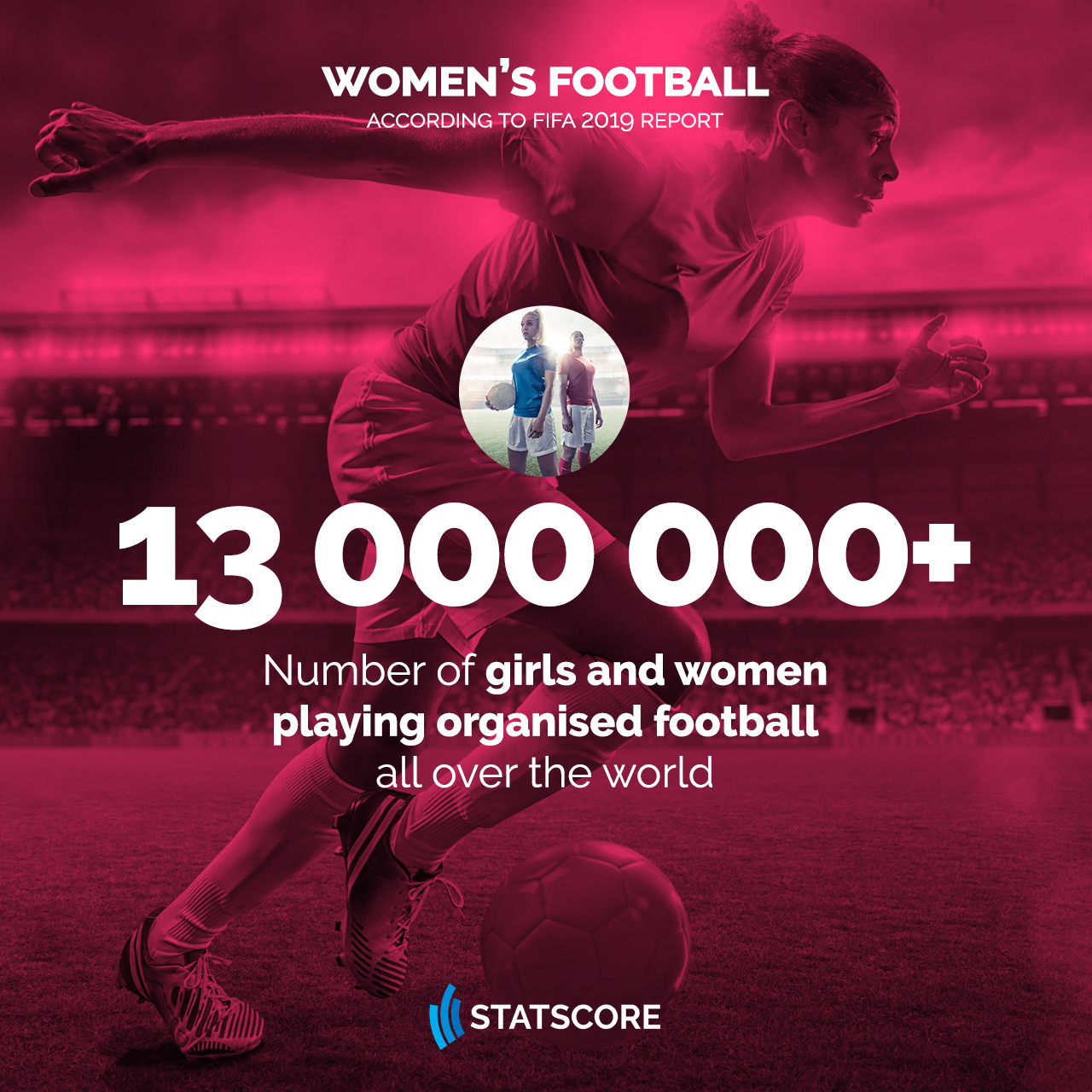 Development of women's football as one of FIFA's key goals 
Globalization and professionalization of women's football are some of the key parts of FIFA's strategy for the future. According to the organization's "Making Football Truly Global. The Vision 2020-2023" report, in order to accelerate its growth, the governing body of the world's football has been taking specific steps such as:
reforming the competitions with the introduction of new events, including regular global tournaments and youth competitions,

modernization of women's development programs tailored to the needs of member associations,

enhancement of the commercial value of the sport through innovative digital strategy,

professionalization of women's football on a global scale.
Women's football provides new commercial opportunities for clubs and federations
The football's governing bodies have already realized the commercial potential of women's football. With its growing popularity among sports fans, the game presents new financial opportunities to clubs and federations. In fact, according to FIFA's numbers, clubs with a written strategy for women's football tend to have higher average club revenue (USD 0.6m v. USD 0.3m), more facilities available to the first team and higher match attendances (1,400 v. 700).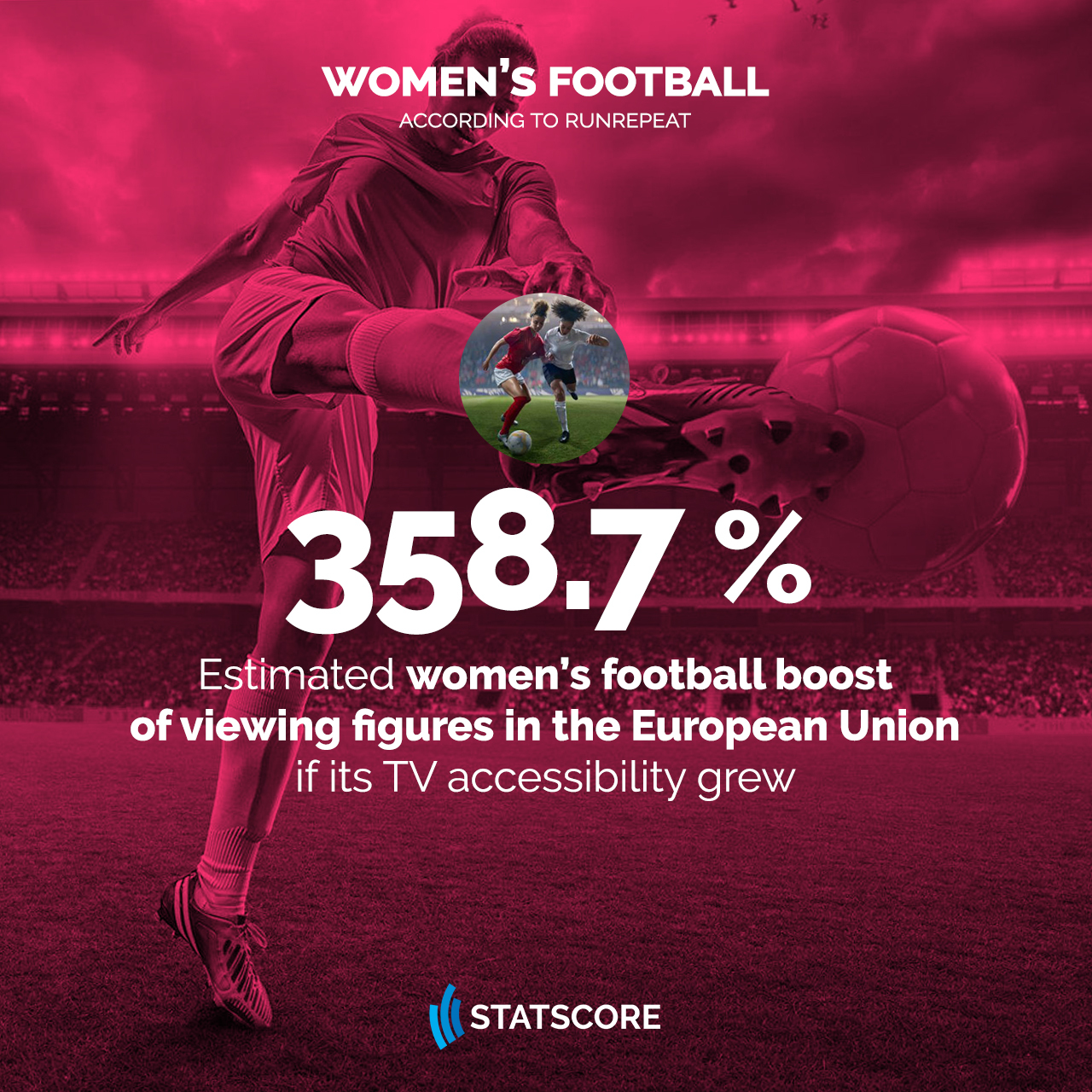 Moreover, it is estimated that women's football could get a 296.7% boost of viewing figures in the UK if its TV accessibility grew,  in the European Union the increase could be as high as 358.7%, while in the US it would be 304.6% (source RunRepeat).
Promoting women's football with sports data
One of the remarkable ways in which women's leagues and organizations are taking advantage of the newfound popularity is through the use of exclusive sports data. How exactly can it work?
it provides a share in revenues from the distribution to sports betting companies, broadcasters and media,
it makes TV broadcast of the games more attractive through visualizations of relevant statistics,
it keeps fans engaged and entertained on leagues' and clubs' websites or social media channels – even before and after a game itself,
it attracts new sponsors and commercial partners by providing them with attractive spaces to place their marketing content,
it allows clubs to generate eye-catching visuals to keep fans attracted and entertained.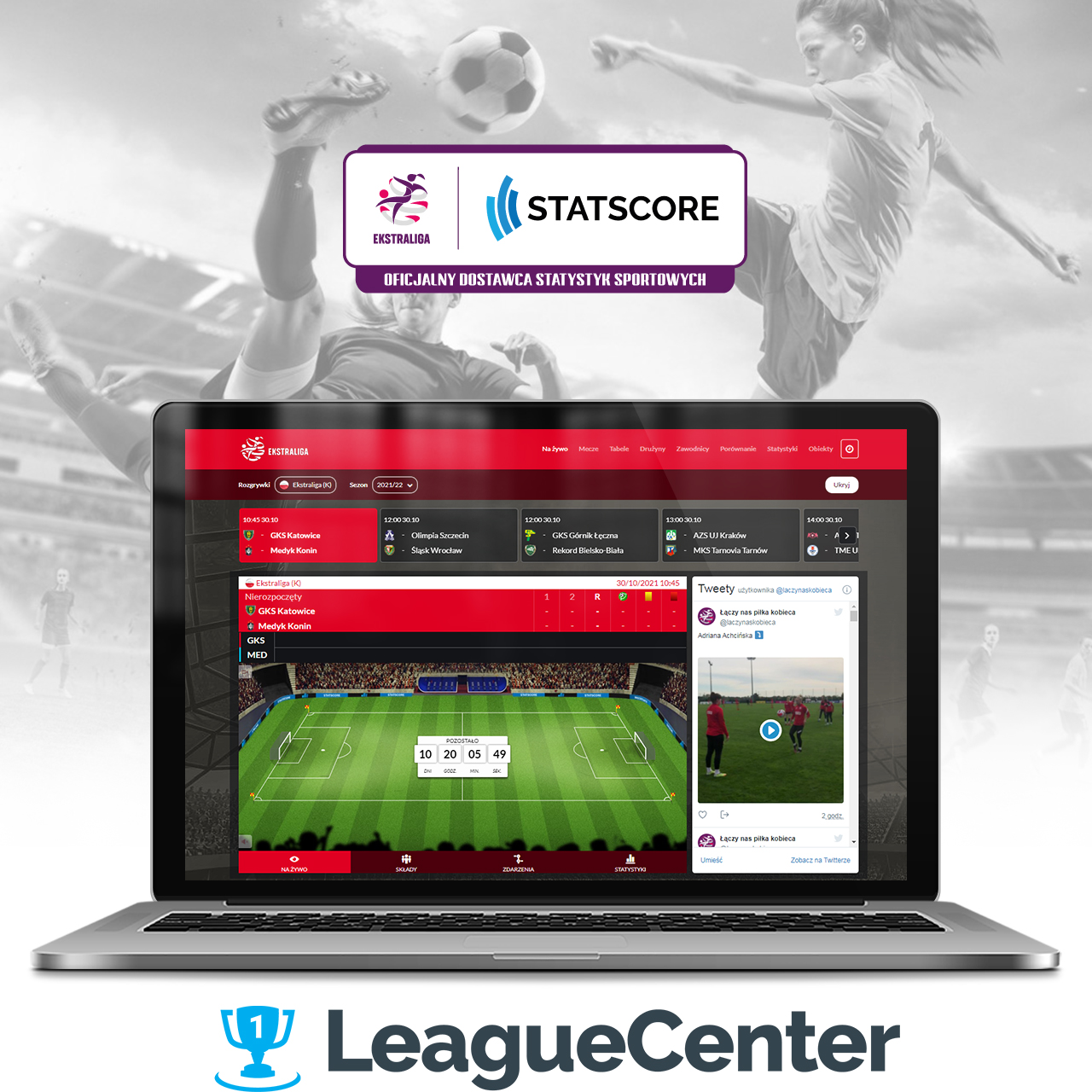 Polish Women's Ekstraliga flourishes with advanced statistics and live data
The top tier of women's football in Poland is one of the great examples of organizations that are taking advantage of the highest-class statistics and live data. The data leveraged by the leagues is delivered by STATSCORE under an exclusive data provision agreement. 
STATSCORE is providing the league with live football statistics and data gathered directly from the venues by teams of experienced scouts. The verified data is then made available through tailored match centres on the League's website (LeagueCenter) and the websites of its 11 clubs (TeamCenters). That's where the fans are able to access all the key information related to the league's games, including LIVE stats, standings, squads, pre-match comparisons and innovative events animations.
Learn what STATSCORE's data can do for your sports organization!
How does the data benefit the league? Here are some of the key advantages:
guaranteed share in revenues from the distribution of stats and data to sports betting companies, broadcasters and media,
ability to keep fans interested and engaged with real-time data, stats, and visualisations;
improved experience for supporters and followers – TeamCenters on clubs' websites, and LeagueCenter on the league's website,
ability to offer attractive advertising spaces for sponsors or commercial partners to let them display their message around the STATSCORE'S products ecosystem,
enhanced TV coverage of the matches with advanced official data and statistics,
eye-catching visualisations to attract fans to the league's social media channels.
exclusive content generated thanks to the stats delivered by STATSCORE (infographics, articles, game previews).
Thanks to these benefits the league is getting more popular than ever and brings increasing profits to the organizers!
Find out more!
Learn more about how STATSCORE supports sports organisations. Drop us a message at cst@statscore.com or let's talk on LiveChat!