The league is one of the latest organizations to have selected STATSCORE as their official sports data provider. The spring portion of the Ekstraliga's season is going to bring fantastic statistical experience to its fans and followers!
Polish Women's Ekstraliga, along with Men's 2 Liga, has become the latest partners for which STATSCORE is delivering official sports data.
We warmly welcome the Women's Ekstraliga and the 2. Liga of football among STATSCORE's partners! It's thanks to you that we're able to build the biggest sports data center in the world. As a company that strategically supports Polish sports, we're happy to be able to support the development and promotion of two more leagues operating in our country. Fans of 2. Liga and Ekstraliga will surely appreciate the advanced statistics and exceptional live coverage of the games of their favorite teams. – said Tomasz Myalski, the CEO of STATSCORE.

What will STATSCORE provide to Ekstraliga?
STATSCORE's official data has already been employed by numerous sports leagues, including the Polish second-tier Fortuna 1 Liga. Now, the highest tier of women's football in Poland will also be able to take advantage of the highest-class statistics and live data.
Under the official agreement, STATSCORE will be providing the league with live football statistics and data gathered directly from the venues by teams of experienced scouts.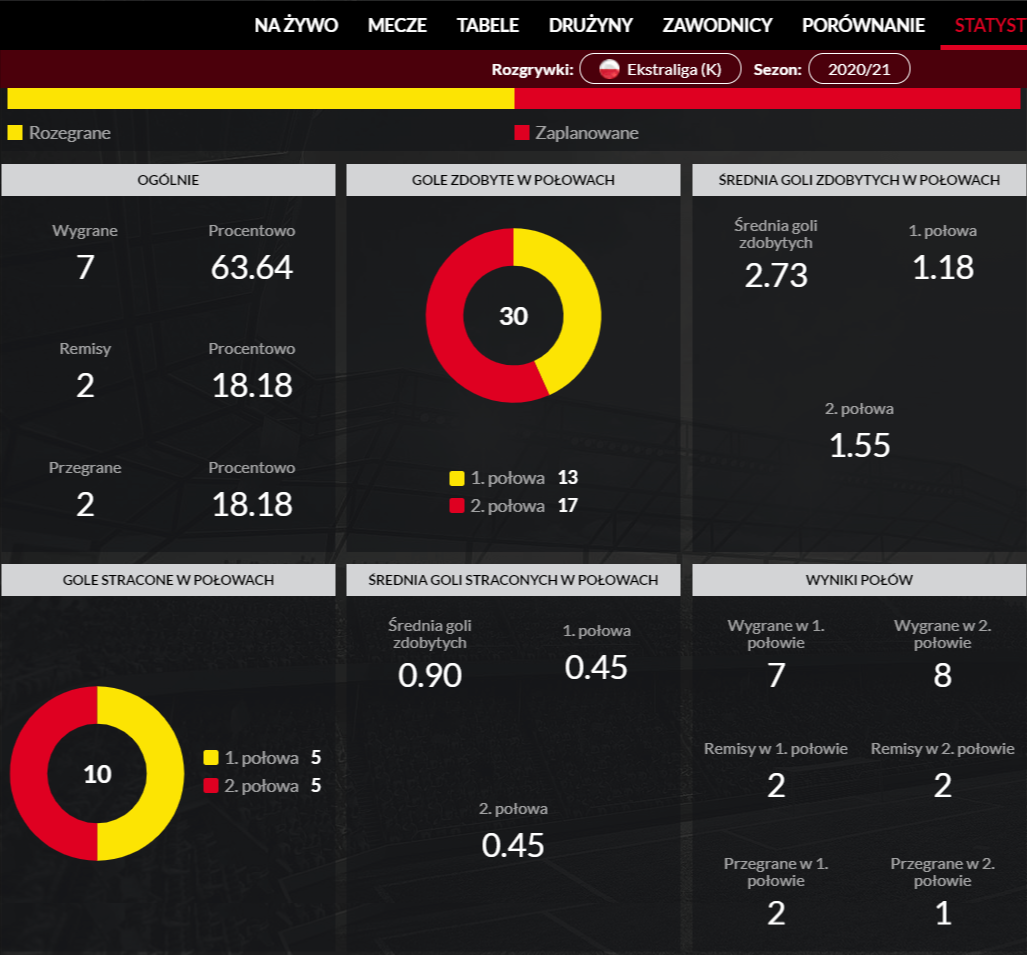 The verified data will be made available through tailored match centres on the League's website (LeagueCenter) and the websites of its 11 clubs (TeamCenters).
What kind of football data can be collected in LeagueCenter?
STATSCORE's scouts will be present at all the games played within the league to collect and deliver detailed data on all key incidents taking place on the field, including:
goals




shots on target/off-target




yellow/red cards




corner kicks




free kicks/penalty kicks




substitutions,



and much more!
All the data will be made available through LeagueCenter and TeamCenter platforms, which have been designed to cover all of a competition's valuable statistics. This will provide the fans with access to LIVE stats, standings, squads, pre-match comparisons and innovative events animations.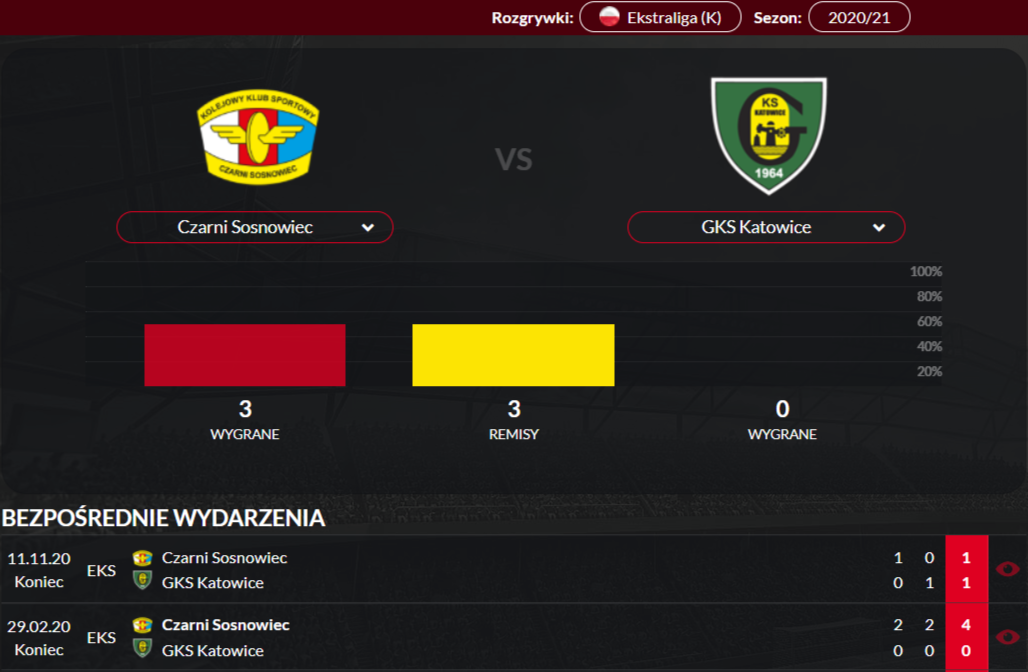 Take your sports competition to another level with STATSCORE!
How will the data be displayed?
LeagueCenter platforms will be placed on the league's official website within the Łączy nas piłka website, one of the most popular sports-related services in the country.

This will allow the league to keep its fans engaged and entertained with this outstanding statistical experience.
The TeamCenter platforms will be included on the official websites of specific clubs, allowing their fans to keep track of all the latest results, statistics, and developments.
What are the benefits of employing STATSCORE's official data?
STATSCORE's official data brings numerous benefits both to the world's top leagues and less-popular, emerging competitions.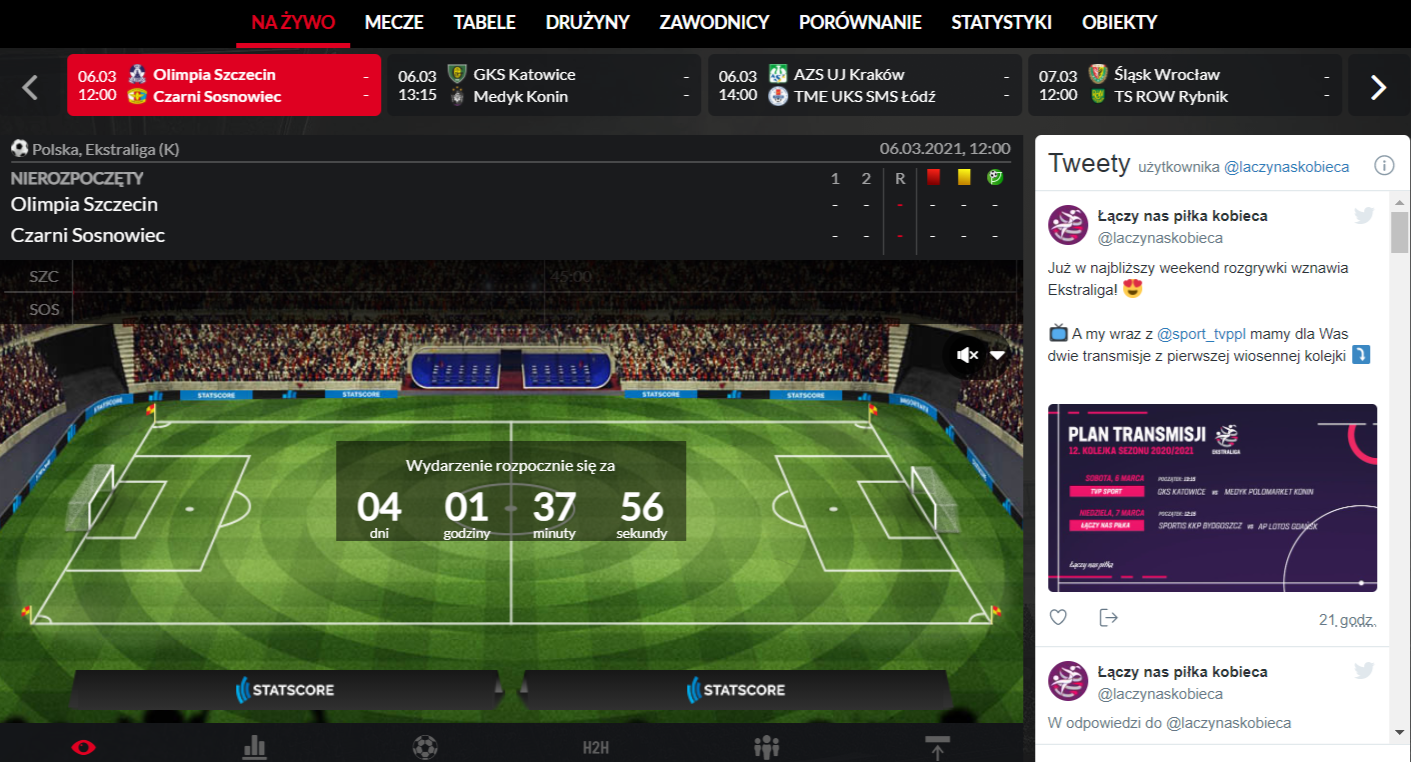 Women's football's growing popularity and its professionalization result in the need for advanced sports data solutions. The key benefits of having access to official STATSCORE's data include:
guaranteed

share in revenues from the distribution of stats and data

to

sports betting companies, broadcasters and media,




ability to keep

fans interested and engaged with real-time data

, stats, and

visualisations;



improved experience for supporters and followers

– TeamCenters on

clubs' websites, and LeagueCenter on the league's website,




ability to  offer attractive

advertising spaces for sponsors or commercial partners

to let them display their message around the STATSCORE'S products ecosystem,



enhanced TV coverage

of the matches with advanced official data and statistics,




eye-catching visualisations

to attract fans to the league's social media

channels.



exclusive content generated thanks to the stats delivered by STATSCORE (infographics, articles, game previews).
Find out more!
Learn more about how STATSCORE supports sports organisations. Drop us a message at cst@statscore.com or let's talk on LiveChat!