Here we come again! The second edition of SBC Summit Barcelona, which takes place on September 20-22, will be a great opportunity to meet STATSCORE's Bogdan Stańczak and find out what our sports data solutions can do for your betting business! Let's meet in that fantastic city!
The SBC Summit Barcelona is the place where global leaders in sports betting and iGaming meet to discuss the future of the industry, share their insights and build powerful connections. After a successful 2021 edition, the conference comes back to Fira de Barcelona Montjuic this September!
STATSCORE has plenty of great reasons to be there and the first 100 of them are… to meet YOU! But we are also there because we have been proudly shortlisted for an award in the  SPORTS DATA PRODUCT category for PrematchHints!

These fully automated sports hints have been designed to increase the turnover of online betting companies and are based on STATSCORE's deep and continuously developed sports database.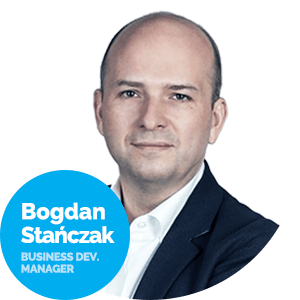 This time, 200 world-class businesses will be showcasing their solutions across an 18,000 m² exhibition floor. STATSCORE will be there too, represented by Bogdan Stańczak, STATSCORE's Business Development Manager and an iGaming expert. It's a perfect opportunity to meet him and discuss all the amazing things that STATSCORE's products can do for you!
You can also contact Bogdan directly at b.stanczak@statscore.com.
The organisers of the conference and exhibition expect 6,000+ senior executives to show up. The Fira de Barcelona Montjuic will be divided into 5 zones. The Sports Betting, Casino & iGaming, Payments & Compliance, Affiliate, Marketing & Media and Emerging Tech, Blockchain & Metaverse. Each of the zones will have its own conference stage, exhibition floor and networking areas, where you can meet fellow professionals.
The event will take place on September 20-22.
Learn more at https://sbcevents.com/sbc-summit-barcelona/.