In a significant move toward extending our basketball coverage, STATSCORE is proud to announce that we will be providing exclusive data coverage of the Women's Campeonato Brasileiro Interclubes U23, a prominent basketball competition in Brazil. 
STATSCORE will be operating as the exclusive data provider for the Campeonato Brasileiro Interclubes Feminino U23, a highly competitive basketball women's championship featuring nine Brazilian teams. 
The data provided by our highly qualified teams of Scouts will be delivered with a latency of up to 1 second to allow bookmakers to extend their basketball coverage, broaden the scope of offered odds, and encourage their users to bet more! 
STATSCORE Scouts will be operating as the only ones authorized to collect the data directly from the venues. 
Women's Campeonato Brasileiro fully covered with STATSCORE data
The event promises intense action, with a total of 48 matches set to take place within a more than two-month-long competition. Its structure includes a group stage and a final phase, with matches scheduled from September 19 to December 3, 2023.
The tournament comprises three phases, starting with the group stage in Pindamonhangaba (SP), followed by the second group stage in Recife (PE), and concluding with the final phase in Catanduva (SP).
The following teams will participate: Associação Desportiva Shiro Saigo (RN), Bax Catanduva (SP), Basquete Pinda (SP), Bradesco Esporte e Educação (SP), Basquete Feminino Blumenau (SC), ADMR / Maringá (PR), São José Desportivo (SP), Instituto Vitaliza / Nosso Clube (PE), Sport Club do Recife (PE).
Exclusive data coverage will be provided by professional teams of STATSCORE Scouts, who will be exclusively collecting live data and statistics directly from the venues across three Brazilian cities, in which the games will be held. 
Check out STATSCORE's ScoutsFeed right now!
The data will be available through STATSCORE's ScoutsFeed, a super low-latency play-by-play sports data feed based on which you can grow your live betting offer like never before.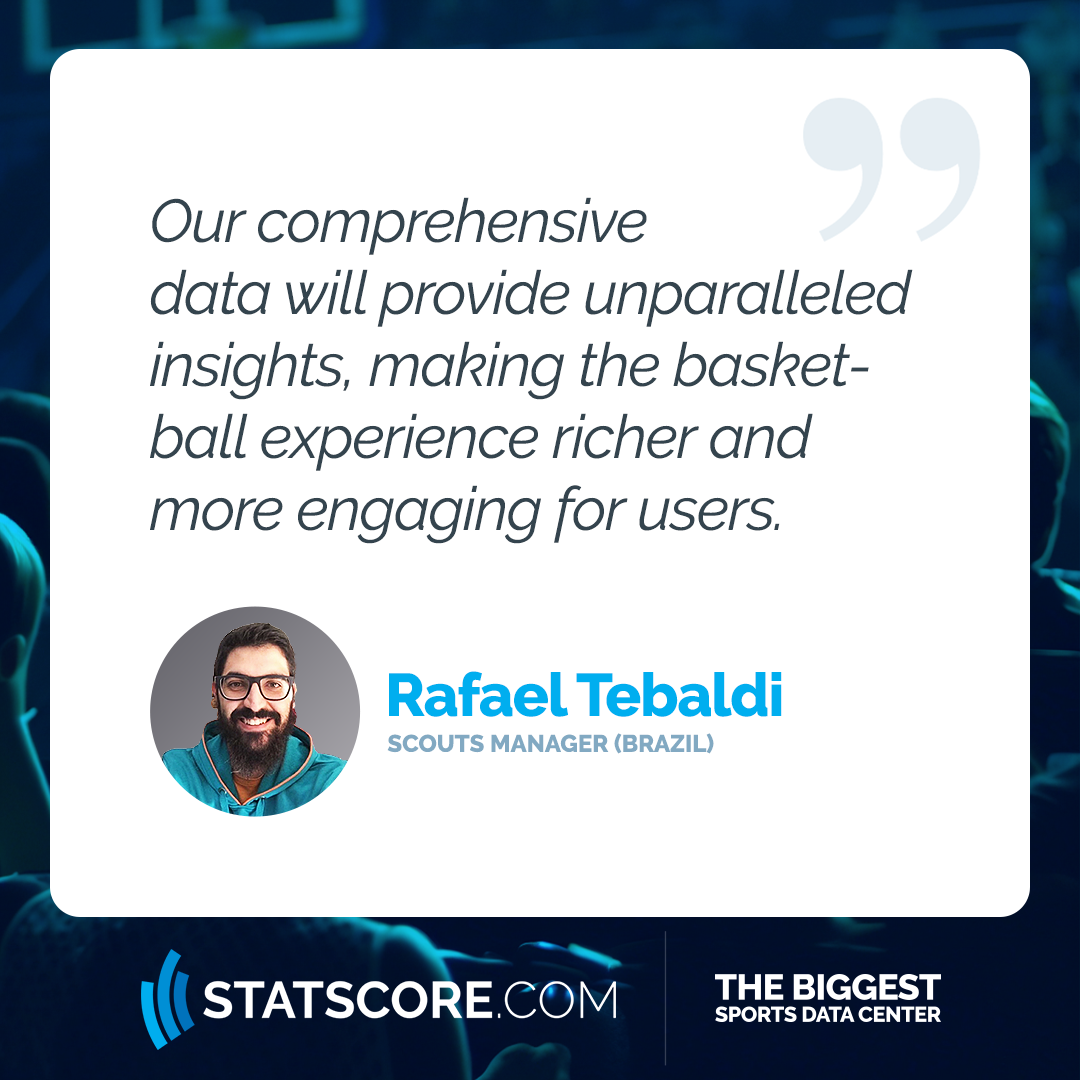 – We believe this is a great opportunity for sports-focused businesses to attract and engage basketball fans and bettors. Our comprehensive data will provide unparalleled insights, making the basketball experience richer and more engaging for users. We're thrilled to be part of this exciting journey! – says Rafael Tebaldi, Scouts Manager (Brazil) at STATSCORE, responsible for the competition's data.
The coverage can also be successfully employed by online media willing to improve their content with the most accurate basketball data available on the market.
STATSCORE extends basketball data coverage with exciting Brazilian competition
STATSCORE's data coverage of the tournament will be provided by dedicated Scouts operating at each match of the Women's Campeonato Brasileiro Interclubes U23.
Scouts will be collecting extensive data for both teams and individual players to allow sports betting companies to broaden their scope of odds and provide users with the most accurate and engaging data.
Player data will cover key aspects of individual performances, such as points, field goals made, two and three points made, free throws made.

ScoutsFeed
Ultra-fast live scouting data
Team data gathered at the venues will focus on each team's statistics related to points, field goals made/missed/attempted, shooting percentages, free throws statistics, data on rebounds, steals, blocks, fouls, turnovers, and other key aspects of each game.
Boost your sports business with top basketball coverage
STATSCORE's basketball data coverage opens new horizons for bookmakers and media outlets to boost their content, attract fans and bettors, and increase their profits.
Don't pass up this opportunity to enhance your sports-related business. 
Discover how STATSCORE's data can keep your basketball fans and bettors engaged and entertained!
Order top sports data now!