These were two unusually aggressive chess games. We did not witness any goals during the regular time of both matches and one went to extra-time. Four top teams of English football showed us perfect tactical skills and responsibility.  They just did not care much about the fans' expectation for goals scored.
The behavior of Chelsea's goalkeeper Kepa is a topic for a separate article. There's a lot of hurly-burly opinions and for now – let's leave this problem for the Chelsea staff to deal with.
Experience more: Full statistics of Premier League clash
From a sporting point of view – there were a lot of previews and expectations. Here, four football giants stumbled between each other.
The beginning of both games definitely kicked off "with a bang". At Old Trafford, we saw 5 injuries and 4 substitutions – all of that in the first half! Only Marcus Rashford survived and remained on the pitch despite his injury.  At Wembley, Sergio Aguero was knocked down at the first second of the match but there was no consequences after all.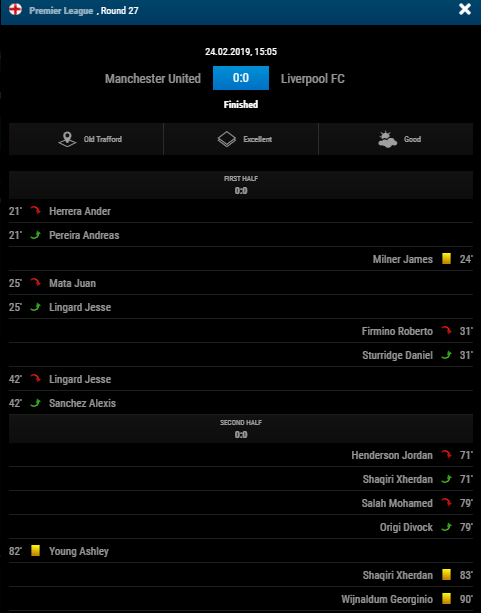 We wish that this was not all that we had to write about for this Premier League match, but the most common view on the pitch was hard tackles, the perfect realization of tactical plans, well-organized defensive play and yellow cards for both teams. Liverpool gained a slight advantage, which is visible in numbers of dangerous attacks, but they were not able to make the decisive blow. On the other hand – everything said above would have meant nothing, if Chris Smalling had taken advantage of a great chance ball in injury time.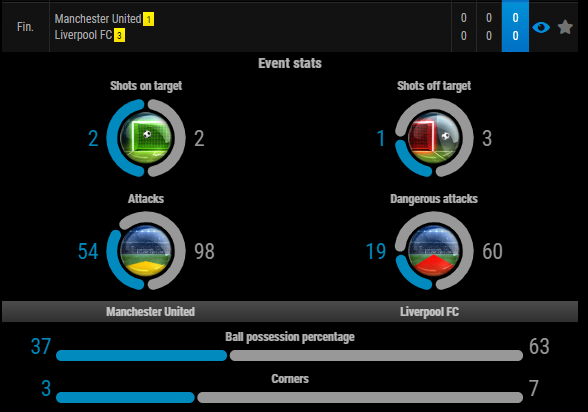 What about the second British classic of the day? It could be explained in almost exactly the same words as above. More chances on City's side, no shots on target by Chelsea and 5 yellow cards. Fortunately, no scary looking injuries. For sure there were some emotions in the penalty shootout, but earlier there was "only a misunderstanding" between Kepa and Maurizio Sarri about a substitution and this was the thing that warmed up the audience the most.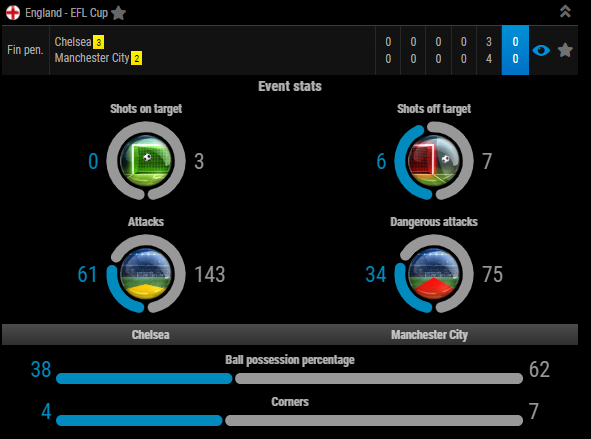 Finally, Raheem Sterling secured victory for his team with his last accurate shot from 11 meters.
Experience more: Full statistics of Carabao Cup Final
Summarizing – as one of the journalists described in a post-match interview with Pep Guardiola about Manchester City and trophies this season – One down. Three to go.
If you want to get in touch to find out more, just contact our Customer Success Team at cst@statscore.com or use the LiveChat service on our website. We will be more than happy to schedule a call and discuss how we can help your organization!