The most important sporting events require the greatest attention and the highest quality of stats. Every single day there are competitions watched by a mass of people around the world. Basic information in some sporting disciplines or tournaments, like final result or standings, are enough for some fans. However, the most popular leagues have a lot of quite inquisitive supporters and they are not only checking for goal scorers or half time result but every little detail they can find. And this is where the range of stats starts to matter. STATSCORE is here to meet their needs.
By creating the biggest sports data center in the world, we are facing up to the expectations of the most demanding hotheads in sports in terms of sports stats and live scores. We deliver every significant, live incident from the biggest games in the world every day. Matches with a huge range of stats in STATSCORE's offer are marked at least with GOLD range, but this isn't where we decided to stop! We have added a whole new range, which will take fanatics of sport stats, to a totally new level…
Ladies and gentlemen, we would like to present the VIP range! It's even more valuable and packed with details than GOLD. Just take a look at a few examples for football (soccer).
Read more: why do the extended and accurate stats matter so much for modern sports?
EXTENDED MATCH EVENTS LIVE
By following football matches live on our animated trackers, you get dozens of statistics in real time. The VIP package contains a massive amount of different incidents (over 40!) and now you will be able to see the player involved in every incident where possible. So not only who scored, but who took every shot and whether it was on target or not. Woah!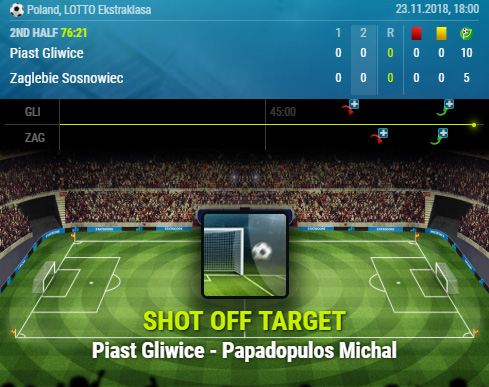 Another case – just after a corner kick is indicated, you will know the player who will take it.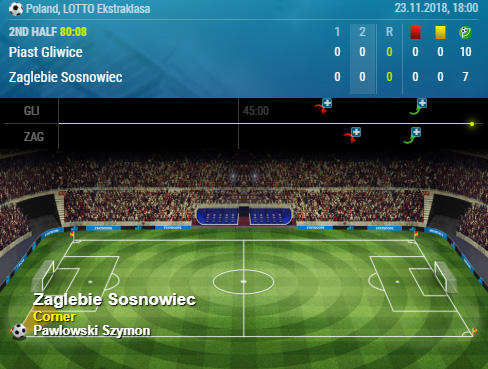 It means that you will get also numbers for the most important incidents from the match, in which the player you are interested in taking part.
Experience more: visit our LeagueCenter with Polish Ekstraklasa with the VIP stats.
EXTENDED TEAMS STATS DURING THE MATCH
Thanks to the detailed work of our scouts, the team stats also gain new values. During the match, we are able to pick even more of the than for the GOLD level. The exact number of shots (with split into ones on target, off target, blocked and woodwork), dangerous attacks for both teams or detailed data about set pieces, especially penalties and free kicks are just a few of stats which makes the difference.
EXTENDED SEASON TEAM STATS
Yes, we are also in love with checking stats tables waiting for an incoming match-day. We know well that top scorers standings don't tell everything.
Statistics, that we are collecting for the VIP range, let the fans track their favourite competitions on the highest analytic level. And guess what? The time of waiting for the next match may pass faster and better. With VIP stats fans have unlimited access to such information as a number of goals in specified quarters or an average number of shots per game.
Reade more: what should you know about the shot conversion factor.
EXTENDED SEASON PLAYERS STATS
Players stats appear similar to the team case. We are providing directly not only the number of goals and cards but also the number of fouls committed, minutes played in every match and even percentage of goals scored for a team by one player (eg. Messi scored 34% goals for Barcelona in La Liga 2017-18 season).
NOT A BITTER END
A bit of spice for the end – dedicated assists standings. Do you want to know whose pass is the last one before a goal is scored most often? Do you always count combined goals and assists classification? We have them all and we bring them to take you to the football stats' paradise.
Still not convinced? Let us bring an example of event extended stats for soccer, that has been mentioned above. These are the stats that come only with the VIP range:
Goal (with person assigned)
Yellow card (with person assigned)
Red card (with person assigned)
Shot on target (with person assigned)
Shot off target (with person assigned)
Shot blocked (with person assigned)
Goalkeeper saved (with person assigned)
Penalty goal (with person assigned)
Own goal (with person assigned)
Substitution out (with person assigned)
Substitution in (with person assigned)
Penalty saved by goalkeeper (with person assigned)
Penalty (with person assigned)
Missed penalty (with person assigned)
Shot woodwork (with person assigned)
In possession
Attack
Dangerous attack
Goal kick
Possible corner
Corner
Possible corner cancelled
Throw-in
Foul
Free kick
Dangerous free kick
Possible goal
Goal cancelled
Injury
Offside
Possible card
Possible card cancelled
Possible penalty
Penalty cancelled
Kick-off
Injury time
Video assistant referee
Water break
Referee's injury
Break during the game
This is only an example – much more can be found once you dig in into our offer!
If you want to get in touch to find out more, just contact our Customer Success Team at cst@statscore.com or use the LiveChat service on our website. We will be more than happy to schedule a call and discuss how we can help your organization!