StatsWidgets are a set of super easy-to-install and customize widgets that will allow you to enrich your website with valuable sports data in the blink of an eye! Let's see STATSCORE's StatsWidgets in action!
LiveBar – real-time sports data in a smart widget
LiveBar is a real star among the widgets. With its responsive and mobile-friendly design, it's a perfect solution used to display real-time sports events in a smart and engaging way.
Vote widget – let bettors share their predictions!
The Vote widget provides betting companies and media outlets with a chance to attract viewers and encourage them to interact by sharing their predictions.
Events widget - list of sports events
Events widget allows you to browse through data from matches held within a given competition. 
Premier League 2021/2022
Tennis Olympic Games Tokyo 2020
Event stats - display real-time data on key match events
This great tool will provide your users with detailed real-time stats from a sports event.
Toronto Blue Jays - Baltimore Orioles 12-4 (Oct 3, 2021)
Rennes - PSG 2-0 (Oct 3, 2021)
Standings widget – all types of sports tables fans need
League and competition tables are one of the things that each sports fan, casual follower, or bettor needs to have access to. STATSCORE's Standings widget gives them just that. Though, in fact, it gives them much more!
Premier League top scorers
Brazil LNF (futsal league) standings
Scoreboard - your user will never lose track of the score!
Scoreboard is the widget that allows you to provide your users with the most important information on the game, namely - what the score is!
Event Incidents – key match events on a timeline
Event Incidents is a smart solution that allows you to display key data from any sports event in the form of a timeline.
H2H widgets – sports stats head to head
H2H widgets provide advanced comparisons of the teams' previous performances, their direct matches, general form, statistics on average goals scored/conceded, results of their last performances – and much more!
Lineups widget - who's playing tonight?
Knowing the squads of the teams is one of the crucial pieces of information that fans and bettors are looking for before a match starts.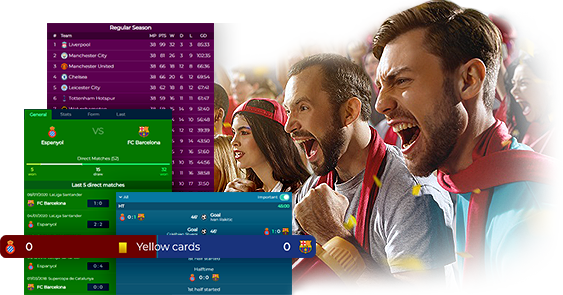 Check out StatsWidgets plans and pricing NOW!
Want to know more?
Find out what STATSCORE can do for your business!
Want to know more? Drop us an email directly at cst@statscore.com or let's talk on LiveChat!
You can also sign up for our weekly BETTING INDUSTRY REVIEW to stay updated with the latest trends and key developments in the world of sports data and betting. Do it by filling the form below.
PROCESSING OF THE DATA
Pursuant to Article 13.1–13.2 of Regulation (EU) 2016/679 of the European Parliament and of the Council of 27 April 2016 on the protection of natural persons with regard to the processing of personal data and on the free movement of such data, and repealing Directive 95/46/EC ("GDPR"), we would like to inform you as follows:
1) STATSCORE Sp. z o.o. with its registered office in Katowice 40-012 at ul. Dworcowa 2 is the controller of your personal data.
2) Your personal data will be processed for the purposes of the product trial process – in accordance with Article 6.1(a)–(b) of the GDPR.
3) Furnishing the personal data requested by STATSCORE about yourself is voluntary.
4) Your personal data will be retained for the duration of the Product development term but for no less than the retention period required under the law.
5) Your personal data will not be subject to automated decision-making or profiling.
6) You have the right to access the personal data held about you and to have your data rectified or erased or to restrict or to object to the processing as well as the right to data portability. If your personal data is processed under Article 6.1(a) of the GDPR (i.e. processed on the basis of the consent you have given to the processing), you may withdraw your consent at any time without any impact on the lawfulness of the processing carried out before your consent was withdrawn.
7) You may lodge a complaint in respect of the processing of the above data to the President of the Office for Personal Data Protection (PUODO).