Has your Sportsbook platform got all it needs to win more operators from other regions? The emerging markets are creating chances for you to expand the number of deals you sign significantly. At the same time, they come with many restrictions and operational limitations that you have to take into account if you wish to make progress there. To backup your business goals in this mission, STATSCORE has come up with a new offer for Sportsbook providers to secure for you more freedom when speaking to different clients.
At STATSCORE, we understand very well that every region operates differently and each comes with very different demands. In the emerging markets, you just need to be more flexible with what you have to offer. Mature markets are more demanding about the width of what you have to offer. Whatever you're aiming for, you need to have the right partner by your side. One, who can back you up in providing for these very different demands.
We have prepared a great bundle for the betting industry that includes our well-known sports widgets PrematchPro and LivematchPro! This great package allows you to cover, 30,000 events pregame and up to 20,000 events LIVE every month! This is an incredible number of chances to engage and stimulate, those users that like to place a bet or two, thus increasing turnover for operators!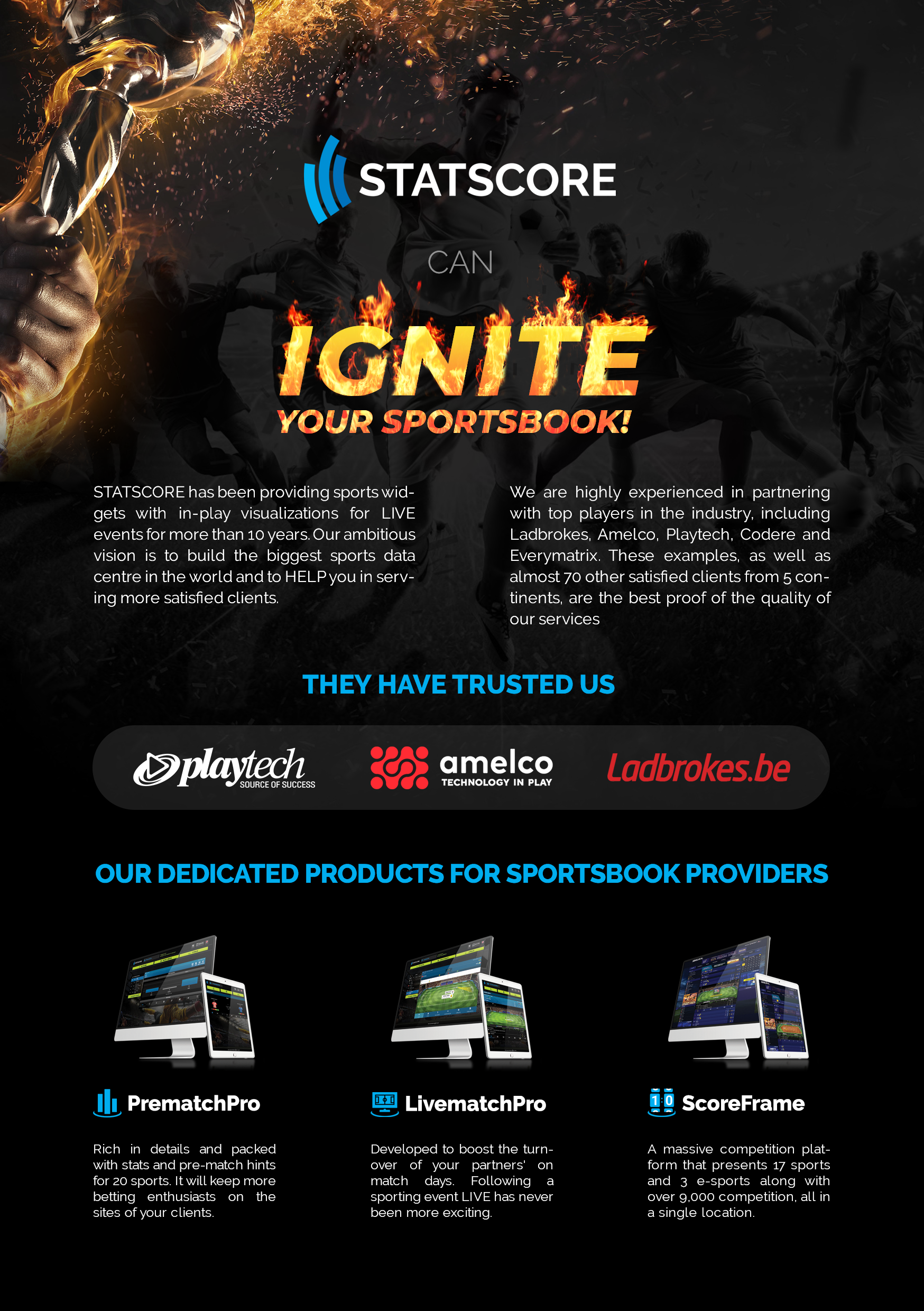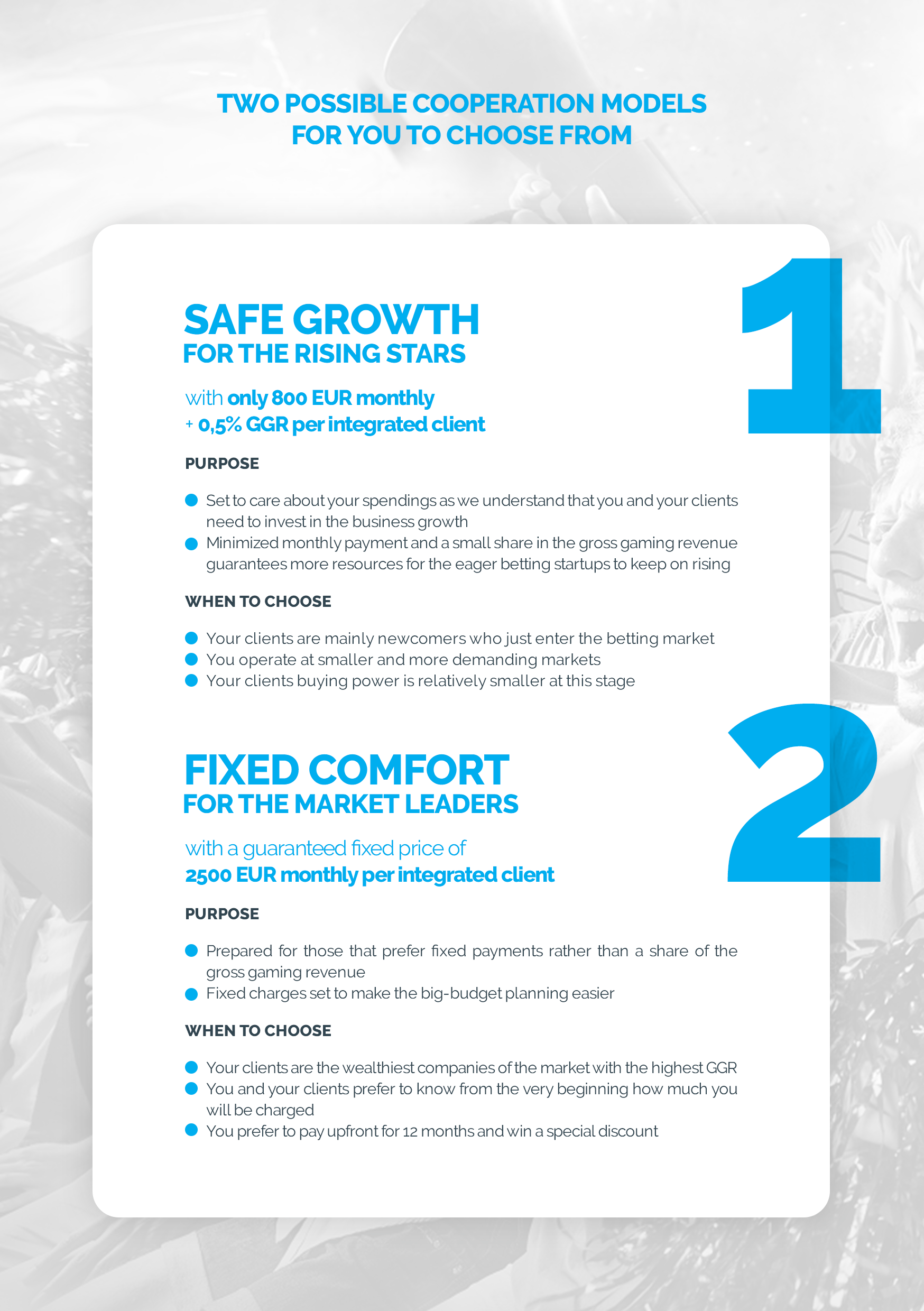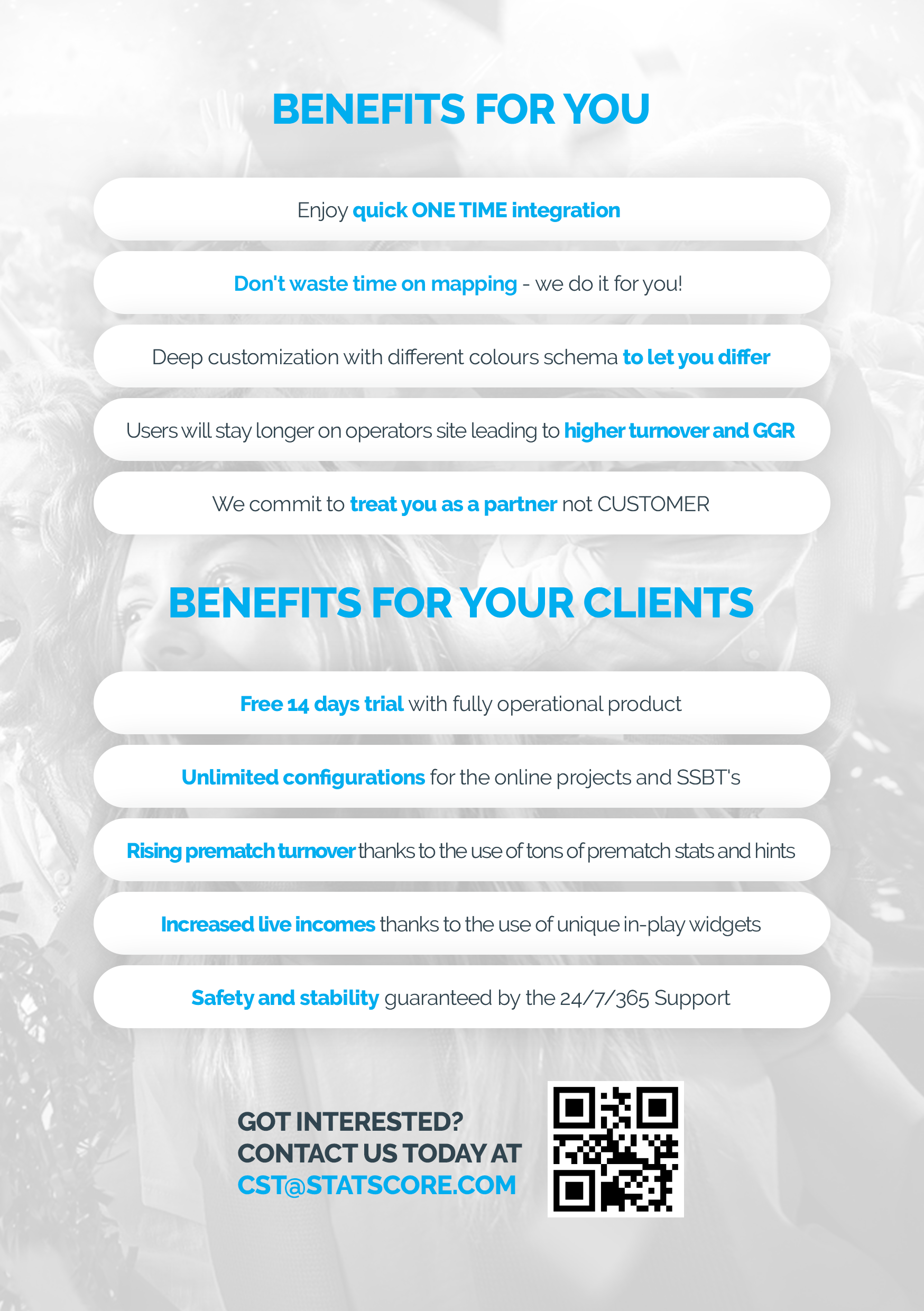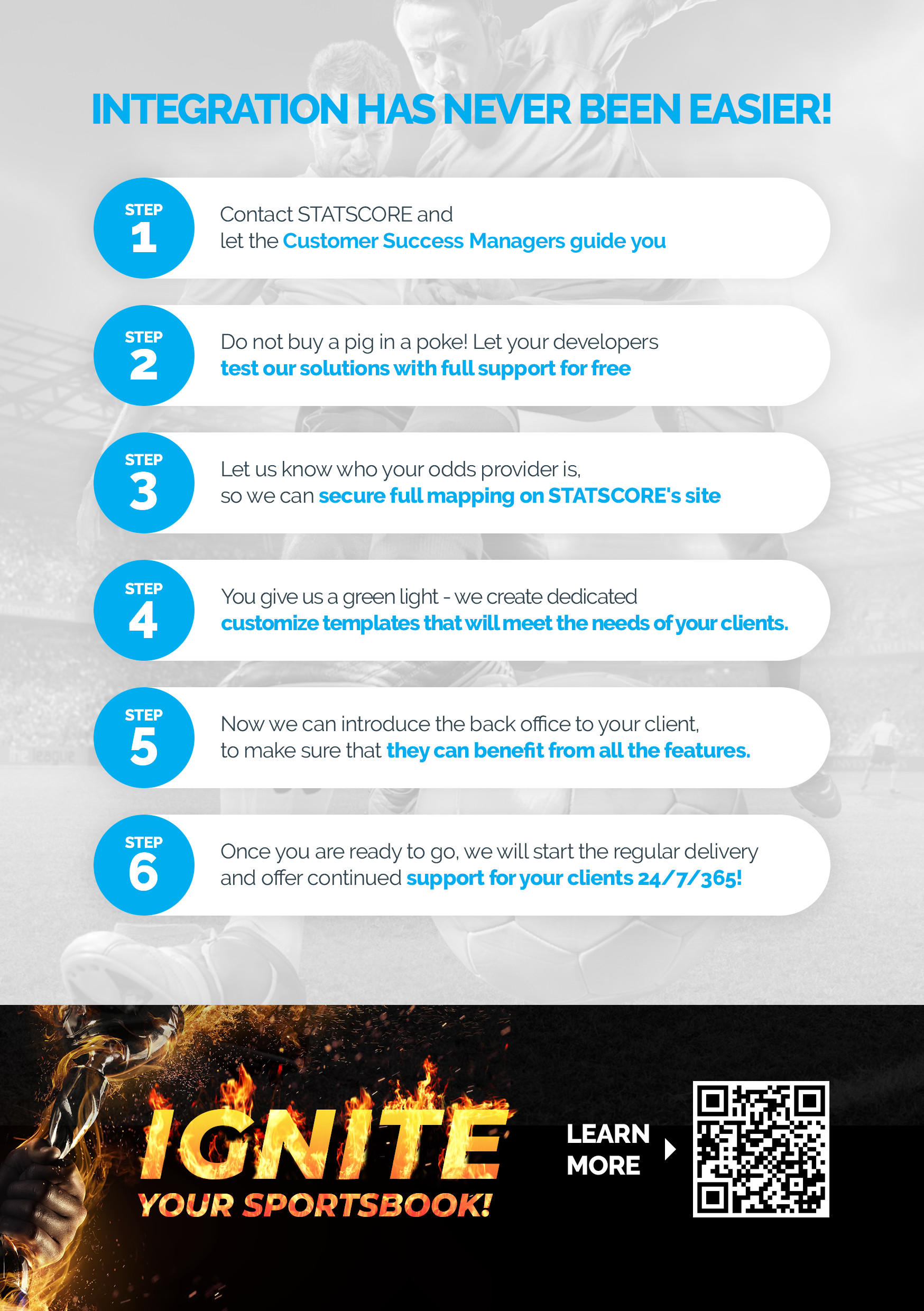 What makes our offer for sportsbooks special?
Let us point-out why:
👉 – No financial ups and downs! Flat basic payments to make sure that you know what your outlay is going to be every month.
👉 👉 – A minimum monthly payment scheme with a small share of the monthly GGR plan for your operators. Great for emerging markets.
👉 👉 👉 – comfortable payment scheme with no additional financial obligations.
Any catches here? Nope! You still get the same full package of top quality products. The difference? The way you pay for them is based on your business plan.
You and your clients make the final decision, which of the two plans will work better in each particular situation. Our experienced Customer Success Managers will remain by your side to assist you in this choice and, make sure you get the best plan for each scenario. STATSCORE's role here is to use our many years of experience serving the world's top Sportsbooks to help you, position your business in a great place!
How does the GGR share work?
This catchy abbreviation stands for Gross Gaming Revenue, which is the amount calculated as the difference between the net profit and the tax that each operator gets from their online bets. Why do we refer to it as the first plan? Because we understand that not all betting businesses have to make money from day one. The first couple of months usually mean more spending than making profits, but this is business – you have to invest to earn.
We want to support this process with a plan that guarantees minimal spending, along with the biggest margin of safety. If your operator does not earn the net profit in a certain month, we just charge the minimum agreed fee to cover our costs. If there is any turnover left, we will be happy to get a small remuneration of less than 1% on top of our basic fee.
On the other side of the coin, when you have the situation where your operators are performing well in the biggest markets and their turnover is going through the roof, we do not recommend this model. To make sure that their high profits remain in their own pockets, as is expected! We offer a flat-fee. This fee will not increase no matter how much our widgets help to double or even triple their incomes
Sounds fair and tempting? Sure it does! If you want to learn more and receive your individual offer, please drop us an email for more details or fill the contact form below.
PROCESSING OF THE DATA
Pursuant to Article 13.1–13.2 of Regulation (EU) 2016/679 of the European Parliament and of the Council of 27 April 2016 on the protection of natural persons with regard to the processing of personal data and on the free movement of such data, and repealing Directive 95/46/EC ("GDPR"), we would like to inform you as follows:
1) STATSCORE Sp. z o.o. with its registered office in Katowice 40-012 at ul. Dworcowa 2 is the controller of your personal data.
2) Your personal data will be processed for the purposes of the product trial process – in accordance with Article 6.1(a)–(b) of the GDPR.
3) Furnishing the personal data requested by STATSCORE about yourself is voluntary.
4) Your personal data will be retained for the duration of the Product development term but for no less than the retention period required under the law.
5) Your personal data will not be subject to automated decision-making or profiling.
6) You have the right to access the personal data held about you and to have your data rectified or erased or to restrict or to object to the processing as well as the right to data portability. If your personal data is processed under Article 6.1(a) of the GDPR (i.e. processed on the basis of the consent you have given to the processing), you may withdraw your consent at any time without any impact on the lawfulness of the processing carried out before your consent was withdrawn.
7) You may lodge a complaint in respect of the processing of the above data to the President of the Office for Personal Data Protection (PUODO).