STATSCORE's flagship sports widgets, LivematchPro, PrematchPro, and StatsWidgets, are currently available in over 20 languages. Now, given the growing demand for these unique products in new markets, we've adjusted them to support the right-to-left script, which is used by such languages as Arabic, Persian, and Hebrew!
STATSCORE's sports widgets are used by international online sports-focused businesses and organizations, including the world's leading sportsbooks, prestigious media outlets, and top sports leagues and federations. 
To make their users' experience as good as possible, we're making them available in the world's most popular languages, including English, Chinese, Spanish, and French, as well as in tens of less-widely spoken ones, such as Polish, Czech and Latvian.
The newly-introduced ability to support the right-to-left (RTL) script comes as a response to the growing demand for STATSCORE's products in new markets.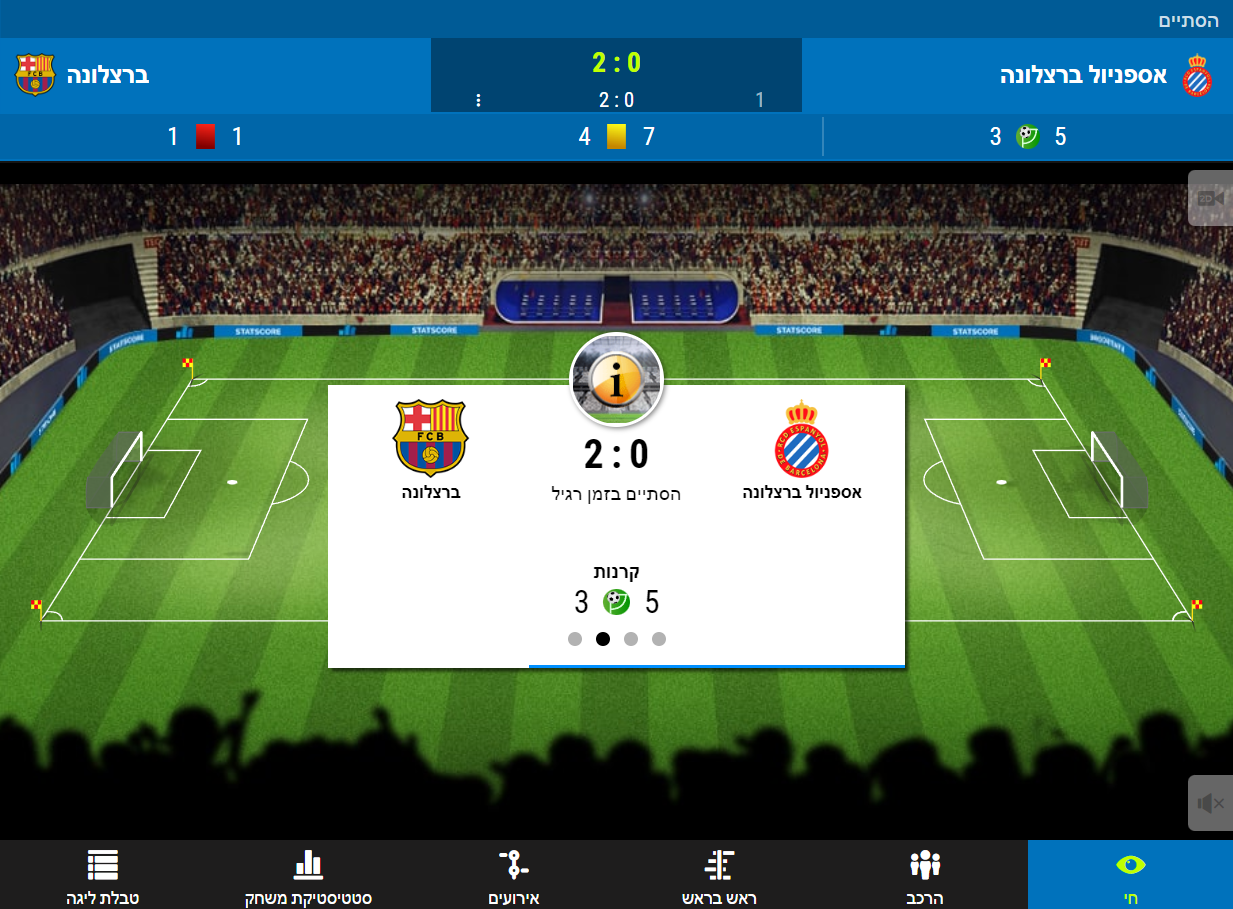 Among the RTL languages, there are such widespread, and culturally significant languages as:
Arabic – the

lingua franca

of the Arab world, it's the official language in 26 states across Africa and Asia, including Saudi Arabia, Egypt, Libya, and Tunisia. It is spoken by around 422 million people.
If you're into football (soccer), we're sure you know… محمد صلاح حامد محروس غالي, or… Mohamed Salah Hamed Mahrous Ghaly, better known as Mo Salah!
Persian – also known as Farsi is a language spoken in numerous countries, including Iran, Afghanistan, and Tajikistan. It is used by 110 million people.
Football (soccer) is currently the most popular sport in Iran, however, کشتی (wrestling) is seen as the country's most traditional sport with its roots in Ancient Persia!
Hebrew – the official language of Israel, it's also used in Jewish communities around the world. It is spoken by around 9 million people worldwide.
מועדון כדורסל מכבי תל אביב (Maccabi Tel Aviv Basketball Club) is one of the most decorated teams in European basketball, with 6 Euroleague titles, and lots of players sent to the NBA draft!
Find out more about our outstanding sports widgets!
Apart from the RTL-written scripts, our widgets are currently available in the following languages: Brazilian Portuguese, Chinese, Czech, Dutch, English, Finnish, French, German, Greek, Italian, Japanese, Korean, Latvian, Norwegian, Polish, Portuguese, Romanian, Russian, Slovakian, Spanish, Swedish, and Turkish.
If you can't see your language on the list above, don't worry, we can add it for you, just drop us an email!
Sign up for our weekly BETTING INDUSTRY REVIEW to stay updated with the latest trends and key developments in the world of sports data and betting. You can do it by filling out the form below.
PROCESSING OF THE DATA
Pursuant to Article 13.1–13.2 of Regulation (EU) 2016/679 of the European Parliament and of the Council of 27 April 2016 on the protection of natural persons with regard to the processing of personal data and on the free movement of such data, and repealing Directive 95/46/EC ("GDPR"), we would like to inform you as follows:
1) STATSCORE Sp. z o.o. with its registered office in Katowice 40-012 at ul. Dworcowa 2 is the controller of your personal data.
2) Your personal data will be processed for the purposes of the product trial process – in accordance with Article 6.1(a)–(b) of the GDPR.
3) Furnishing the personal data requested by STATSCORE about yourself is voluntary.
4) Your personal data will be retained for the duration of the Product development term but for no less than the retention period required under the law.
5) Your personal data will not be subject to automated decision-making or profiling.
6) You have the right to access the personal data held about you and to have your data rectified or erased or to restrict or to object to the processing as well as the right to data portability. If your personal data is processed under Article 6.1(a) of the GDPR (i.e. processed on the basis of the consent you have given to the processing), you may withdraw your consent at any time without any impact on the lawfulness of the processing carried out before your consent was withdrawn.
7) You may lodge a complaint in respect of the processing of the above data to the President of the Office for Personal Data Protection (PUODO).