Witness a real change brought by STATSCORE's PrematchHints Add-On to our PrematchPro and StatsWidgets, and make your online betting website even more profitable than it already is! This brand new cutting-edge tool is here to help every bookmaker.
Has your online betting project ever been hit by a temporary downfall of the number of bets caused by the lack of proper inspiration for the players? We all know that it happens from time to time, and it is a kind of threat that every bookmaker wants to avoid. With STATSCORE's PrematchHints, you can feel at home, as we have loads of proper guidance for the sports enthusiasts to bet more and higher.
PrematchHints Add-On to StatsWidgets and PrematchPro is a set of fully automated sports hints created with AI to increase the turnover of online betting companies and based on STATSCORE deep and continuously developed sports database.
We have gathered millions of stats for players, teams and competitions over the last 15 years. With such a rich database, it was the right time to build our own algorithms to analyse BIG DATA and suggest the best hints to inspire bettors to wager more!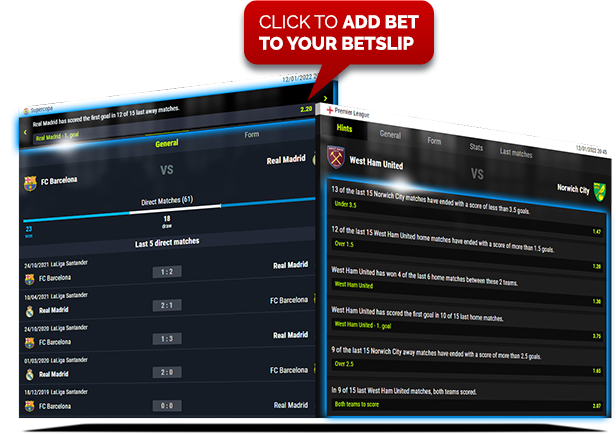 ---
What are the 5 key benefits of PrematchHints?
7 most popular sports covered, and more to come soon!
Inspire punters to bet more by providing them with dedicated hints for different markets, for such popular global sports as soccer, basketball, handball, ice hockey, volleyball, tennis and futsal. We have a large sports database created over the years, and we will keep on adding new disciplines to the offer.
7 different types of hints for every single soccer game
We know that worldwide data indicate that >50% of bets are placed on soccer events. This is why we made sure to cover with PrematchHints 7 different types of hints for the world's most popular sport, including 1×2, over/under, 1st half/2nd half and more to inspire more bets.
Betslips available
PrematchHints come fully mapped with your offer. The betslips included in the tool allow you to add chosen bets on different markets to a betting slip with just one click!
Useful reports
Stay informed about how PrematchHints help your business to rise thanks to the reports that you can easily configure and download from the back-office.
Over 20,000 events with hints per month
Here at STATSCORE, we understand well that you need to provide a vast offer for your punters. This is why we provide more than 20k events monthly for soccer, basketball, handball, ice hockey, volleyball and tennis – all with PrematchHints.
---
How will STATSCORE's PrematchHints work for your betting websites?
Inspire more bets
STATSCORE's PrematchHints Add-On will help you get people involved in betting more frequently and for higher steaks cumulatively! Inspire the bettors who will no longer get lazy or bored!
Boost your income
This outstanding solution allows you to easily attract more interest to events in your offer. Inspire more bets and boost your income!
Take advantage of the highest-quality AI-powered data
STATSCORE's new Add-On will help you stand out from your competitors by making betting more friendly for your users. This outstanding solution is based on the most reliable and advanced AI-powered data!
---
Test PrematchHints now!
This solution works as an add-on that can be used with 2 of our products – PrematchPro and StatsWidgets. Which one should you choose? Well, this depends on whether you want to implement pre-game widgets, or prefer to focus more on the hints themselves!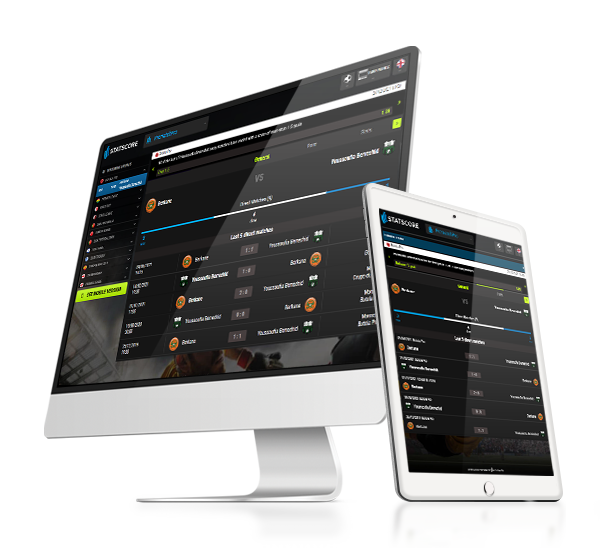 PrematchPro + PrematchHints Add-On
Choose if you wish to power up your web offer with great pre-match widgets including integrated hints!
Check out PrematchPro with PrematchHints!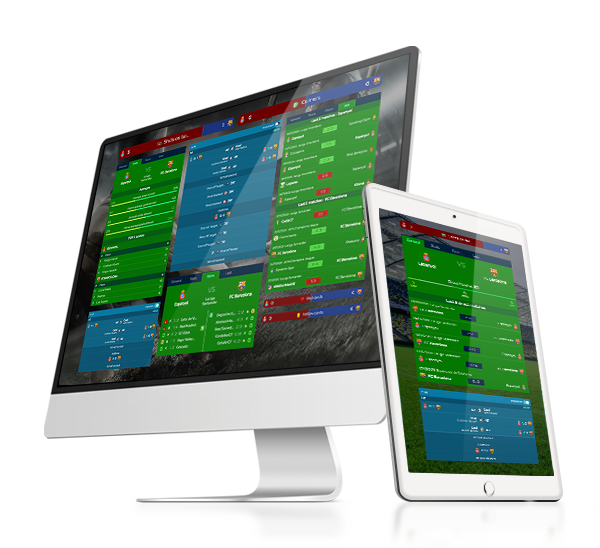 StatsWidgets + PrematchHints Add-On
Choose this one if you prefer to display PrematchHints alone without the extended pre-game widgets.
Try StatsWidgets with PrematchHints right now!
---
You get all these for just as little as EUR 2,000 for PrematchHints!
Please note that you need to purchase a PrematchPro or a StatsWidgets license to use them.
Not sure what to choose?
Contact our Business Development Team at bdm@statscore.com to let us explore your needs and arrange an online presentation for you.