What at weekend in Slovnaft Handball Extraliga for whom STATSCORE is the official data and stats provider. Let us take your for a little statistical walk and bring some great insights!
Strojar Malacky – HKM Sala 20:30 (13:14)
The match between Strojar Malacky and HKM Sala ended without any surprises. The league leaders won this away match by 10 goals, but we can't say that it was an easy game for them.
Strojar  fought as equals until the first few minutes of the second half (in the 35th minute it was 16:14 for the home team!) . Then Sala players stepped up a gear and left no doubt who was the better team.
After the 11th round, Sala, are still top of the league table with a 3-point advantage over the second-placed team from Povazska Bystrica (who have played one match less).
Strojar Malacky are still waiting for their first points of this season, but with this kind of defence, it can be difficult. In the 11 matches they have played this season, they have conceded 356 goals (over 32 per match).
HC Sporta Hlohovec – SKP Bratislava 32:19 (19:6)
This was supposed to be a very close match. Sporta Hlohovec and SKP Bratislava were placed next to each other in the league table, and both wanted to win this match.
How did it all end? Sporta beat their opponents 32:19. The host team were better in all aspects of the game and deserved to win. After a fantastic first half (19:6) they slowed the pace down in the second half, which ended as a draw.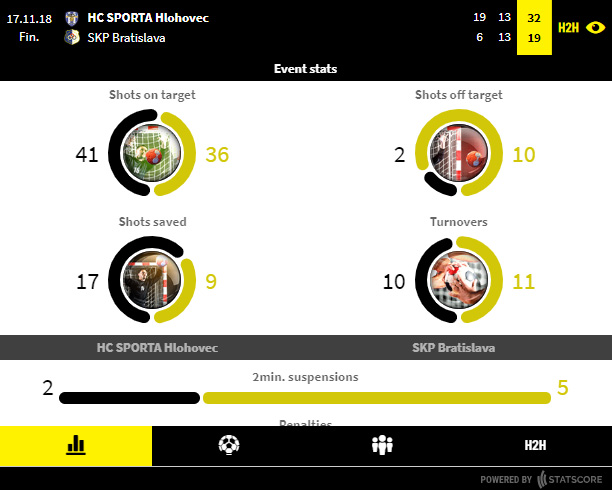 The best player of the match was Hlohovec's Lukas Rakus who scored 8 goals with a 89% throw efficiency
Tatran Presov – MHK Piestany 27:32 (13:18)
Tatran Presov lost their  third league game this season. It's now12 times that the Slovakian champions have lost a home match against MHK Piestany.
MHK won against this season's Champions League Participant for the second time this season (in Piestany it was 34:31 for the home team). Their goalkeepers had 18 saves during the match (40% efficiency!!) while their rival's goalies saved only 5 throws (14% efficiency).
Another rare statistic! An 82% throw efficiency – it doesn't happen that often (Tatran Presov – 54%)
It was another fantastic match for Tomas Laho, who scored 10 goals out of the 10 throws he made in the game.
TJ Slovan Modra – HK Agro Topolcany 21:29 (7:16)
Another easy win for HK Agro Topolcany. Their rivals from Modra were unable to create any real danger for their rivals during the 60 minutes of this match.
Topolcany won their 14th league match in a row against Slovan. When was the last time they didn't bring home the bacon? The 17th of November, 2012 (away draw 23:23)
Slovan Modra's Matus Juriković got his 14th 2-minute suspension of the season and this makes him the league leader in this statistic.
MHC Start Nove Zamky – MSK Povazska Bystrica 25:35 (13:20)
Simon Machac scored 5 goals in this away match to MHC Start Nove Zamky and is still the league's top scorer with 81 goals in the 10 matches he's played. His team, MSK Povazska Bystrica won this away match against MHC Start Nove Zamky, by 10 goals.
Nove zamky had 14 turnovers during the 60 minutes of play, while they rivals lost the ball only five times. Additionally, Start had big problems with their with power plays. Povazska Bystrica had nine 2-minute suspensions, but it didn't help the goal scoring stats for the home team.
For Povazska Bystrica it was a fourth league win in a row. Next round they have a home match against Sporta Hlohovec. Will they score another two points in this match? (they are unbeaten in home games so far this season)
Read more: how we analysed the previous games.
Experience more: visit the LeagueCenter for the Slovnaft Handball Extraliga.
If you want to get in touch to find our more, please contact our Customer Success Team at cst@statscore.com or use the LiveChat on our website, so we can schedule a call and discuss how our LeagueCenter can help your organization!