FSG wants to sell Liverpool, betting arrives in Saskatchewan, and Danone is named the official partner of Paris 2024. Let's look for some answers with STATSCORE's Review!
Fenway Sports Group puts Liverpool FC up for sale
Fenway Sports Group (FSG) has put Liverpool up for sale. A full sales presentation has been produced for interested parties, reported The Athletic.
FSG is 'inviting offers' for the Premier League giants after 12 years in charge. In 2010 the club was bought for £300m.
The potential sale of one of the world's most renowned football clubs could fetch an estimated £4 billion. Read more
Sign up for our weekly newsletter and stay updated!
Legal sports betting arrives in Saskatchewan ahead of Grey Cup
Canadian province has launched its first online gaming platform since single-game wagering was legalized in August 2021.
This much-anticipated rollout comes ahead of the Canadian Football League's Grey Cup, which will be held in Regina, the capital of the province, on November 20.
Single-game betting was decriminalized in Canada in 2021 when Senate passed a bill legalizing the activity on the federal level. Read more
NRL clubs threaten to launch breakaway competition
Teams in Australian National Rugby League (NRL) have been holding complex collective bargaining negotiations with the league.
The league is at odds with its players and clubs over myriad issues, including the salary cap.
The latest negotiations haven't led to an agreement and the clubs remain uncertain of their finances for next season. It's been reported that they are now threatening to for a breakaway competition. Read more
UK craft brewery takes stand against Qatar, but criticism backfires
BrewDog, a multinational brewery and pub chain based in Scotland, has declared itself the "proud anti-sponsor" of the World Cup, highlighting human rights abuses of the host country.
The beer maker's advertising campaign, created by London agency Saatchi & Saatchi, included slogans such as "First Russia, then Qatar. Can't Wait for North Korea" and "Proud antisponsor [sic] of the World F*Cup". However, the campaign backfired on the brewery, which itself has a history of accusations of bullying staff, creating a 'culture of fear' and cutting corners on health and safety. Read more
Ready for the Qatar Cup? Check out STATSCORE's CupCenter!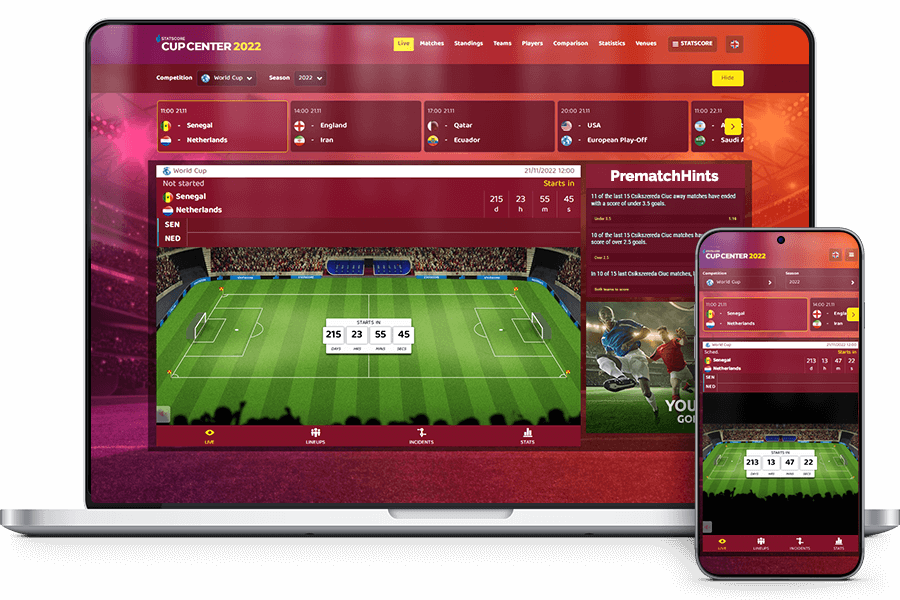 CupCenter
Revolutionary match center with animated visualizations of all games.
Danone named official partner of Paris 2024
French food group Danone has signed a deal with the organising committee of the 2024 Olympic and Paralympic Games in Paris.
In addition to making an undisclosed financial contribution, Danone will distribute dairy and plant-based products to athletes and volunteers at the Games.
Danone, whose sales reached €24.3 billion last year, will also offer its products for sale to spectators. Read more
Sign up for our weekly BETTING INDUSTRY REVIEW to stay updated with the latest trends and key developments in the world of sports data and betting. You can do it by filling out the form below.
PROCESSING OF THE DATA
Pursuant to Article 13.1–13.2 of Regulation (EU) 2016/679 of the European Parliament and of the Council of 27 April 2016 on the protection of natural persons with regard to the processing of personal data and on the free movement of such data, and repealing Directive 95/46/EC ("GDPR"), we would like to inform you as follows:
1) STATSCORE Sp. z o.o. with its registered office in Katowice 40-012 at ul. Dworcowa 2 is the controller of your personal data.
2) Your personal data will be processed for the purposes of the product trial process – in accordance with Article 6.1(a)–(b) of the GDPR.
3) Furnishing the personal data requested by STATSCORE about yourself is voluntary.
4) Your personal data will be retained for the duration of the Product development term but for no less than the retention period required under the law.
5) Your personal data will not be subject to automated decision-making or profiling.
6) You have the right to access the personal data held about you and to have your data rectified or erased or to restrict or to object to the processing as well as the right to data portability. If your personal data is processed under Article 6.1(a) of the GDPR (i.e. processed on the basis of the consent you have given to the processing), you may withdraw your consent at any time without any impact on the lawfulness of the processing carried out before your consent was withdrawn.
7) You may lodge a complaint in respect of the processing of the above data to the President of the Office for Personal Data Protection (PUODO).