How to turn sports statistics into attractive and fan-engaging content? STATSCORE's LeagueCenter proves that it is not only possible but very simple!
STATSCORE's LeagueCenter is an extensive platform that gives sports fans access to team and player statistics. Dangerous situations, accurate shots and points – from now on, you can show all this information in one place, both on your website and in the mobile application.
LeagueCenter allows you to show e.g. the following types of team information:
team line-ups
detailed point statistics
different averages of points scored and lost
points scored and lost by game time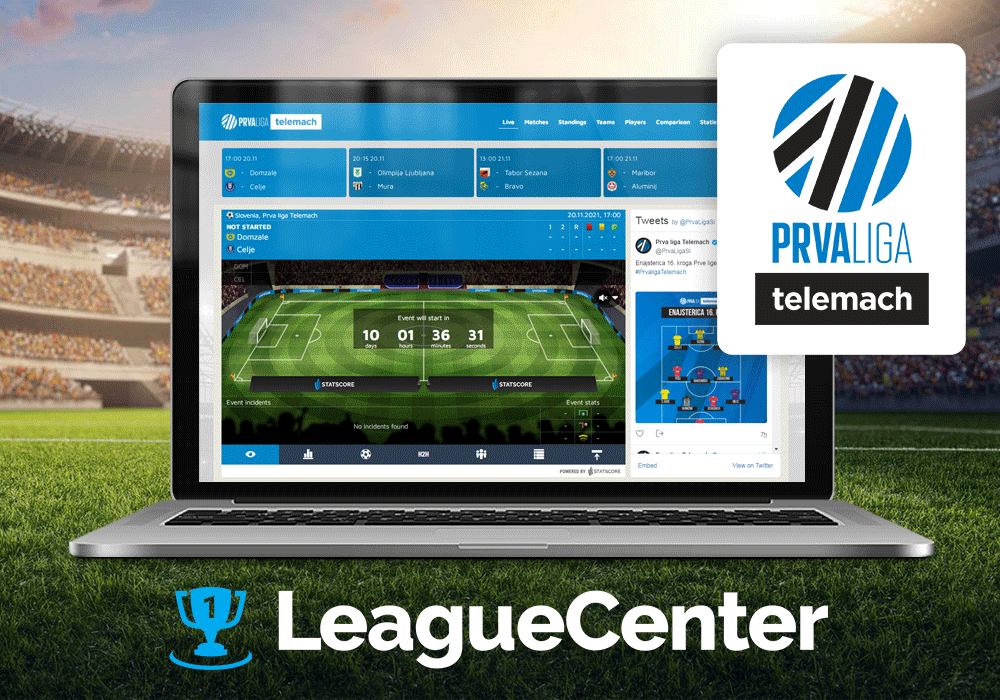 Not enough? Let's go down to the lower level of detail and check individual players for:
playing time
point results
participation in attack situations
how the player scored points
individual penalties
LeagueCenter
Full access to LIVE stats, standings, squads, and pre-match comparisons!
During matches, the STATSCORE's LeagueCenter turns into a live animated match center, where, thanks to the work of STATSCORE scouts, your fans will be able to follow the performance of the athletes practically as if they were in the stadium.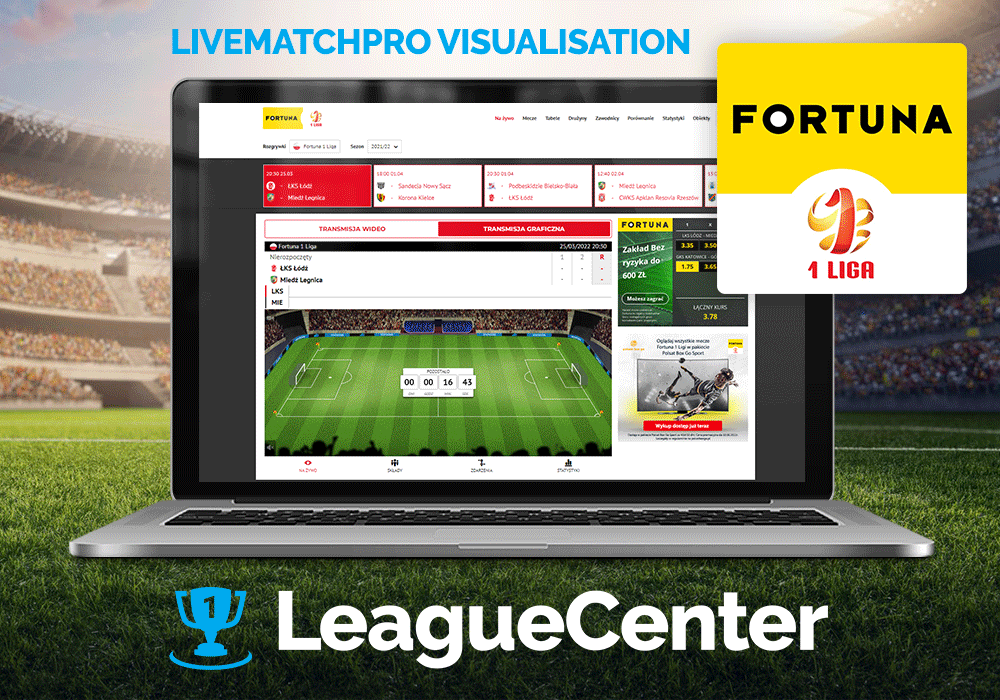 When creating STATSCORE's LeagueCenter, we focused on transparency and attractiveness. Forget about tables filled with numbers, matrices or unclear charts and open up to animations, photos of players or video content from your social media channels! Thanks to our tool, owners of sports games can show statistics in a previously unknown way!
Our platform is fully editable, thanks to which it will easily adapt to your expectations, both when it comes to the website and mobile applications.
STATSCORE LeagueCenter is a recognized tool for sports competitions, regardless of the discipline. We have prepared it for fans who now have all the statistics in an attractive form in one place – says Radosław Firlej, Business Development Manager at STATSCORE.
STATSCORE's LeagueCenter has been designed to work well both on desktop and mobile devices.
The platform is currently employed by such sports leagues and organizations as Slovenian Prva Liga, Fortuna 1. Liga, eWinner 2. Liga, Czech Futsal Liga, Betcenter Futsal League, Women's Ekstraliga.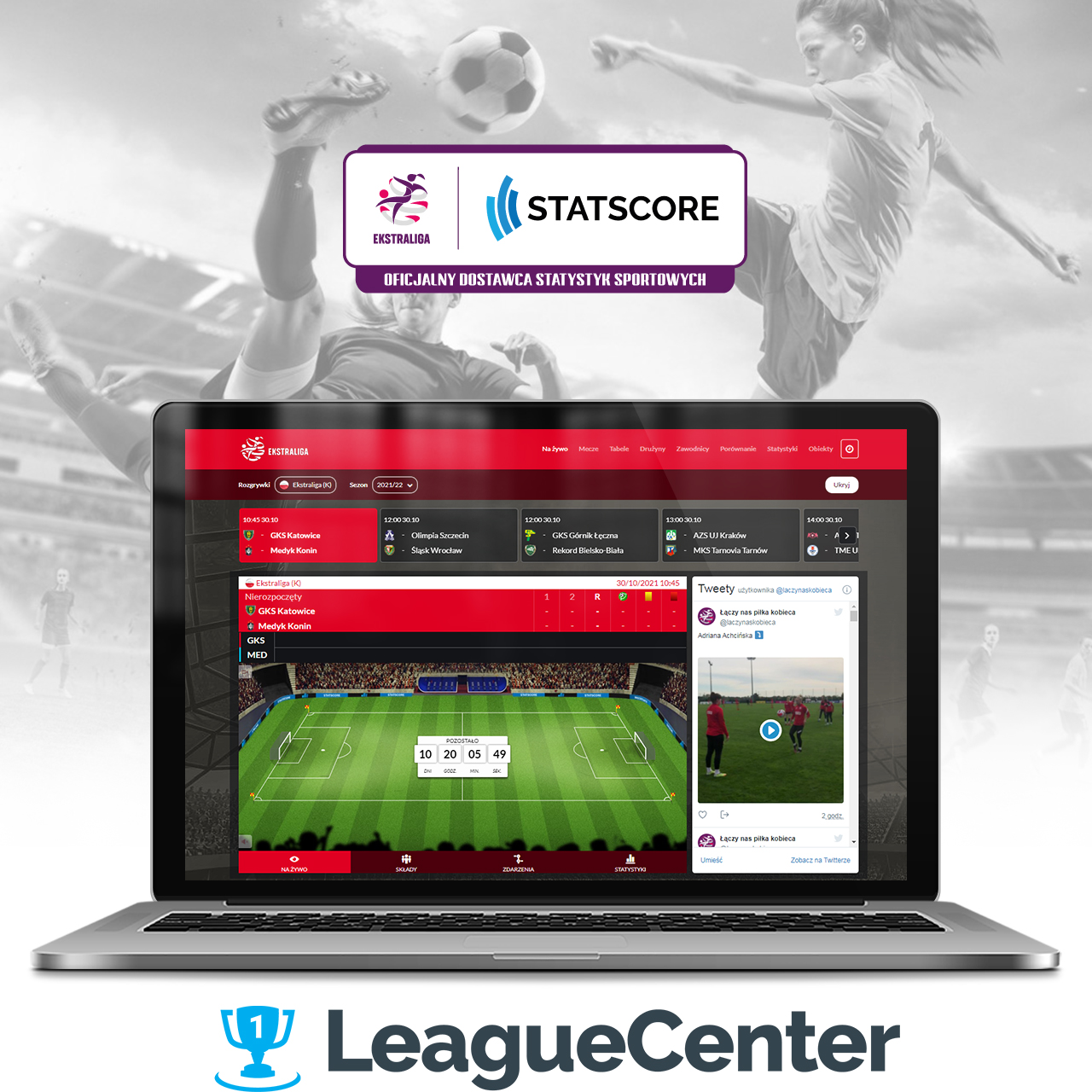 Is this new approach a real game-changer that could completely alter the way in which people consume sports content? Could your sports organization benefit from these new opportunities? It's certainly worth thinking about!
Available sports:
football (soccer),
basketball,
American football
baseball,
tennis,
handball,
ice hockey,
volleyball,
futsal.
What can STATSCORE do for your sports organization?
Contact our Business Development Team at bdm@statscore.com to let us explore your needs and arrange an online presentation for you!
Sign up for our weekly BETTING INDUSTRY REVIEW to stay updated with the latest trends and key developments in the world of sports data and betting. You can do it by filling out the form below.
PROCESSING OF THE DATA
Pursuant to Article 13.1–13.2 of Regulation (EU) 2016/679 of the European Parliament and of the Council of 27 April 2016 on the protection of natural persons with regard to the processing of personal data and on the free movement of such data, and repealing Directive 95/46/EC ("GDPR"), we would like to inform you as follows:
1) STATSCORE Sp. z o.o. with its registered office in Katowice 40-012 at ul. Dworcowa 2 is the controller of your personal data.
2) Your personal data will be processed for the purposes of the product trial process – in accordance with Article 6.1(a)–(b) of the GDPR.
3) Furnishing the personal data requested by STATSCORE about yourself is voluntary.
4) Your personal data will be retained for the duration of the Product development term but for no less than the retention period required under the law.
5) Your personal data will not be subject to automated decision-making or profiling.
6) You have the right to access the personal data held about you and to have your data rectified or erased or to restrict or to object to the processing as well as the right to data portability. If your personal data is processed under Article 6.1(a) of the GDPR (i.e. processed on the basis of the consent you have given to the processing), you may withdraw your consent at any time without any impact on the lawfulness of the processing carried out before your consent was withdrawn.
7) You may lodge a complaint in respect of the processing of the above data to the President of the Office for Personal Data Protection (PUODO).