March 24, 2021 was a very special day for STATSCORE, as we held the first-ever STATSCORE Day – a celebration of a unique company on its way to becoming the biggest sports data center in the world. Here's a recap! 
Tomasz Myalski, STATSCORE's CEO delivered opening statement
It is my pleasure to welcome you all to the conference. I'm happy to see that so many people have decided to devote their precious time to be here with us today. I hope that this day will be a chance for all of us to learn something new and valuable. So, I guess we can start! I declare the first-ever STATSCORE DAY open! – said Tomasz Myalski, the CEO at STATSCORE at the opening of the event.
Tomasz Myalski, STATSCORE CEO and founder opened the event with a short review of how the company was created and what were the values behind it then and now. Spoiler alert – none has changed so far as we prefer to stick to things we believe in.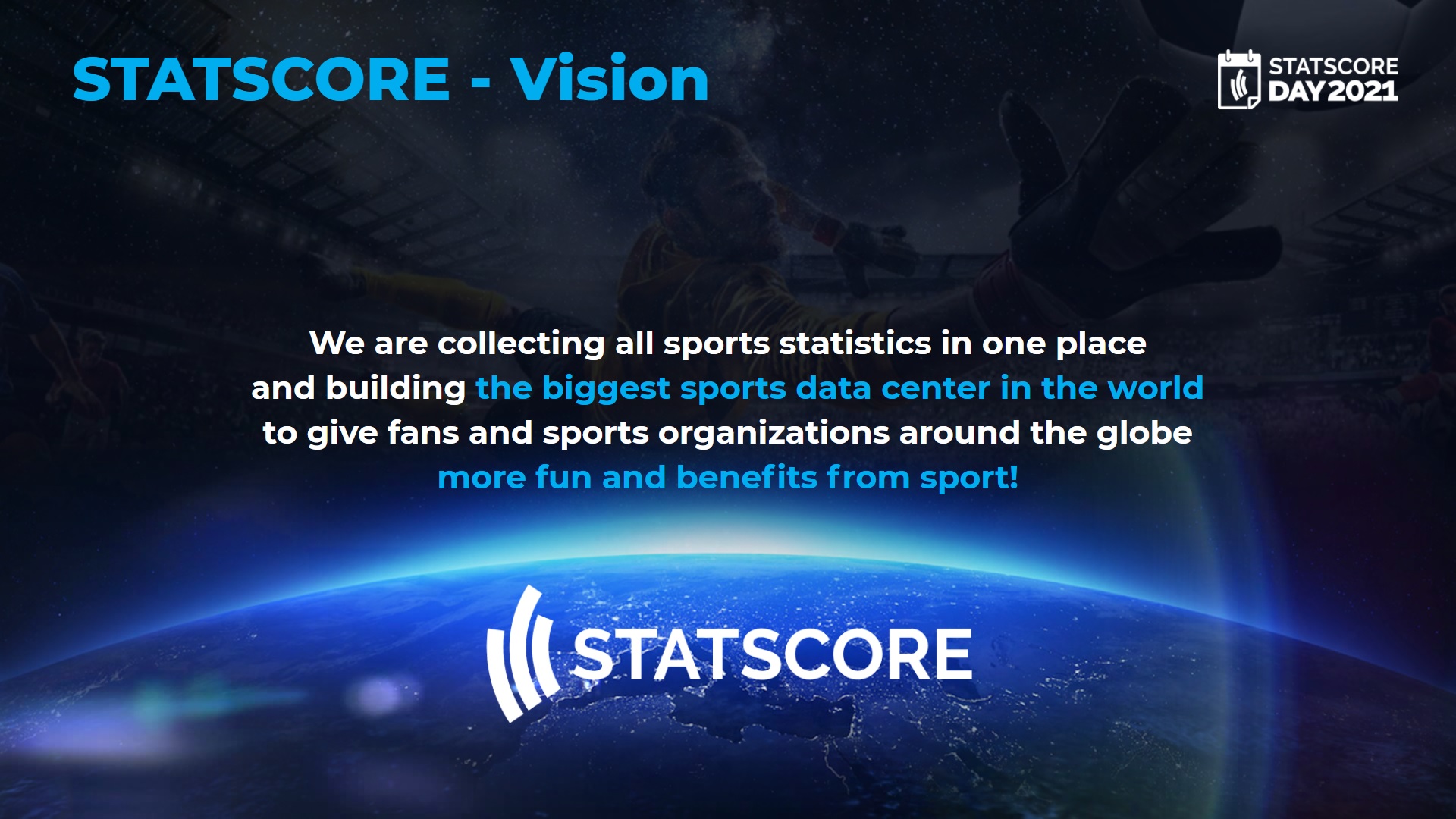 Our vision is to collect all sports statistics in one place and build the biggest sports data center in the world to give fans and sports organizations around the globe more fun and benefits from sport! – STATSCORE's CEO declared.
During the worst pandemic crisis, the company made sure that none of its partners is left alone. We offered special discounts to let everyone stay above the water and do not sink in the stormy times even though we were also struck seriously by the global problems.
– Here comes COVID, and the whole world stops. The world of sports also has to stop for a few months. Many companies fail, lots of people lose their jobs. But STATSCORE doesn't fall! STATSCORE has always been a team that fights until the final whistle. We have shown great strength and character. We have survived as a company and we have also helped our partners, our clients, survive – added Myalski.
The company's founder also presented a clear vision for the company's future: – I believe that my dream will come true. I believe that, together with you, we will collect in one place all the statistics and live results from 100 sports, so that fans and businesses from all over the world will be able to derive even greater joy and more benefits from sport!
StatsWidgets World Premiere – presented by Bogdan Stańczak and Mateusz Kupiec
Then came one of the moments that we had all been waiting for – the premiere of STATSCORE's spanking new Stats Widgets!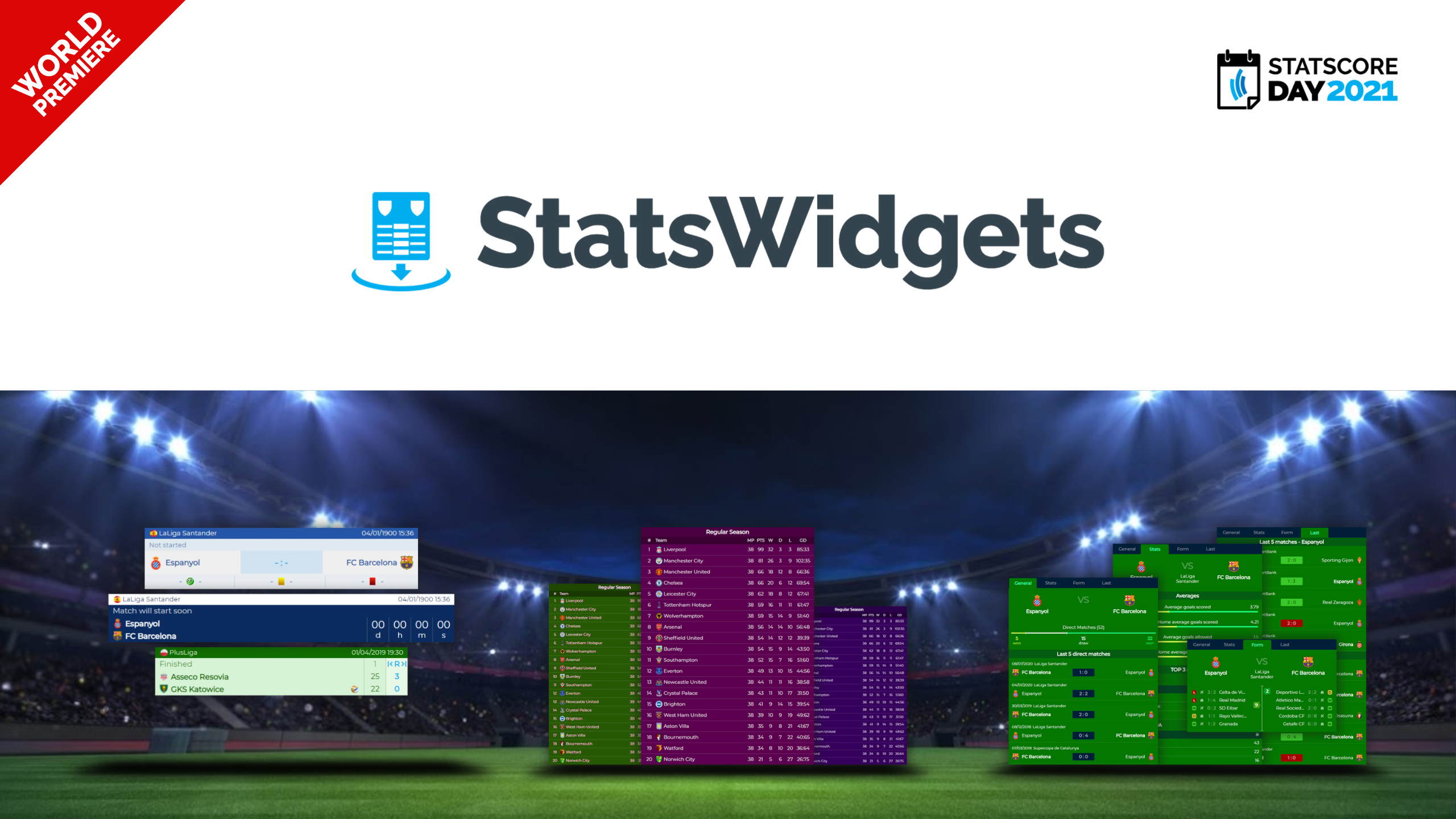 What are StatsWidgets? A unique set of sports data widgets that cover all the live-action, and provide scoreboards, standings, H2H comparisons… and so much more stats and data.
In his presentation, STATSCORE's Business Development Manager, Bogdan Stańczak, outlined the main features and benefits of this new product.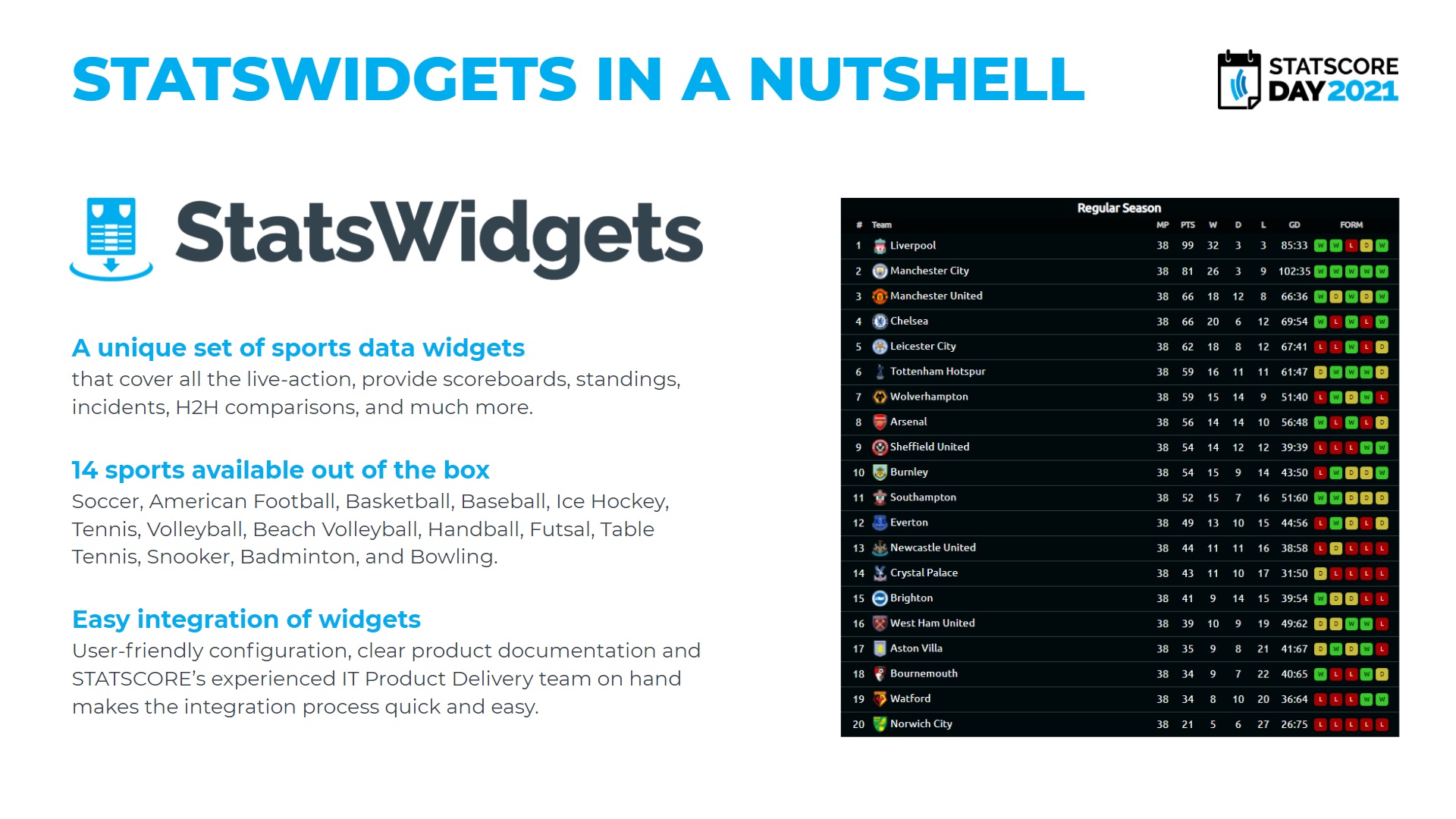 How can these new widgets help betting businesses? – You will increase the number of live and pre-match bets, you will be able to customize the widgets the way you want it, and as you want it, and you will be able to keep them very simple – Stańczak explained.
He then went on the provide a quick overview of some of the widgets, including H2H, Stats, Standings, Line-ups, and much more!
Mateusz Kupiec, a Product Owner at STATSCORE, followed with a detailed description of three of STATSCORE's products LivematchPro, PrematchPro, and the newly introduced StatsWidgets.
For now, we have 12 different types of StatsWidgets and most of them are ready to use for 14 sports. That gives us more than 150 combinations. That's a lot but it's not all. In our roadmap, we have new types so stay tuned, because in the future there will be many more widgets to choose from – Kupiec explained.
The Product Owner then presented some of the widgets in a more detailed way, including LiveBar and Vote widget.
LiveBar widget is a great solution to present the most important incidents from the game in a nice and compact way. The widget covers only a small area of your website so it will be a great complement to your content.
Vote widget is something that can measure people predictions before the game. It encourages interaction and keeps the user longer on your website – Kupiec said.
STATSCORE XTRA: CyberSecurity – presented by Robert Skolimowski
Then came the moment for cybersecurity – with Robert Skolimowski, Product Owner at Space Digital Group, the official partner of STATSCORE Day.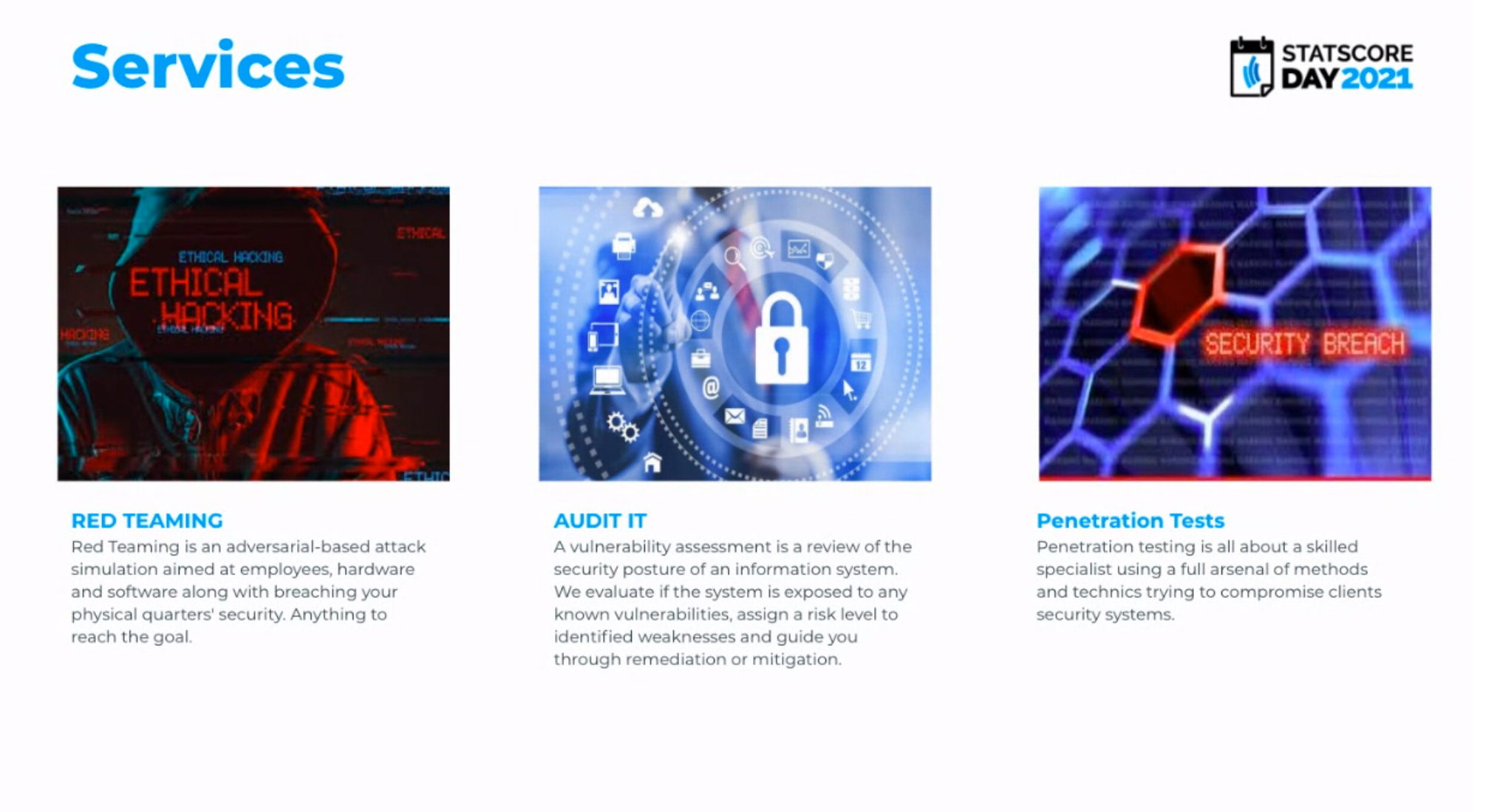 Skolimowski provided an in-depth view into methodologies of improving cybersecurity, such Cyber QUANT, a social engineering protection platform.
The key methods used for providing cybersecurity include tools such as Open Source Intelligence. – It's a tool used to improve cybersecurity by helping to discover information about your company, employees, IT assets and other confidential or sensitive data that could be exploited by an attacker – Skolimowski explained.
Social engineering tests are another useful tool – Social Engineering tests are used to assess your employee awareness and test your company's security protocols – he added.
Then, the education and gamification – Are there any training or workshops designed to prepare your staff to face malicious tricks? Do employees know how to check links of downloadable files for the safety of their contents?
ScoutsFeed 2021 – the evolution of live scouting. Presented by Dariusz Łęczyński and Adam Działach
After a short break, it was time for an exciting presentation of STATSCORE's ScoutsFeed 2021, a special solution that provides betting businesses with top-quality live data from venues around the world to improve their offer.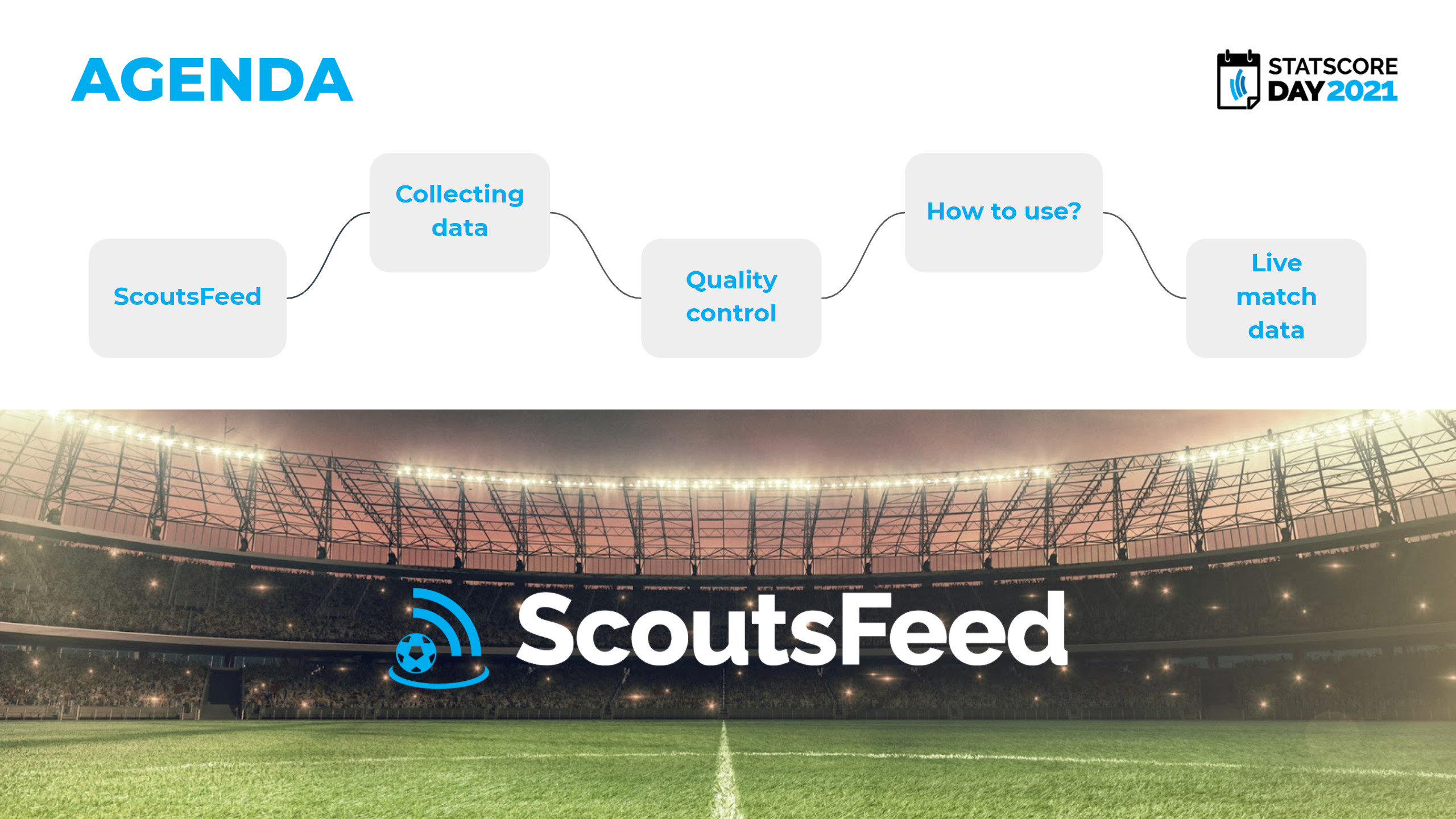 Dariusz Łęczyński, Chief Data Officer at STATSCORE, gave a presentation of the updated version of the product which has been developed recently.
The recent updates deployed by the end of last year made the product perfectly tailored for the demanding betting industry – Łęczyński said.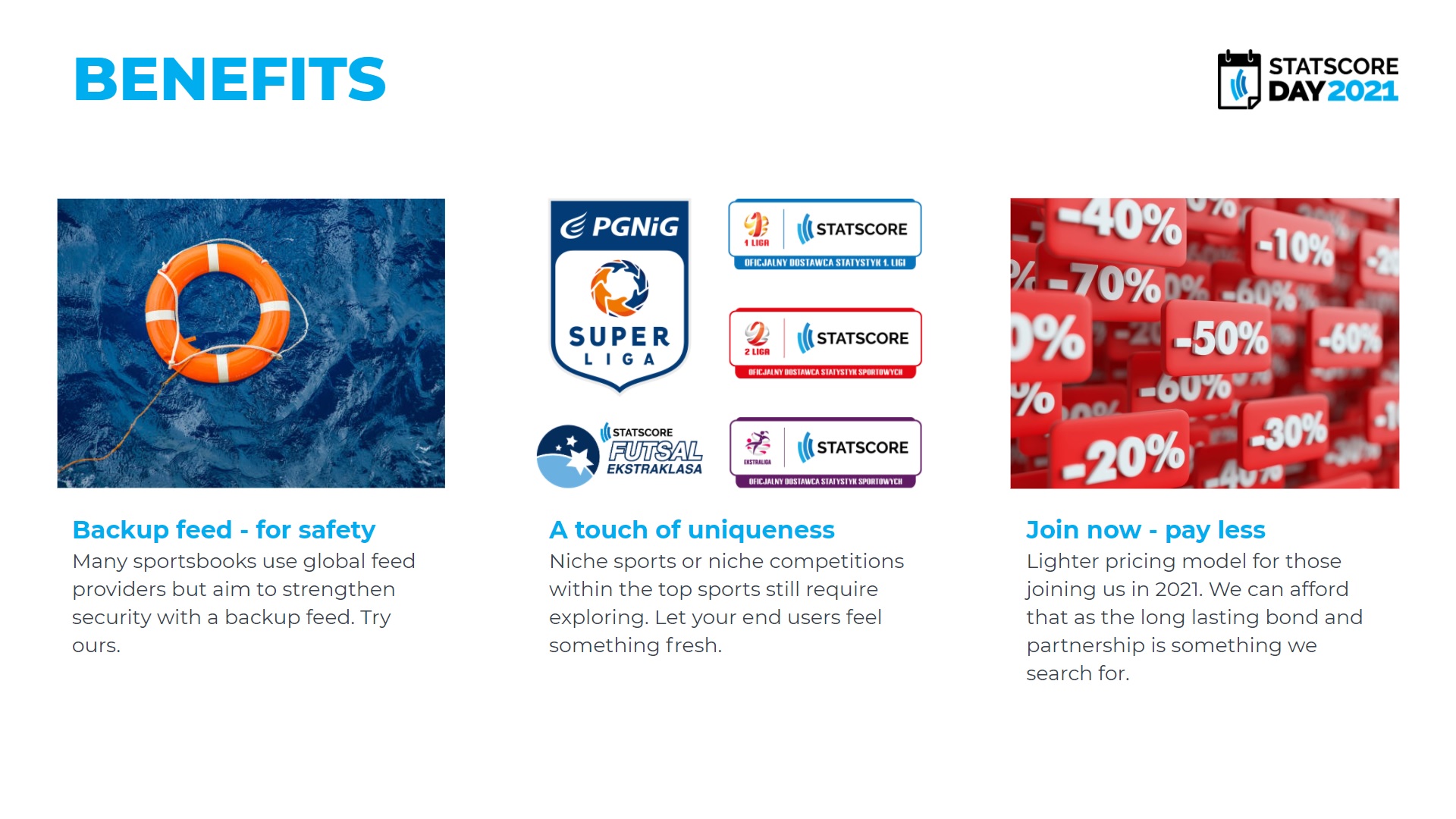 What makes it so special? One of the unique parts is the offer being composed of up to 50% by out-of-prime-time events.
– We plan to have a very decent part of our gaming offer outside the busy schedule. Surely, we will have games other providers do, but not all of them. If it's for example a Saturday 4 pm, European time, where there is an overload of games, that is not our goal to look for more games at this timing knowing operators are fully covered. We aim to get more competitive and add some games when the intensity of the schedule is lower – Łęczyński explained.
Adam Działach, the Product Owner responsible for ScoutsFeed, followed up with a detailed description of how the product works and how it can improve one's betting offer.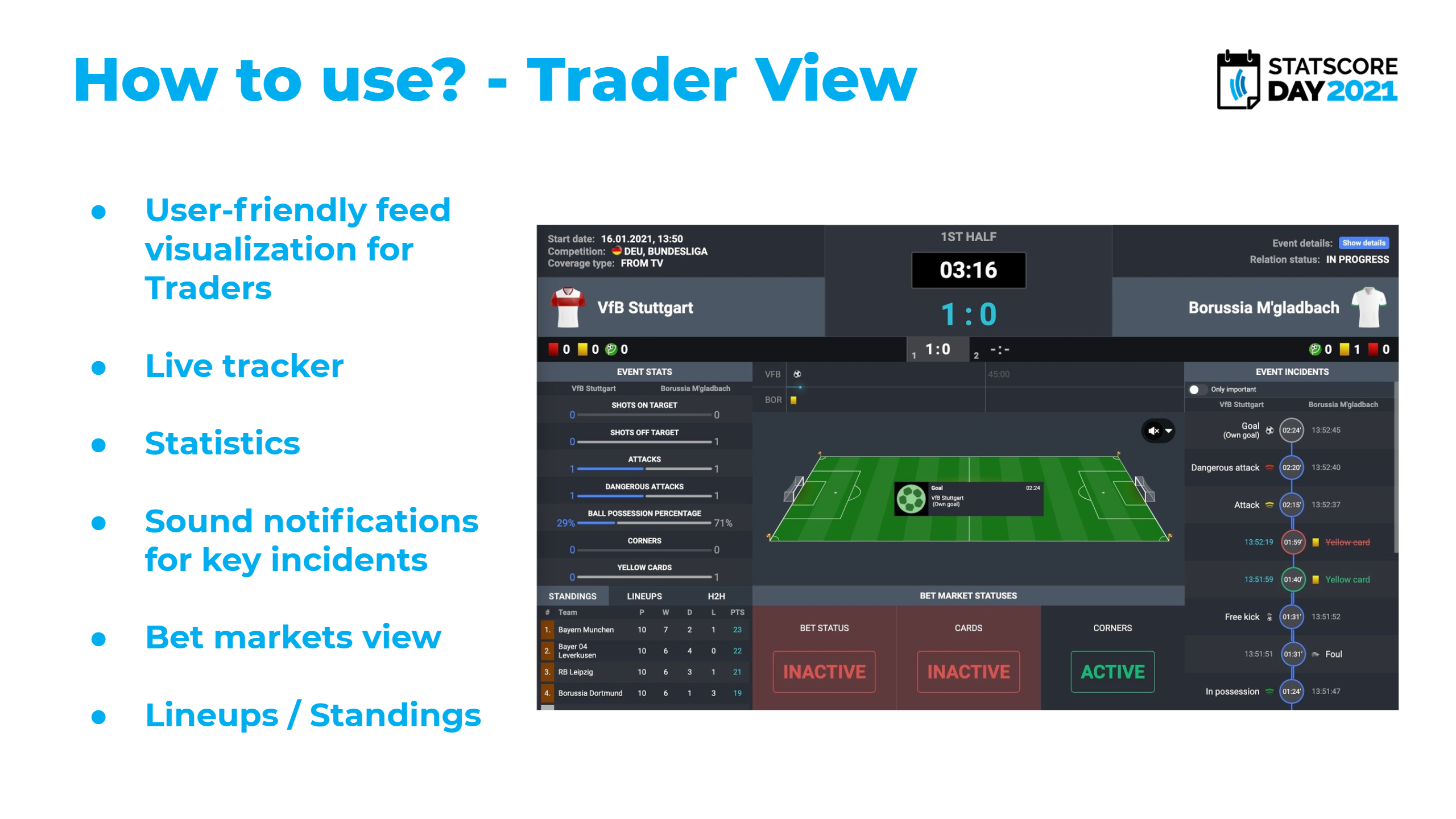 ScoutsFeed is a product that delivers detailed play-by-play match information, including all important match events for traders for example goals, suspensions, bet-stops, etc., as well as statistics updated in real-time during live matches – Działach said.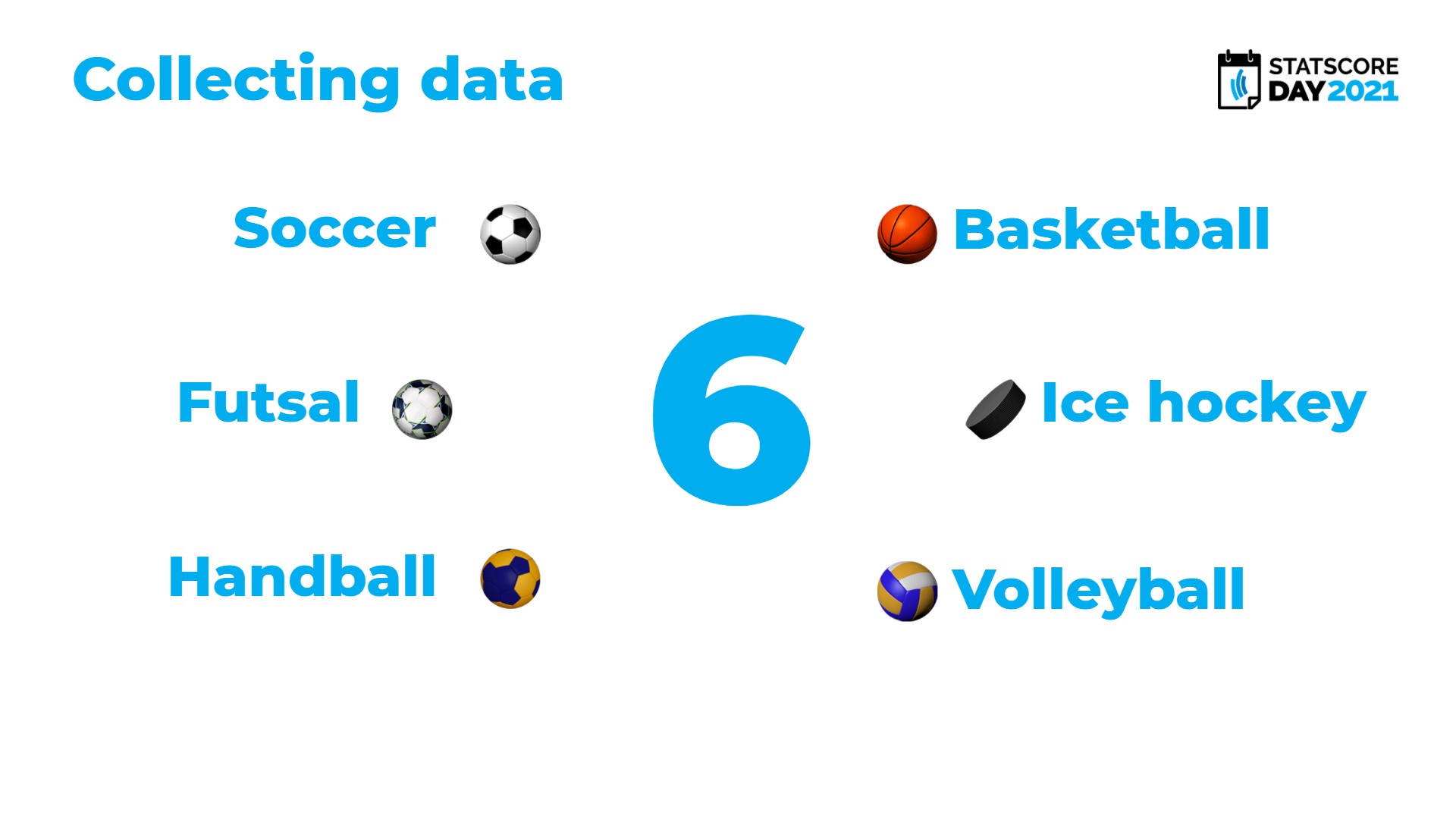 By the end of 2022, we plan to offer Scoutsfeed matches from fifteen different disciplines, continuing our upgrade by adding first badminton, table tennis and cricket. We also have a flexible development plan, in which next disciplines are determined by the actual needs of our partners, and the data collection tool allows us to expand with more sports in a fairly convenient way – the Product Owner added.
CupCenter 2021 – presented by Jakub Myszkorowski
Then another hot STATSCORE's product – CupCenter 2021, presented by STATSCORE's Chief Commercial Officer, Jakub Myszkorowski.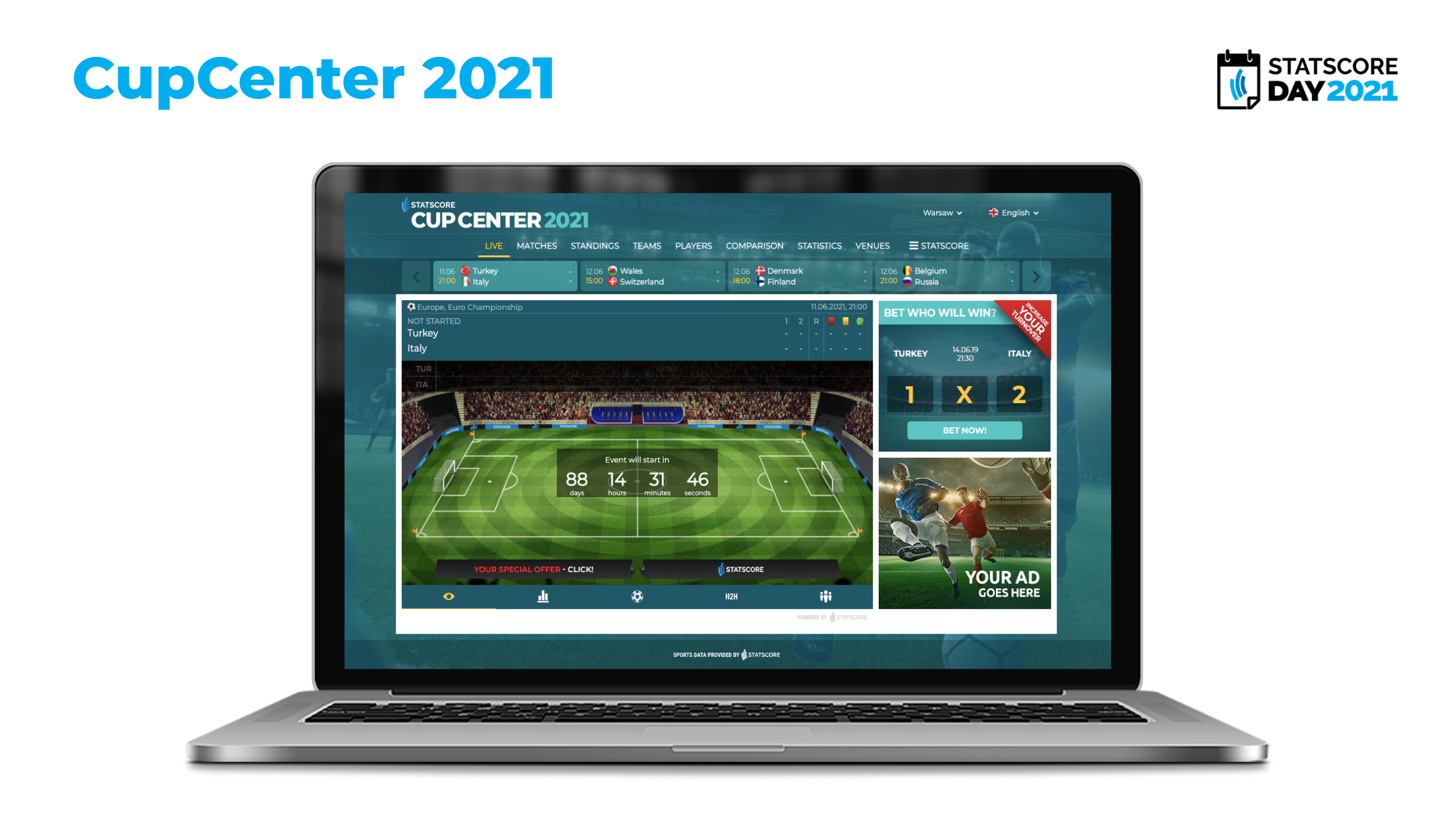 This special platform was created to attract and engage bettors during major football events of the year, which will be taking place in Europe and South America.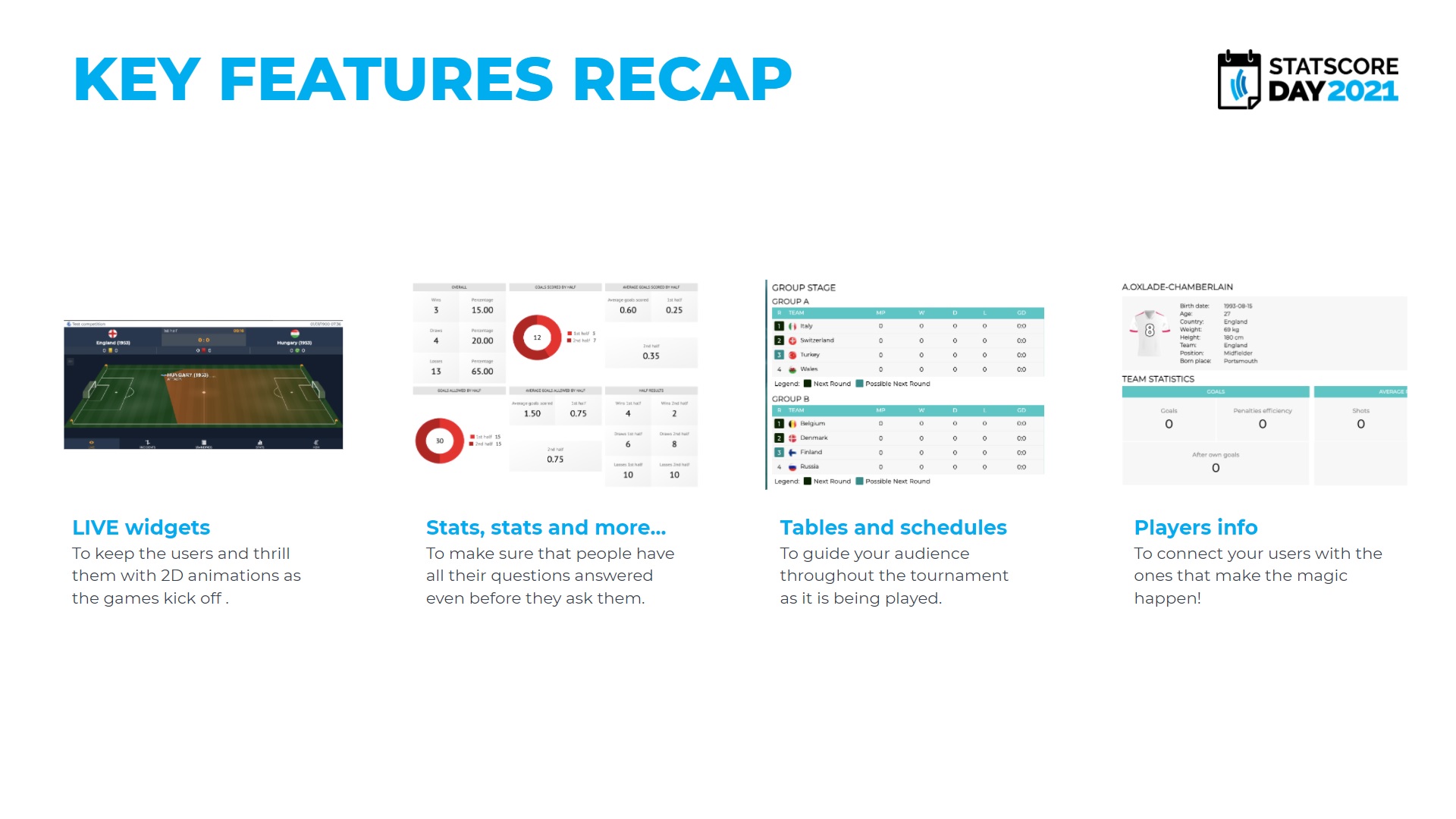 With so much interest around these events, there will be also a lot of competition among betting businesses to attract users.
– You have only one chance to attract them. If you do not win users attention on the first try, you won't make them come back – Myszkorowski said. – With so many great projects for this summer you need something special for you and your affiliates.
What exactly do you need? Oh yes, CupCener 2021! And what makes it so special? Here's a short recap:
Sports industry trends – panel with special guests
After the great CupCenter presentation, we had a panel discussion featuring special guests: Piotr Należyty (PGNiG Superliga Vice-President), and Krzysztof Kropielnicki (Head of Insights & Analytics, Quantum Consultancy). 

The guest discussed various ways in which data and sports statistics have been used in the sports industry, starting from athletes' performance analysis, through marketing activities, real-time coverage of the games, and the creation of sports-related content.
Piotr Należyty talked about ways in which  PGNiG games are presented in better ways thanks to the use of statistics in mobile apps, and other digital channels, such as well as media broadcasts. He also discussed sports organizations' cooperation with betting companies, which allows them to generate higher incomes.
Krzysztof Kropielnicki underlined that today fans are looking for ways to engage more with their teams, and often they need something more than just a great game. Many of them are looking for a better viewing experience, and that's when they get even more interested in the statistics and real-time data, which helps them to understand the game better.
STATSCORE partnership model for professional sports leagues – presented by Radosław Firlej
And then came the time for the final presentation! Radosław Firlej, STATSCORE's Business Development Manager, focused on ways in which sports organizations may benefit from collaborating with sports data providers, such as STATSCORE. 
What can STATSCORE offer to sports leagues and organizations?
– Statistics from your sporting events are probably already being processed somewhere in the world. Working with a company like STATSCORE is the only way to gain control over it. The second thing is the ability to boost your virtual fan experience. Working with us will give you the tools to show your fans unique live content – Firlej said.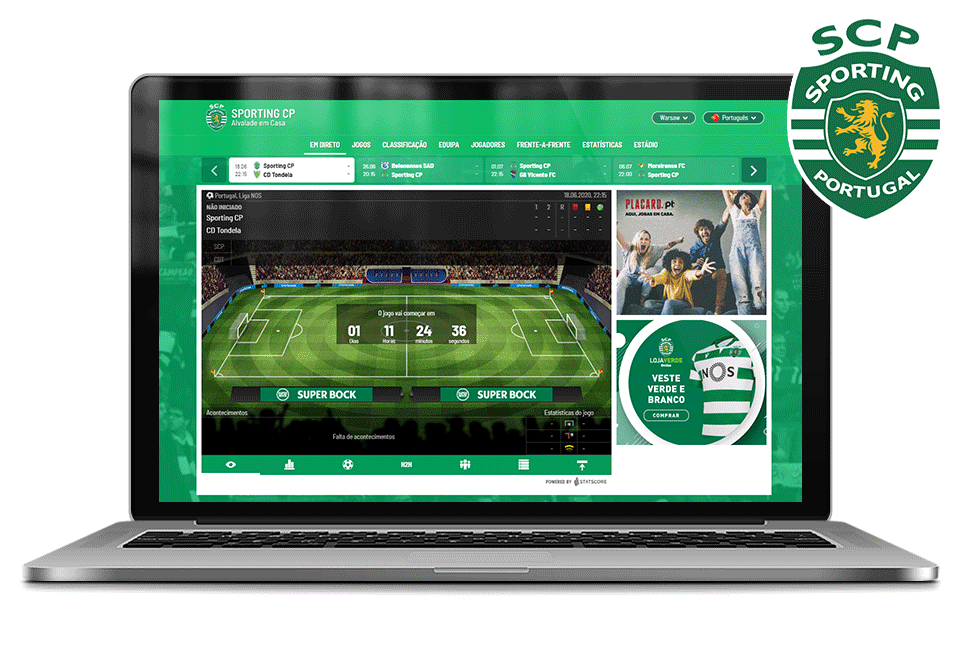 Then, there's the monetization of the statistics. Sports stats of your games are a product that you should make money on. Working with a company like STATSCORE will make it very easy – he added.
And here comes a great announcement!
STATSCORE will become the official sports data provider for the Belgian Betcenter Futsal League, the top-tier of futsal in Belgium!
Find out more!
Drop us a message at cst@statscore.com!
You may also want to sign up for our weekly BETTING INDUSTRY REVIEW to stay updated with the latest trends and key developments in the world of sports data and betting. You can do it by filling the form below.
PROCESSING OF THE DATA
Pursuant to Article 13.1–13.2 of Regulation (EU) 2016/679 of the European Parliament and of the Council of 27 April 2016 on the protection of natural persons with regard to the processing of personal data and on the free movement of such data, and repealing Directive 95/46/EC ("GDPR"), we would like to inform you as follows:
1) STATSCORE Sp. z o.o. with its registered office in Katowice 40-012 at ul. Dworcowa 2 is the controller of your personal data.
2) Your personal data will be processed for the purposes of the product trial process – in accordance with Article 6.1(a)–(b) of the GDPR.
3) Furnishing the personal data requested by STATSCORE about yourself is voluntary.
4) Your personal data will be retained for the duration of the Product development term but for no less than the retention period required under the law.
5) Your personal data will not be subject to automated decision-making or profiling.
6) You have the right to access the personal data held about you and to have your data rectified or erased or to restrict or to object to the processing as well as the right to data portability. If your personal data is processed under Article 6.1(a) of the GDPR (i.e. processed on the basis of the consent you have given to the processing), you may withdraw your consent at any time without any impact on the lawfulness of the processing carried out before your consent was withdrawn.
7) You may lodge a complaint in respect of the processing of the above data to the President of the Office for Personal Data Protection (PUODO).