When there's no 'real' sport going on, fans and bettors are more eager than ever to get into the world of virtual games. STATSCORE's new offer will allow you to win their attention, and profit from their engagement! Your turnover can remain the same as before the world's lockdown or even rise!
No basketball to follow or bet on? Keep your visitors engaged with STATSCORE's NBA 2K20 trackers! E-sport is so YEAH-sport especially now when almost no one can hit the wooden floor.
Yeah, after providing bookmakers with top-notch trackers for the most exciting online FIFA competitions – it's now time for the NBA 2K20!
Keep basketball fans engage by using STATSCORE's amazing live trackers of NBA 2K20! We'll provide you with even 50 games per day!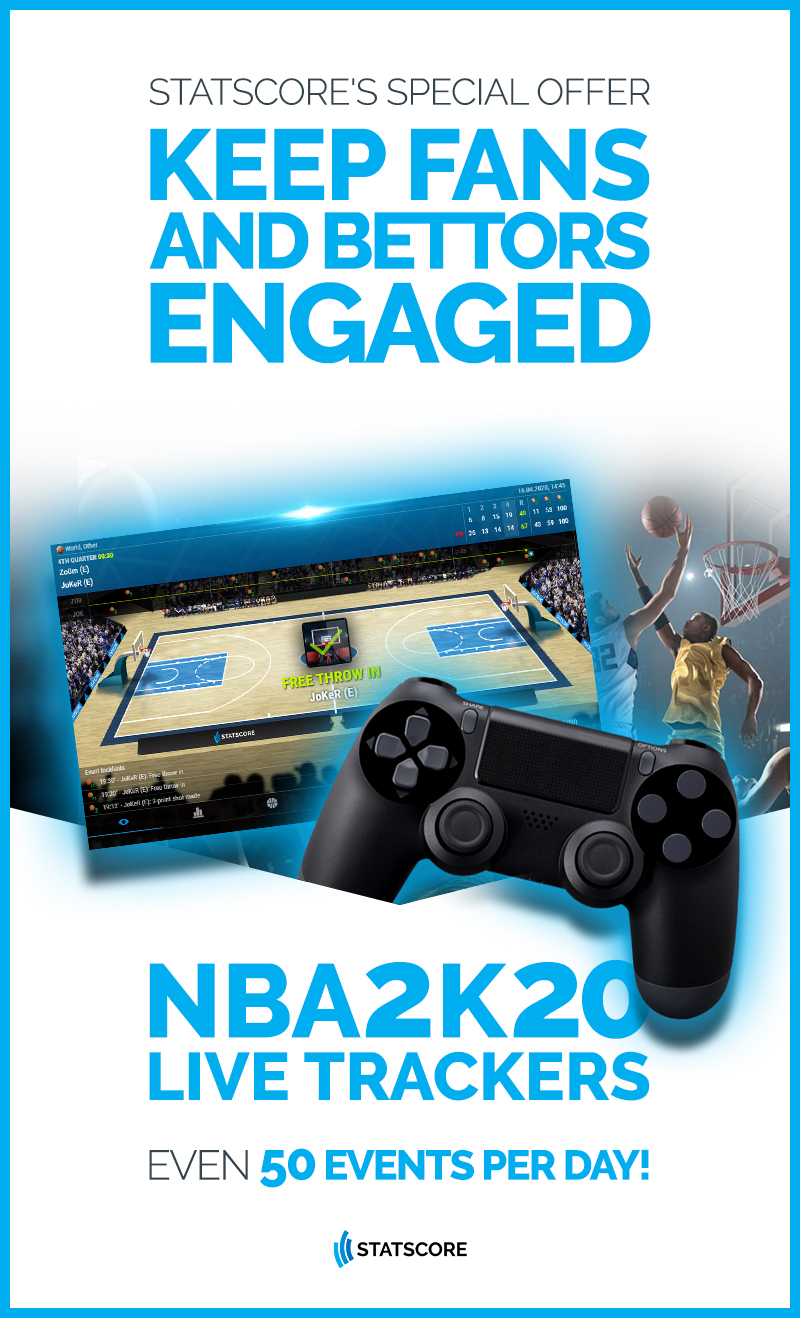 Don't wait! Keep your betting business afloat with NBA 2K20 trackers!
Check STATSCORE's offer and start earning on sports. Drop us a message at cst@statscore.com.
There's no denying that we're living in hard times for sports fans, as many top leagues had to suspend or cancel their seasons because of the coronavirus outbreak. The NBA is, of course, among these leagues, and no game has been played in over a month now.
But when there's no 'real' basketball, more fans and bettors are ready to look into other ways of staying in touch with the game. NBA 2K20 provides them with such an opportunity, as it allows them to stay close to some lifelike action!
The NBA itself had this idea of keeping their fans engaged and came up with NBA 2K20 Players Tournament,  a video-game tournament played among 16 current NBA players.
Sign up for our weekly BETTING INDUSTRY REVIEW to stay updated with the latest trends and key developments in the world of sports data and betting. You can do it by filling the form below.

PROCESSING OF THE DATA
Pursuant to Article 13.1–13.2 of Regulation (EU) 2016/679 of the European Parliament and of the Council of 27 April 2016 on the protection of natural persons with regard to the processing of personal data and on the free movement of such data, and repealing Directive 95/46/EC ("GDPR"), we would like to inform you as follows:
1) STATSCORE Sp. z o.o. with its registered office in Katowice 40-012 at ul. Dworcowa 2 is the controller of your personal data.
2) Your personal data will be processed for the purposes of the product trial process – in accordance with Article 6.1(a)–(b) of the GDPR.
3) Furnishing the personal data requested by STATSCORE about yourself is voluntary.
4) Your personal data will be retained for the duration of the Product development term but for no less than the retention period required under the law.
5) Your personal data will not be subject to automated decision-making or profiling.
6) You have the right to access the personal data held about you and to have your data rectified or erased or to restrict or to object to the processing as well as the right to data portability. If your personal data is processed under Article 6.1(a) of the GDPR (i.e. processed on the basis of the consent you have given to the processing), you may withdraw your consent at any time without any impact on the lawfulness of the processing carried out before your consent was withdrawn.
7) You may lodge a complaint in respect of the processing of the above data to the President of the Office for Personal Data Protection (PUODO).