Live match streaming has been changing the way in which sports fans follow their favorite teams and competitions. What makes the OTT platforms work so well with the world of sports and why the TV broadcasters should worry? And what happens when you add LIVE sports data coverage to make it even more irresistible?
There's no doubt that online video streaming technology has completely changed the way viewers consume content such as movies, TV series, or news broadcasts. 
The OTT (over-the-top) platforms have also made their way into the world of sports broadcasting by providing leagues and competitions with a new channel for delivering their content to the fans and followers. 
OTT platforms conquer the world of sports broadcasting
According to estimates by Rethink Research, a growing number of major sports events available through streaming services is going to drive the revenue for global broadcast rights to US$85 billion in 2024. 
In fact, a number of the world's top sports leagues have already signed streaming deals with some of the world's top OTT platforms. NFL's Thursday Night Football is available on Amazon Prime, some MLB games are broadcasted on YouTube, and Viacom18 has just signed a streaming rights deal with cricket's Indian Premier League, one of the world's most-watched sports competitions.
A recent example of this trend has been the agreement signed by the MLS and Apple, based on which the Apple TV will become the exclusive destination to watch every live MLS match, starting from 2023. What makes this $2.5 bn deal special, is the fact that the American soccer league will become the first major U.S. sports league to have its games available on a global scale thanks to a partnership with one streaming platform. 
Sign up for our weekly newsletter and stay updated!
But the benefits of online streaming are not limited to the biggest and most-watched leagues. In fact, even local teams or less-followed competitions in niche sports can employ it to build loyalty among fans and attract more followers.
What makes OTT platforms work so well for sports leagues and clubs? 
Live streaming services can clearly offer sports leagues and competitions some benefits that are not possible with traditional TV sources.
Here are some of their characteristic advantages: 
Paid TV platforms provide a key source of revenue for leagues and competitions.
They ensure a better experience for fans and viewers, letting them watch (and re-watch) games on mobile apps, from anywhere and anytime they want.
OTT platforms allow leagues to boost their popularity in new markets by providing streaming to various countries.
They provide a personalized experience based on user preferences and choices. 
Apart from live games, they can offer a lot of additional features, including post-game programs, easily accessible match highlights, summaries, etc.
Streaming services can also provide extra information such as live match data and statistics.
The good old TV made us used to the fact that someone would choose for us what should be the next game we were going to watch (it's Saturday evening so for sure you wish to spend your time looking at the 17th team from your league plays against another bunch of guys you do not care about and none of them seems to have an idea how to score a goal). 
Contrarily, OTT platforms turn the viewer into the decision-maker. Now it is their time to choose what to watch next. And guess what, it still can be the same bloody match of the 17th team against this bunch of guys –  but in this case… the viewer cares! The media have never been so viewer-centred before!
Sports streaming boosted with LIVE stats takes broadcasting to new levels
As it's been mentioned above, the ability to provide additional information and live data is one of the advantages of online streaming services for sports leagues and competitions. Now they can make the streaming be delivered through their official channels to enhance their turnover. Since they have the best knowledge about their fans' needs and the direct platform to reach them (the official league's website or mobile app) there is no need to have another company in the middle (broadcaster) and share their piece of cake.
An example of such integration can be seen in Polish Fortuna 1 Liga's, the second tier of Polish football, collaboration with Cyfrowy Polsat and STATSCORE. How does it work?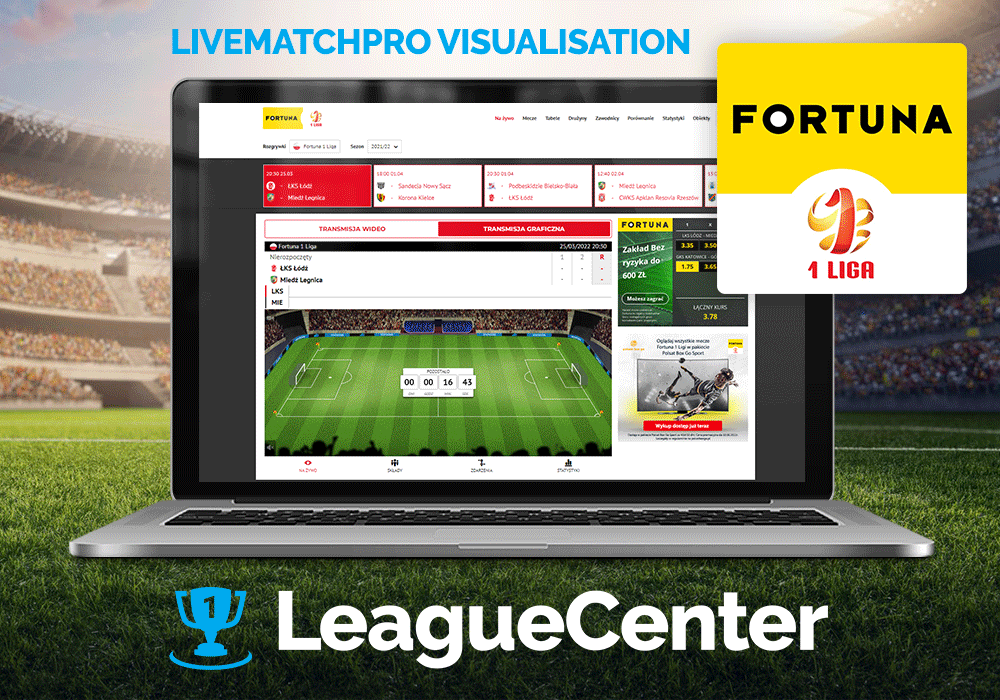 All the games of the competition are available in a pay-per-view Polsat Box Go service developed by Cyfrowy Polsat, which is easily reachable to fans through the league's website. This allows fans to choose any game they like, and watch it directly on their device within the STATSCORE LeagueCenter platform. 
But what makes this solution so special is the fact that apart from accessing the actual broadcast of the match, the league's fans are also able to watch the developments in the matches by following live data coverage provided by STATSCORE. 
As the official sports data provider for Fortuna 1 Liga, the sports data company makes sure that the most accurate and up-to-date game statistics are collected by the Scouts working in the venues. The LIVE data coverage is immediately available through special LeagueCenter and TeamCenter match centers on the league's and teams' websites.
LeagueCenter
Full access to LIVE stats, standings, squads, and pre-match comparisons!
Is this new approach a real game-changer that could completely alter the way in which people consume sports content? Could your sports organization benefit from these new opportunities? It's certainly worth thinking about!
What can STATSCORE do for your sports organization?
Contact our Business Development Team at bdm@statscore.com to let us explore your needs and arrange an online presentation for you!
Sign up for our weekly BETTING INDUSTRY REVIEW to stay updated with the latest trends and key developments in the world of sports data and betting. You can do it by filling out the form below.
PROCESSING OF THE DATA
Pursuant to Article 13.1–13.2 of Regulation (EU) 2016/679 of the European Parliament and of the Council of 27 April 2016 on the protection of natural persons with regard to the processing of personal data and on the free movement of such data, and repealing Directive 95/46/EC ("GDPR"), we would like to inform you as follows:
1) STATSCORE Sp. z o.o. with its registered office in Katowice 40-012 at ul. Dworcowa 2 is the controller of your personal data.
2) Your personal data will be processed for the purposes of the product trial process – in accordance with Article 6.1(a)–(b) of the GDPR.
3) Furnishing the personal data requested by STATSCORE about yourself is voluntary.
4) Your personal data will be retained for the duration of the Product development term but for no less than the retention period required under the law.
5) Your personal data will not be subject to automated decision-making or profiling.
6) You have the right to access the personal data held about you and to have your data rectified or erased or to restrict or to object to the processing as well as the right to data portability. If your personal data is processed under Article 6.1(a) of the GDPR (i.e. processed on the basis of the consent you have given to the processing), you may withdraw your consent at any time without any impact on the lawfulness of the processing carried out before your consent was withdrawn.
7) You may lodge a complaint in respect of the processing of the above data to the President of the Office for Personal Data Protection (PUODO).