In the last entry of our series, we were talking about LivematchPro tracker versions – Natural and Lite. Today you will learn more about tracker components, customization and creating of your own tracker step by step.
Tracker components
Our trackers are made up of components and here we will write about what these components are responsible for. Be aware that it's up to you if you want to have all of the components (full tracker option) or not (like e.g. Timeline).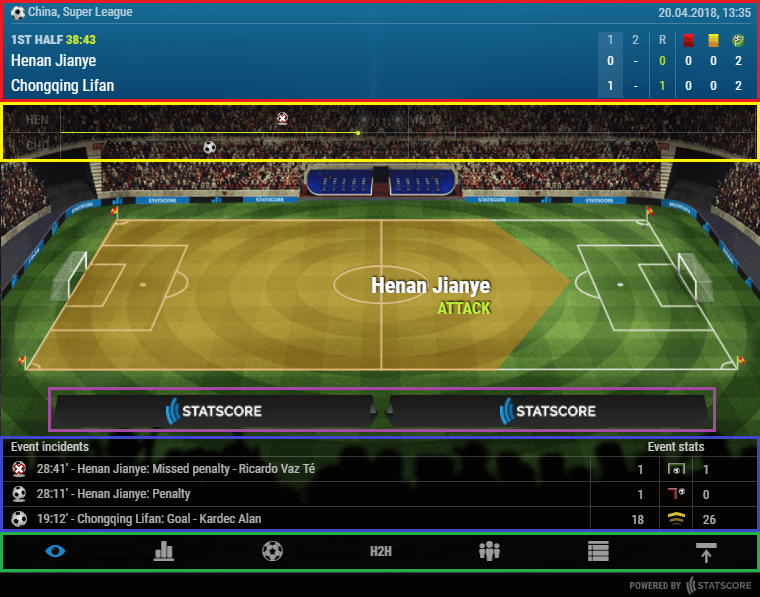 Read more: how we customize our LivematchPro widgets for you – PART 1
HEADER (red border)

This is the space where you can read what teams (Celtic U20 – Ross County U20), players (Djokovic Novak – Thiem Dominic) or what events you watch in a sport like Formula 1 (Bahrain Grand Prix).
The header section also gives you the basic information about the event like:
competition name
starting date and time of a selected event
actual time of an event when it's live
main result

you can decide whether you want to have it among the partial results and stats or next to the team names

partial results
selected event stats

you can decide on yourself what stats to show in the header for each sport (default settings are set but can be changed)

you can check the list of available stats for each sport by picking a sport and opening the "Statistics" tab at LivematchPro demo website
The header can be customized itself :
Main result, partial results and the stats section can be used (default setting) or switched off
The header alone can be used as a separate configuration (you may want to place the header in one place of the website and the rest of the tracker as a separate configuration in another place)
TIMELINE (yellow border)
A timeline is used in team sports like Soccer, Basketball, Handball, Volleyball or Ice hockey. It provides a quick look at the key incidents during the event (the deeper coverage is presented in the "Incidents" tab).
Please note:
This component is not offered as default in the LITE version trackers (it would require an increase in the height of the tracker).
BANDS (purple border)

Advertising is an important issue, however, our trackers are designed to be small widgets and there's not a lot of space for big banners. We did, however, find a space for two small 240px x 30px slots on the bands just below the pitch.
You can let us know during the integration process whether you would like to have these bands with a logo/banner on it or not.
Please note:
This component is not offered as default in the LITE version trackers (it would require an increase in the height of the tracker).
STATS BOX (blue border)
This section shows the last three incidents during a live event and a full list of stats by scrolling. This means you have it all on one live view (the list of stats is sorted the same way as you would find under the "Statistics" tab).
Please note:
This component is not offered as default in the LITE version trackers (it would require an increase in the height of the tracker).
TABS (green border)

A clickable section where the user decides what content to watch during the live event by choosing a tab. Each tab provides different information, either one updated in real-time or some static stats about the competition in general. The tabs may differ depending on the sport and it is up to you whether you want them all to be shown (default setting) or not.
1. Team sports tabs (Soccer, Ice hockey, Baseball etc.):
Live relation – shows the event situation second by second with a graphical display of what is happening at the venue (default tab for every sport)
Statistics – all the event statistics updated in real-time
Incidents – all the important event incidents updated in real-time
H2H – direct comparison of two teams/players taking part in an event
Lineups – probable or actual starting lineups, substitutes and coaches for the selected event
Standings – full competition standings, statistics, fixtures and results
Collapse/Expand – a tab that allows you to hide a tracker to give you more space (there are two options to collapse the tracker)

header + tabs are visible

only tabs are visible

Please note:
If the tab content is to big, a classic scroll appears. However on request we can set up an expander instead. All the tab content will be shown by using a single click and there will be no scroll. Please note that the expander option results in a significant height change of the tracker.

2. Individual sports tabs (Tennis, Beach volleyball, Badminton etc.)
There is no Lineup tab and some sports may lack a Standings tab.
3. Multi-participant sports (Formula 1, Ski jumping, Speedway etc.)
These sports may have some specially prepared tabs for each sport like Heats tab in Speedway or Lists tab in Formula 1. With what we have on offer growing all the time any new multi-participant sports may receive some extra tabs, so we can reflect the situation at the venue in the best possible way.
Learn more: how we customize our PrematchPro widgets for you.
Look customization
During the integration process, our Creative Team will prepare a customized design for you. It's going to be adjusted to your preferences, very often to the layout of an existing website.
We are able to change elements like logos, icons, fonts, colours, etc.
Creating your own tracker step by step
Pick the tracker version
Pick the template from LivematchPro demo website.
Decide what components you wish to have (if different than default) and what they should include

Header

Main result column placement

Next to team names
The right part of the header among the partial results and event stats

Main result / Partial results / Stats

all or some used
if Stats used, a default setting or personally adapted?

Bands

if you want to use these, send us a png file in 240px x 30px size

Tabs

all tabs used (default setting per sport) or switch some off?
option for collapse/open tab

header + tabs are visible
only tabs are visible

scroll (default) or expander

Once you have that all done our Creative Team will prepare a specially adapted project for your website's fonts, colours etc.
We do the final job within a couple of days and then you can enjoy the trackers in use!
If you want to get in touch to find out more, just contact our Customer Success Team at cst@statscore.com or use the LiveChat service on our website. We will be more than happy to schedule a call and discuss how we can help your organization!