It's time for the winter sports season to start! And while the winter may be cold, STATSCORE's winter sports data is certainly HOT. Here's how you can win more users and boost your coverage of ski jumping, and other disciplines, with our new special features!
Though many of us can still see some beautiful autumn views outside our windows, and not all the leaves have fallen from the trees, the season for skiing and skating is approaching fast! This year's winter sports traditionally launched in October with alpine skiing in Austria.
This winter sports season is also special from the point of view of sports stats and data! We're proud to announce that data from ski jumping competitions, displayed in a truly eye-catching fashion, will be available in STATSCORE's LivematchPro!
Ski jumping (r)evolution is taking place now!
Ski jumping will certainly bring some surprises this year, as the season is set to start at the beginning of November with a tournament held on… plastic cover! This experimental event will take place in Wisła, Poland,  which is where attendance in the stands is sure to be high! But that's not the only novelty that the FIS has introduced. 
Another one is the introduction of team competitions in which teams will consist of just two jumpers (though some competitions will still be held in the good old four-member teams format)! In contests of the duos, three series of jumps will be held. The second series will include as many as 12 teams, and the third one – eight of them! This move surely heralds growing diversity when it comes to the results.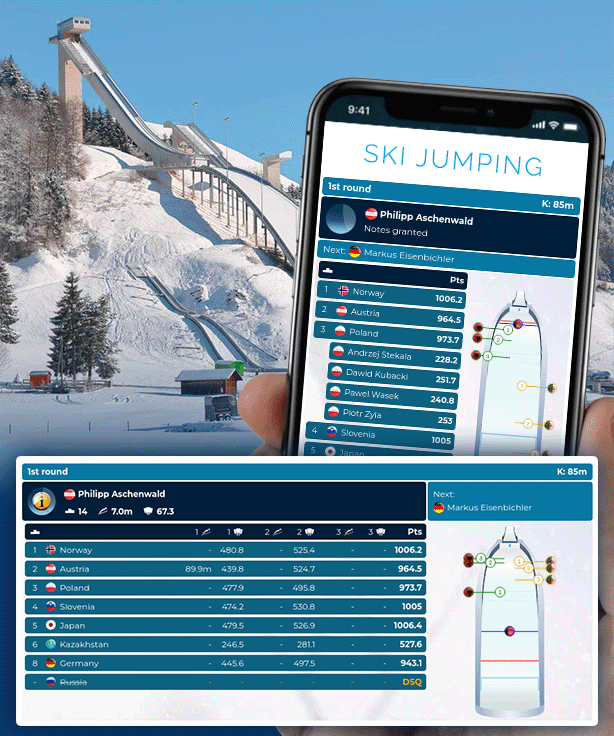 Follow ski jumping with new LivematchPro data! 
STATSCORE's sports data products are known to always closely follow the developments and changes in specific sports. And this time, we're proud and happy to announce that all the Ski Jumping World Cup competitions, both individual and team, will be available in our LivematchPro to enhance your coverage of this entertaining sport.
CHECK OUT STATSCORE'S LIVEMATCHPRO NOW!
That's right! Our flagship product has just been updated with some amazing ski jumping hill visualizations in which all the jumps taken within the tournaments will be displayed! 
That's an unprecedented level of ski jumping stats and data designed to fit the needs of fans, media, and betting organizations!
Looking for more winter madness? STATSCORE's got you covered!
Need to provide your users with sports data from other winter sports? STATSCORE's data is here for you!
As always, we'll keep our finger on the pulse in alpine skiing, cross-country skiing, biathlon and Nordic combined. The up-to-date classifications from these disciplines can be found in our highly-reliable SportsAPI! And when February comes, bringing the World Cup in Nordic skiing and biathlon, you can be sure that your users won't miss any information on the medals won in these competitions!
READY TO BOOST YOUR WINTER SPORTS COVERAGE?
STATSCORE's winter sports data is here to provide your users with the most reliable stats and data. Attract winter sports enthusiasts to your betting offer or keep them on your media website by making your content more eye-catching and engaging. 
Want to know more?
Contact our Business Development Team at bdm@statscore.com to let us explore your needs and arrange an online presentation for you. It has never been easier!