STATSCORE's fresh edition of CupCenter, a very special data-packed tournament platform, is here to attract more visitors to your media website, boost your betting revenues, or power up your affiliate programs. Let's take a closer look at this outstanding solution!
CupCenter has been designed to attract your visitors with the most reliable LIVE data and tons of statistics, as well as with its visually-stunning design.
This smart tool will provide you with:
In-depth statistics and sports data
LIVE coverage of each match
Ability to integrate betting odds
Standings and schedules of the games
Easy integration
Wide customization options 
How does the platform work in practice? Let's take a look at it!
Live data
The first section of CupCenter provides the most important piece of data, namely the visualisation of an ongoing match! Let your website visitors keep track of the game by following all the key developments on the field presented in visually-stunning ways. It will also provide your fans, users and followers with advanced data on teams' lineups, match incidents, and stats!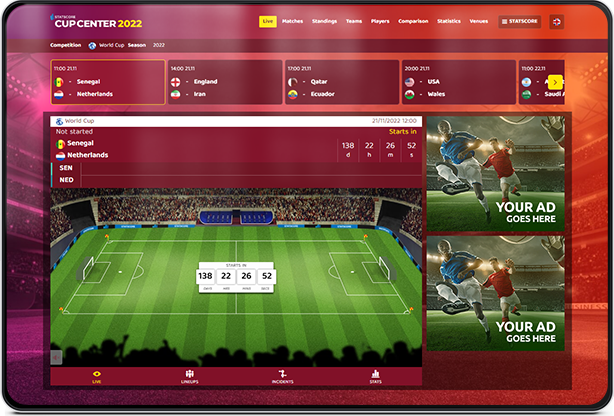 Matches
This part of the platform provides you with a full schedule of the games. Your users will be able to browse through the fixtures, check the results of the finished matches, and take a look at the upcoming ties. They can also narrow down the data by selecting specific stages or rounds of the competition, or by picking a specific team! Moreover, they can take a look at the H2H comparison of the teams, or check the group standings.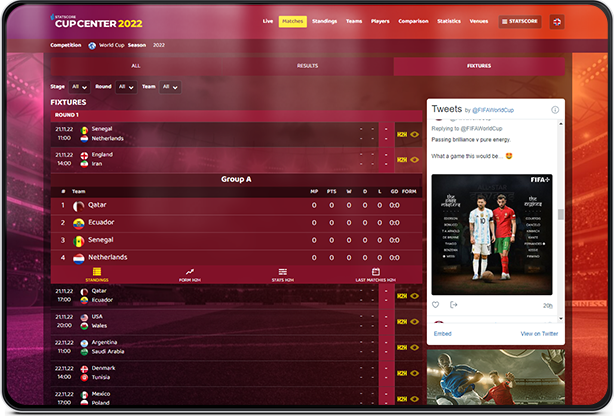 Standings
How many points have different teams won? How many goals have they scored and conceded? In this section of the platform, your visitors will quickly find all the details related to the teams' positions in their group tables – matches played, won, drawn and lost, goal difference and points!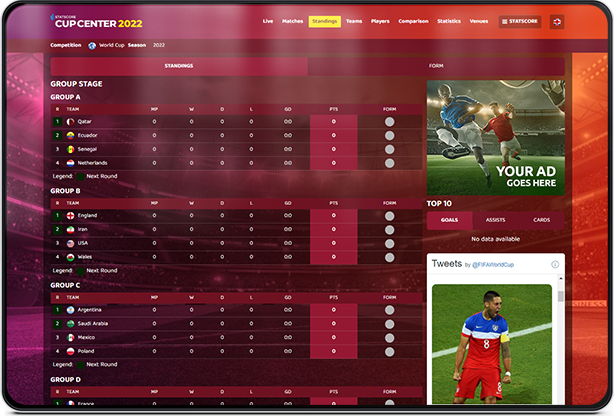 Teams
This part of CupCenter is the place where your fans, bettors or visitors will easily access crucial information on a chosen team. This includes team statistics (games won, goals scored in different halves of their games, the average number of goals, and much more!). This tab also contains data on the team's latest matches and upcoming fixtures.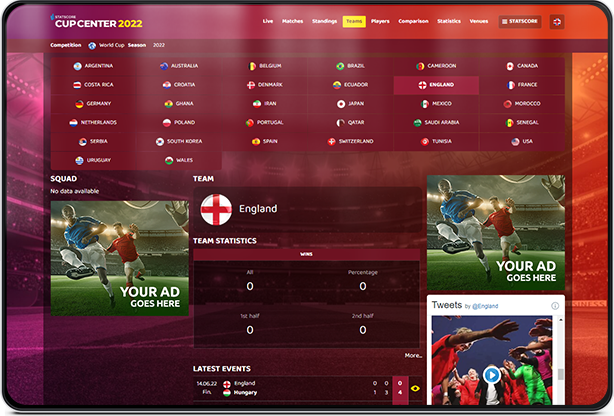 Players
This section of CupCenter is where all the key data related to the players taking part in the tournament is accessible. Your visitors and followers are able to browse the footballers by their position on the field or nation, look for specific players, and check their statistics. 
Benefit from world's top football show with CupCenter!
Comparisons
Here your visitors, bettors or users can access the key information on how specific teams match up against each other. The Comparison provides data on the number of victories, draws and losses between the teams. It also lists scores of their previous games against each other, as well as data on their latest results against other teams.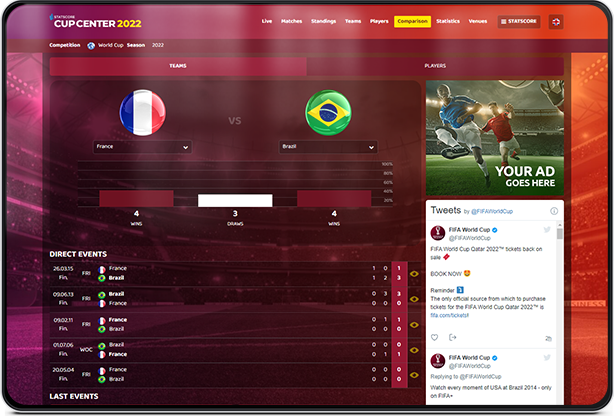 Statistics
This section of CupCenter provides detailed statistics on the tournament. This includes information on the number of overall goals scored in different halves of the games, and over/under data. It also provides detailed statistics on different teams' and players' performance.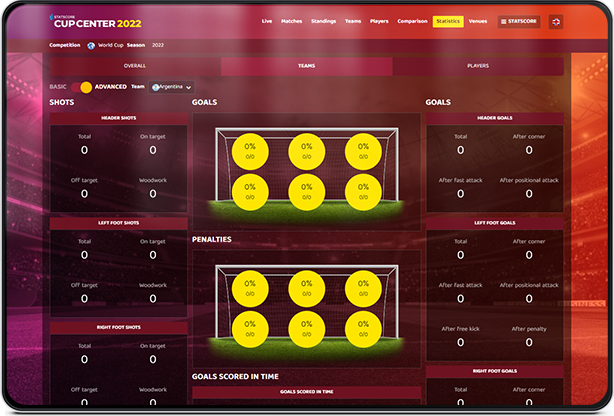 Venues
In this part of the platform, your users can find data on the stadiums where the games are played, including the full name of the venue, and a map showing its location. Moreover, this section provides data on the stadiums' capacity, size, and more data!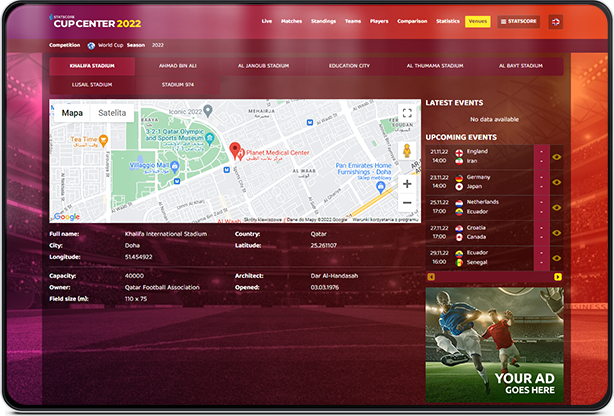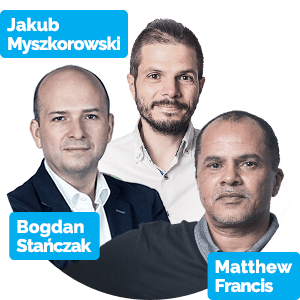 Sounds interesting?
Contact us at bdm@statscore.com to find out more about how CupCenter and other special STATSCORE bundles can HELP your business!