The year 2020 brought us all lots of challenges. With top football tournaments postponed, and numerous major sporting events cancelled, the sports and betting industries had been hit really hard. Are you looking for ways bounce back? Well… STATSCORE has something special for you. Please welcome our brand new CupCenter 2021 – a solution designed to attract bettors and keep them entertained.
After the difficult year of 2020, fans and bettors have surely gotten hungry for some top-level sports action. And this time it looks like they're going to get what they want, despite the ongoing pandemic. We also know your struggles. We discussed with hundreds of our clients in 2020 and we have a clear picture of how much the damned pandemic affected their budget. This makes the goal to increase the turnover from top European national teams tournament in 2021 even more important. And to make it you have to attract more users, give them something unique to keep their attention and… stimulate them to bet more.
The top European and South American national teams competitions, which had been postponed from 2020 to 2021, are expected to generate unprecedented engagement from these action-hungry sports fans. Is your betting business ready to win and maintain their attention? If you're not sure, we're here to help you out with the fresh edition of STATSCORE's special platform created to fully cover top tournaments and provide all the live actions with odds.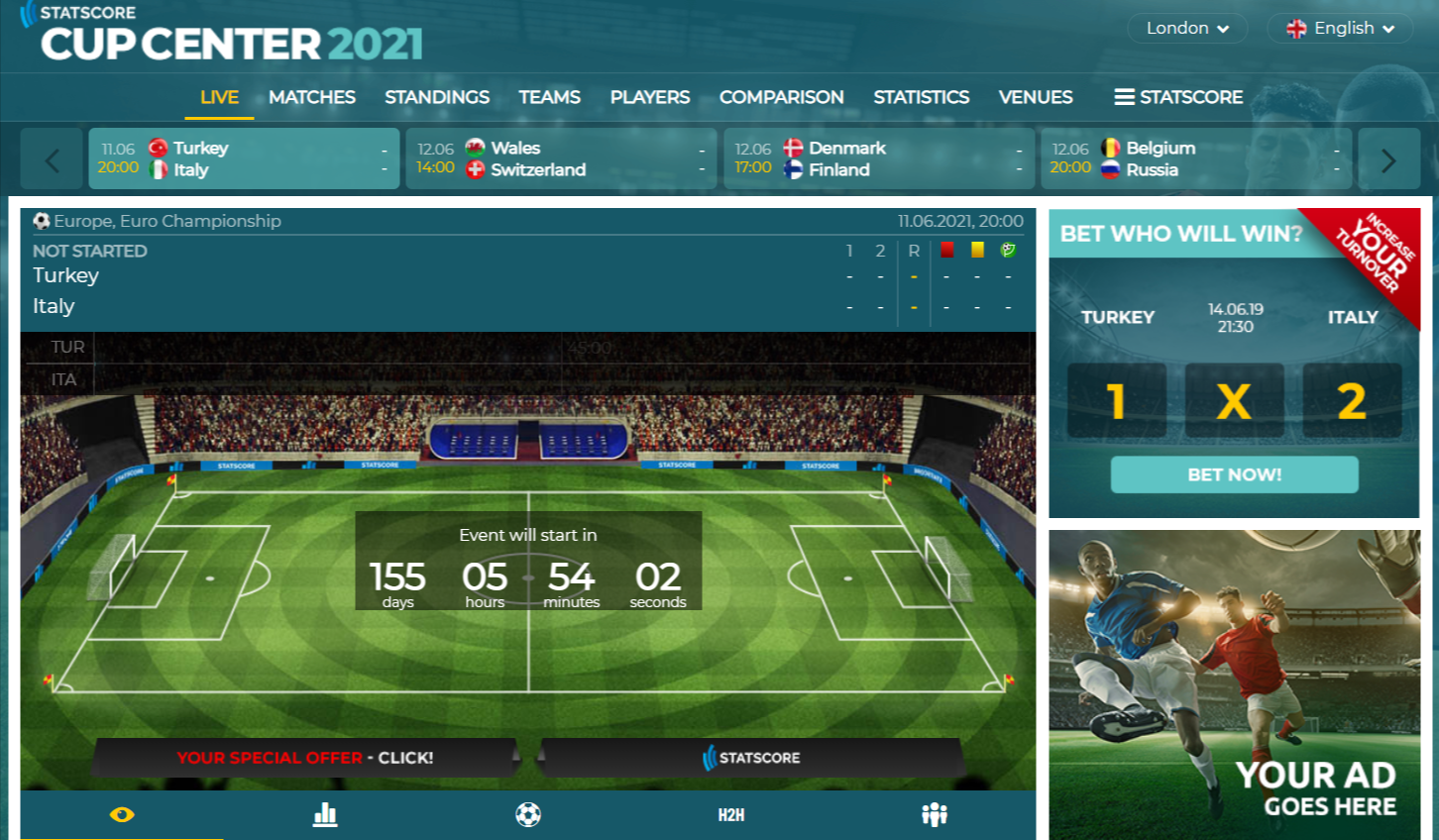 What is CupCenter 2021?
As an experienced and renowned sports data provider, STATSCORE understands the specific needs of bookmakers related to major sporting events. We know how crucial it is for you to attract and engage as many users as possible, and it's clear for us that it's hard to win their attention on this highly competitive market, where they will be approached by so many of your competitors at once.
That's why we came up with something VERY SPECIAL – a dedicated platform that merges our best experiences as the official data providers for several European competitions with the understanding of the betting organizations' needs. It is a renewed and upgraded version of a successful product we had first introduced in 2018 for the global tournament. The success of our clients using this product back then convinced us that we are on the right path.
It works best especially when you consider it as a powerful tool for the traffic gathering from your affiliations. Once integrated with any affiliation website CupCenter starts to generate the precious traffic right to your designed domain. Yes, we know – this is the way you like it!
What makes CupCenter 2021 so special?
CupCenter comes with a complete set of options that each bookmaker needs, including amazing live football tracker all the action in the most entertaining way possible!
Here's a quick look at what you get from this groundbreaking solution:
• Comprehensive statistics and data
• Entertaining LIVE coverage of each game
• Ability to integrate odds
• Standings and schedules
• Easy integration with your website
• Deep customization (including additional tabs)
• Cross-promotion to direct traffic to your betting options
Sounds good? We know it does! How can you get it? Just drop us an email directly at cst@statscore.com or let's talk on LiveChat. And if you'll order this amazing platform until the end of February, you'll get a 10% discount from the regular price of 2,500 EUR net per tournament!