Are you interested in STATSCORE TeamCenter or LeagueCenter? If the answer is yes, it's good to know how to work your own way around these products. There are two ways to make changes. The first is to contact us and ask us to make the amendments you need, we always try to complete any customer request as fast as possible. But there is also a second way – you can make changes yourself. And this is what the article is about.

LANGUAGE OPTIONS
We understand each client's need to make some changes. Every TeamCenter and LeagueCenter user gets access to our back office panel, where they can configure the product. What changes can be made? For example languages. For now, we have 32 languages and we are open to introducing new ones if needed. A customer is able to pick the languages they want to display, set them in the desired order and choose the default language.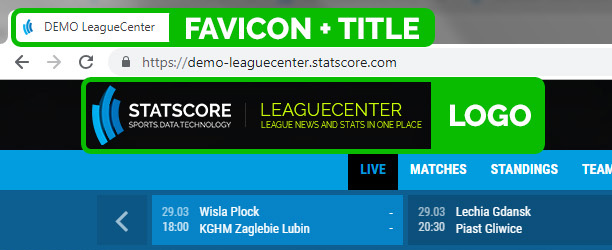 LOGO CUSTOMIZATION
That's not all, the customer can easily change a logo on their TeamCenter/LeagueCenter and set up a link that will redirect users to a predetermined web page after they've clicked on the logo. Furthermore, we give our customer the possibility to change: page name, page title and favicon. They can also decide whether the information about cookies should appear on their TeamCenter/LeagueCenter page.
EASY INTEGRATION WITH GOOGLE ANALYTICS
Obviously, many of our customers want to track the traffic on the websites we provided for them. All they need to do is to enter a Google Analytics code in our back office and that's it, fast and simple. There is even the possibility to add more than one Google Analytics account if needed.
ADDING TWITTER ACCOUNT
There is also the option to add Twitter accounts to TeamCenter/LeagueCenter and this is fully configurable from our back office panel. Customers can decide what accounts they want to display and on which tabs. They can set more than one account and the accounts, they have set, will appear randomly. If they don't want to add an account, they can easily turn off the Twitter option.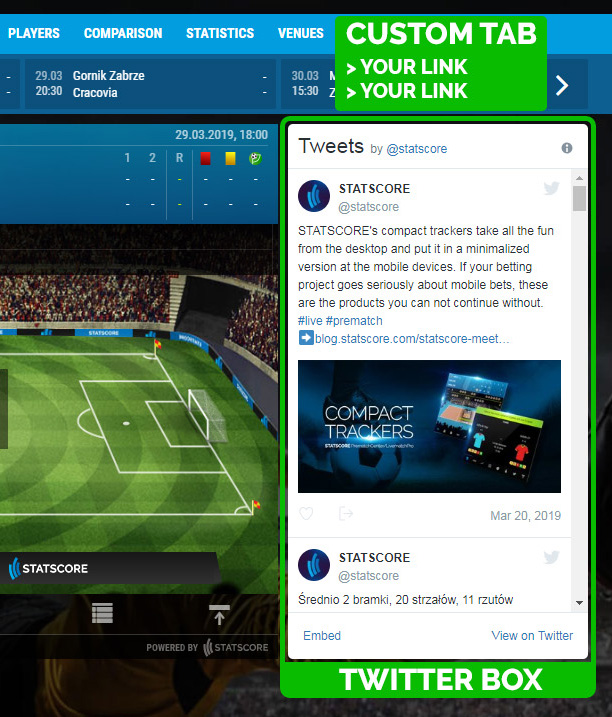 YOUR OWN TAB 
TeamCenter/LeagueCenter contains eight tabs where we are responsible for the content, but there is the possibility to add a ninth tab which can be managed by the customer. They can decide if they want to display this tab as the first or the last tab on the menu. They can then place any links they want to share under this tab.
You can find all the information you need about configuration in our documentation. If you have any problems, just let us know, we are very happy to help you in your journey with STATSCORE products.
If you want to get in touch to find out more, just contact our Customer Success Team at cst@statscore.com or use the LiveChat service on our website. We will be more than happy to schedule a call and discuss how we can help your organization!