Have you ever asked yourself the question: what does it take to offer your demanding users a live sports results service, that provides all they need in one place and keeps them coming back for more? Well, we did at STATSCORE, because we understand how important it is to come up with something fresh and inspiring for the competitive live scores market. We ended up introducing ScoreFrame, a powerful platform for 16 top sporting disciplines!
WHY SHOULD I GIVE IT A TRY?
The simplest answer is also a question – why not? We offer you the chance to test our fully working ScoreFrame solution packed with sport stats for free! Yes, a 14 day free trial. Money? It's completely risk free, no money or commitments involved – it's free of charge for the test period with no hidden costs to surprise you. Time? Not much of your time needs to be invested, as this is a ready-made solution. All you have to do is add ScoreFrame to your website using a subdomain or place it on an existing page using an iframe, so for you, it's a win-win option. Now think hard and try to come up with any disadvantages for such an offer – None? We couldn't find any either.
Experience more: check the online demo for ScoreFrame.
IS SCOREFRAME THE RIGHT PRODUCT FOR ME?
You are here because you need a stand-alone solution for your website that will display live scores and statistics. Why would you waste your precious time and continue your search, just to find some lower quality and technically inferior products – all of which would lack features that are essential for you? Instead, just choose the most convenient plan and start your free trial with ScoreFrame, right now! The future is here and now, if you're thinking ahead.
Let us help you make up your mind by asking and answering the follow questions.
Do you need access to a vast collection of live scores? ScoreFrame is the answer.
Do you need a tool that will display stats and standings?  Well, again, ScoreFrame is the answer.
Do you need live event visualizations? Hm… What about ScoreFrame?
So – Is this the product for you? The simplest answer is – Hell, yeah!
Read more: how do we customize ScoreFrame to match different needs of our partners?
WHAT IS THE MAIN BENEFIT FOR MY ORGANIZATION?
When you're running an online, livescore service, you need to update your results and fixtures quickly and reliably, this coupled with great presentation is a winning formula. ScoreFrame is powered with our very own ScoutsFeed, a superfast live feed created by STATSCORE's highly trained scouts. When it comes to the visualizations, we offer our live trackers with ScoreFrame's Exclusive option. In short – these are widgets that display games with all the key events presented as graphical icons. There is no better way to keep users entertained and engaged.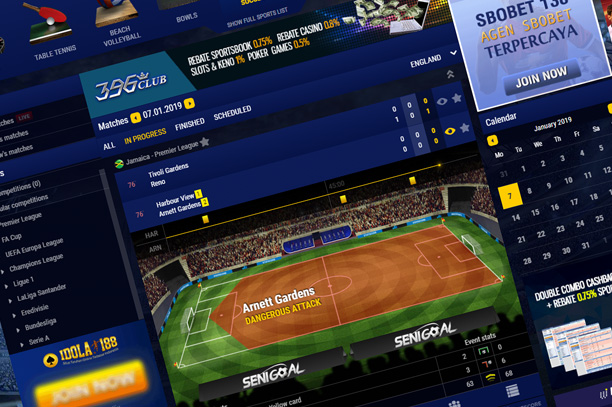 Once you have ScoreFrame on your site, you can start to add to your earnings by making the most of the specially created commercial spaces for advertising. Easy, isn't it?
If you want to get in touch to find out more, just contact our Customer Success Team at cst@statscore.com or use the LiveChat service on our website. We will be more than happy to schedule a call and discuss how ScoreFrame can help your organization!